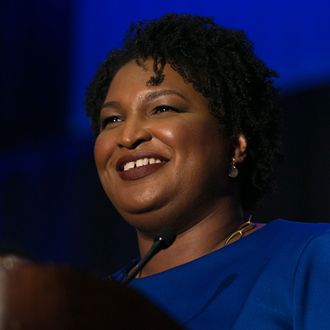 Stacey Abrams.
Photo: Jessica McGowan/Getty Images
When Stacey Abrams made history last night, she took me to church. As she stood at her victory party in Atlanta, Georgia, she invoked the words of Queen Esther, a Biblical figure often referenced in black church sermons as an exemplar of courage under fire. "In the Book of Esther, there's a verse that reminds us we are born for such a time as this," Abrams said. "A time to defend our values and protect the vulnerable — stand in the gap and lead the way. A time to know that this democracy only works — when we work for it. That is what we have done tonight and that is what we will continue to do — all the way to victory in November." Indeed, trailblazing candidates like Abrams are the leaders we need in such a time as this — leaders who remind us that the rules of the status quo are meant to be broken, that traditions are meant to change, and that, despite the gloom of the news, all is not lost.
Abrams's primary campaign against a fellow-Stacey — former state legislator Stacey Evans — was a study in opposites. Abrams is black. Evans is white. Evans focused on the conventional strategy of the Democratic Party: winning back rural white voters who were once party loyalists. Her focus was intentionally on the Hillbilly Elegy set. The Obama-to-Trump crew. Abrams, instead, bucked the party's big bet, and stitched together a multiracial coalition of voters, and placed her bet on their turnout.
And turn out they did. With 76.5 percent of the vote, Abrams's sweeping victory in Georgia's democratic gubernatorial primary provides an opportunity for all of us to learn new lessons about what's possible in politics today — and gives us all some homework to do.
1. People of color matter. When Hillary Clinton lost, Democratic pundits and campaign strategists across the country insisted that "identity politics" lost the race. Not likely Russian collusion, not thinly veiled sexism, not "racial anxiety" (read: plain ol' racism). No: They insisted the problem was that we'd ignored rural white voters for too long. Abrams chose to buck popular thinking and insist on a simple principle: Everyone, including people of color, must be central to a winning strategy. The question of whether this would work was answered by her victory. It is now up to us, and every Georgia voter, to prove this point once and for all by sending her to victory in the general election. But more on that later.
2. Black women are leaders for all people. Black women vote more than any other demographic. We overwhelmingly vote for candidates who promote progressive visions for our communities —visions that raise all boats and consider all people. That's what the 94 percent was all about: a determination to move the country forward. Surely, we as black women knew Trump would be no good for us: he calls our countries sh*tholes and insults our Aunties in Congress. We voted to save ourselves. But true to our character, black women had the fate of our entire country in mind as well. And we knew we'd all suffer should Clinton lose. But here's the thing: If we show up when someone else is on the ticket, surely we can be trusted to lead in the same way and put our own names on the ballot. Progressive black women are one of our best hopes to advance progressive electoral strategies and governing agendas that don't just benefit black women, but all of us who want to live well in America. The Democratic Party would be wise to heed this — and ensure their leadership reflects this truth. Black women are more than just reliable voters: We are reliable, visionary candidates.
3. We need more fully franchised voters. In America, 5.3 million people are disenfranchised, and more than 280,000 of those are in Georgia. Abrams's strategy to engage new voters from marginalized communities worked to offset some of the effects of such vast disenfranchisement. For every Georgian who couldn't vote, there were now new voices who were engaged, catalyzed, and active. When more and more people have their right to vote honored, progressive politics stand a real chance. Continually restoring voting rights throughout America is a fight that Abrams could help lead from the governor's seat. That's what Terry McAuliffe began to do in Virginia, and what could happen in Florida this November with a 60 percent vote on a ballot measure to restore voting rights to 1.6 million Floridans — the largest potential restoration of voting rights since the 1965 Voting Rights Act.
1. Donate, donate again, then donate more. Candidates from marginalized backgrounds — including women and especially black women — just have a harder time raising the dough. We could blame multiple factors: sexism, racism, intersectional oppression, the gender wage gap, pantsuits. But instead, let's counteract them with our actions. We may not be able to solve racism tomorrow, but we can set up recording donations to the candidates and organizations working to secure progressive black women's seats-plural-at the table. Remember when I told you how to thank black women for saving Alabama? All of those great organizations still deserve your support, as do candidates themselves. Give, give, give.
2. Go local. Many candidates from underrepresented communities will get their start on school boards, city councils, in statehouses and DA offices. This is where political careers begin for most accomplished elected officials. Maxine Waters served in her statehouse for years before heading to Washington. Kim Foxx is changing the landscape of Chicago as the Cook County State's Attorney. Raumesh Akbari took the stage at the 2016 DNC as a Tennessee state representative and awed the crowd. Just like everyone else, black women have to start somewhere. Some of them will win their races, and some of them will lose, but the experience of running can give them the confidence to do more, aim higher, and keep going. Gun-reform advocate and mother of slain teenager Jordan Davis, Lucy McBath decided that "to do nothing is a tragedy," and is now in a runoff for the Democratic nomination for GA's Sixth District House seat. She, and all of the progressive black women running in our local communities, deserve our attention at least, and our backing should we be able. Support —and hold them accountable — early and often.
3. SHOW UP. Yes, in ALL-CAPS. A primary is an important battle, but November is the war. Complacency is a threat to democracy and handily won primary victories don't always ensure general election night sweeps. This is also true for Abrams: despite her history-making victory, she's still a progressive black woman running to be governor in the Deep South. Don't take this win for granted. It isn't promised, and only came by way of every voter that didn't dare stay home. Show up, every time you can.