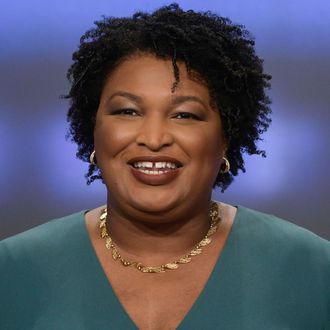 Stacey Abrams.
Photo: John Amis/AP/REX/Shutterstock
On Tuesday, Stacey Abrams won Georgia's Democratic gubernatorial primaries — otherwise known as the Battle of the Staceys — and, in doing so, became the first black woman to be a major party's nominee for governor in the United States. Abrams, 44, is an attorney, the former minority leader in Georgia's House of Representatives, and has long been working hard to turn the southern state blue.
Abrams's historic landslide victory was a cause for celebration for many. "I know that you know that as our state's rich and complicated history courses through our memories on nights like tonight — when the unexpected becomes the truth — it reminds us of who we are, how we've stumbled and how we've flourished. And it commands that we embrace our obligation to live up to Georgia's tradition of pride and of promise but to always remember our very complex roots," she said in an impassioned speech following her win. "Tonight I say thank you all. Now let's go get it done."
Here's what to know about her as she embarks on the road to November's election.
If she wins, she'll be the first black female governor in the country.
Abrams has an impressive number of firsts under her belt. Per the Guardian, she was the first African-American valedictorian at her high school, the first homeowner in her family, and both the first woman and black minority leader in Georgia's House. If she beats her Republican opponent in November, she'll also be able to call herself the first black female governor in America.
Abrams has demonstrated a commitment to an array of women's issues.
She earned Planned Parenthood's endorsement for her fight against Georgia's restrictive abortion laws — and also wants to increase access to early-childhood care and expand Medicaid so as to cover massive gaps in OB/GYN and maternal care.
As well as general progressive issues.
She's outlined a comprehensive criminal-justice-reform plan — which includes eliminating cash bail — has a terrible rating from the NRA, and champions the protection of voting rights.
She moonlights as a romance novelist (!).
Publishing under the pseudonym Selena Montgomery, she's the author of a number of books, including titles like Hidden Sins, Secrets and Lies, and Reckless.
Abrams has Bernie Sanders's endorsement — as well as Hillary Clinton's.
As we continue to wonder what the future of the Democratic party will look like, both Bernie Sanders — who has come to represent a new progressive wing — and Hillary Clinton — who has come to symbolize the old guard — have offered up enthusiastic support for Abrams's run.