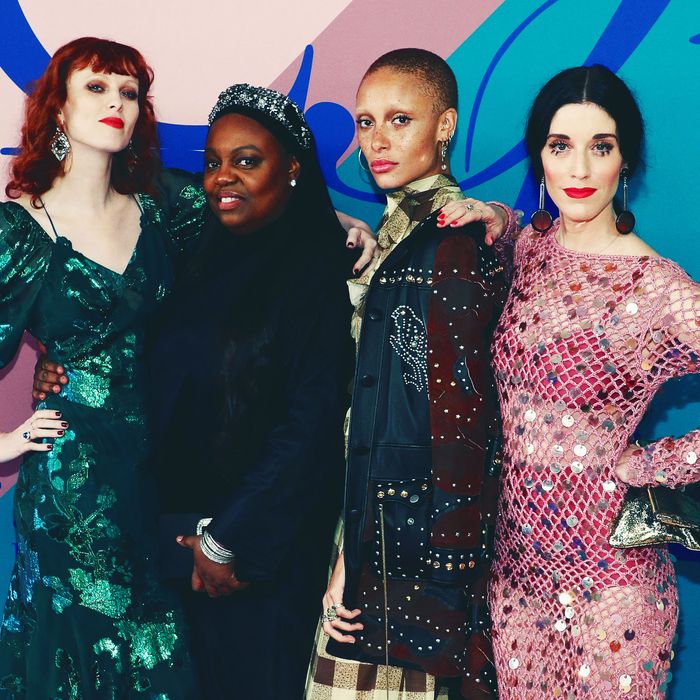 Karen Elson, Pat McGrath, Adwoa Aboah, and Sophie Flicker.
Photo: Taylor Hill/FilmMagic
Despite its reputation as a female-oriented industry, a new study finds that fashion is still run by men. The study, titled, "The Glass Runway," is set to be released this week by the Council of Fashion Designers of America, Glamour, and McKinsey & Company.
Diane von Furstenberg, CFDA chairman, told the New York Times, "We don't talk about it as much, because there's a feeling everyone knows. But sometimes you have to say something so people can't pretend it's not true."
One-hundred ninety-one fashion companies participated in the survey, spanning retail, creative, and corporate sides. Five-hundred thirty-five people filled it out. Continuing a pattern seen in other industries, the study found that there is very little ambition gap among male and female fashion students, and that more fashion students are women at most design schools. However, only 14 percent of major brands are run by a woman.
Between entering the industry and landing in a C-Suite position, the survey found that women faced obstacles including "having a family, sexism, lack of mentorship and confidence, less aggressive pursuit of promotion." Furthermore, 100 percent of women interviewed about the study (20 people were interviewed) said there was a gender-inequality issue in the industry compared to less than 50 percent of men. The findings may seem surprising considering that there are highly-visible, lauded CEOs in the fashion industry who are women, such as Emily Weiss, but don't be fooled by the Instagram visibility.
The study proposes some solutions, including criteria for advancement and flexible schedules. But the goal was more preliminary, according to Von Furstenberg: to "raise awareness and put HR departments on notice." The study was conceptualized after the Women's March in 2017, but combined with the #MeToo reckoning, it's a good time to start thinking about who runs the show in an industry that caters to women.