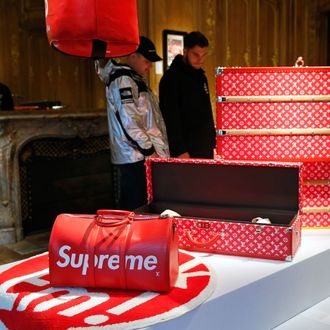 Inside the Paris Supreme auction.
Photo: Chesnot/Getty Images
Hang on to your Supreme, kiddos. In Paris yesterday, the auction house Artcurial held a sale two-thirds dedicated to the streetwear brand's most coveted items, and it raked in about $1 million.
If you aren't already feeling a bit nauseous, get this: the event was titled "C.R.E.A.M., Cash Rules Everything Around Me," after the Wu-Tang Clan's 1993 single of the same name. According to the Times, it attracted a crowd of predominantly French, Chinese, and American buyers — plus some teenagers with braces and rhinestone earrings.
The hottest ticket was a Supreme x Louis Vuitton trunk. It caused a frenzied bidding war, eventually selling for $104,312. There was also a Supreme punching bag for sale (€20,150), and the Times found one teenager named Julien, who bid €1,000 for a T-shirt without his parents permission.
"It was actually easier than attending some of the drops," he said.