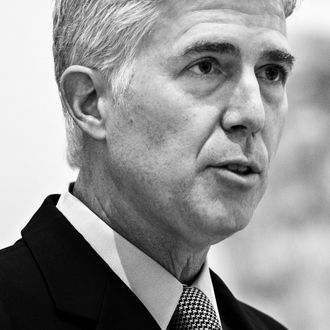 Supreme Court justice Neil Gorsuch.
Photo: Andrew Harrer/Bloomberg via Getty Images
The Supreme Court dealt a major blow to workers on Monday when it ruled that employers can require their employees to give up their right to file class-action lawsuits, which prohibits them from acting collectively to dispute issues in the workplace. While this ruling is an attack on the rights of all workers, it is especially injurious to those who are survivors sexual misconduct in the workplace.
Below, what to know about the decision.
So what exactly was this case?
It was Epic Systems Corp. v. Lewis, and the Supreme issued a 5-4 ruling, penned by Justice Neil Gorsuch. According to CBS, it was the Supreme Court's goal to reconcile conflicting federal labor laws. Basically, this decision sides with employers who include mandatory arbitration clauses in the contracts.
What is arbitration?
It is a private method used to resolve disputes, and one that allows the people involved to bypass the court system. For example, if three women were groped by their shared boss at work, and they all signed a mandatory arbitration clause — which frequently appear in work contracts, sometimes not even to the employee's knowledge — then they can't collectively sue him. Instead, the women have have to individually settle the issue in front of a third-party "arbiter." In arbitration, evidence and proceedings are kept secret.
Are there any major sexual-misconduct cases that involved arbitration clauses?
One of the most outspoken critics of arbitration clauses is Gretchen Carlson, the former Fox News host who sued former Fox CEO Roger Ailes for sexual harassment in 2016. Because Carlson had an arbitration clause in her contract, she could not sue Fox, so she instead had to directly sue Ailes.
How does it hurt the #MeToo movement?
Workers who sign contracts with arbitration clauses cannot act together to challenge sexual harassment in the workplace — instead, they're forced to fight alone. Also, arbitration clauses are often paired with non-disclosure agreements, which prevents survivors from raising public support for their cases.
Is anyone speaking out against this decision?
In dissent, Justice Ruth Bader called the decision "egregiously wrong," and a handful of liberal politicians also vocalized their disapproval. One such lawmaker was Representative Pramila Jayapal, who introduced the bipartisan bill "Ending Forced Arbitration of Sexual Harassment Act of 2017" earlier this year.
Time's Up, the Hollywood initiative aimed at combatting sexual harassment in the entertainment industry and beyond, also condemned the decision.