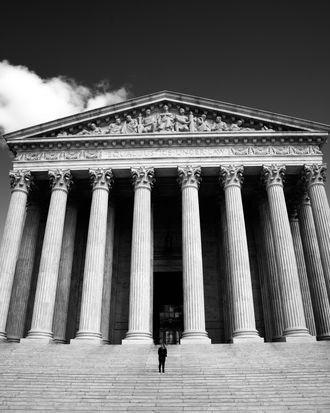 Supreme Court.
Photo: Robert Alexander/Getty Images
The Supreme Court declined to hear an appeal to one of Arkansas's restrictive abortion laws — a decision that effectively bans all abortion by medication, and could leave the state with just one abortion-providing clinic.
The Arkansas law in question, the Abortion-Inducing Drugs Safety Act, requires that all doctors who provide abortion medication have a contract with another physician who has hospital admitting privileges. The thinking goes that should complications arise, the aforementioned physician could help handle them.
Nine months after the controversial law passed in March 2015, Planned Parenthood of the Heartland sued to block the ban, and a federal judge in Little Rock issued a temporary restraining order because the act resembles one that the Supreme Court ruled to be unconstitutional two years ago. In July 2017, the Eighth Circuit Court of Appeals ordered the lower court's stay to be lifted and sent the case back down to the lower court.
Today, by rejecting the appeal, the Supreme Court allowed the lower court's restraining order to lapse. As of now, the Arkansas law is expected to go into effect in mid-July.
Following the Supreme Court's decision today, Brandon Hill, a physician and the president & CEO of Planned Parenthood Great Plains, expressed his deep disappointment and pledged to fight the law.
"We are working urgently to restore access to medication abortion services at our health centers in Fayetteville and Little Rock," he said in a statement. "We will not stop fighting to ensure that every woman has access to essential, constitutionally-protected care, without politicians controlling when, how or why."
According to their press release, Planned Parenthood is "[moving] swiftly for emergency relief in the district court" — a response that is supported by other reproductive rights organizations, such as NARAL Pro-Choice America.
Planned Parenthood executive vice-president Dawn Laguens also released her own statement, which reads: "Arkansas is now shamefully responsible for being the first state to ban medication abortion. This dangerous law also immediately ends access to safe, legal abortion at all but one health center in the state. If that's not an undue burden, what is? This law cannot and must not stand. We will not stop fighting for every person's right to access safe, legal abortion."