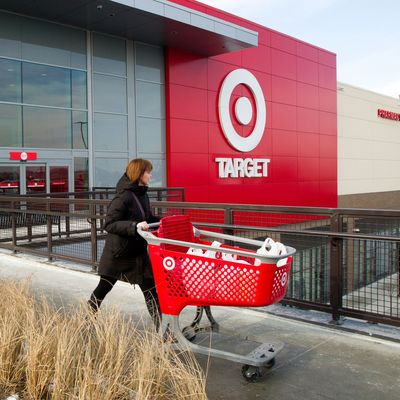 Photo: Kevin Van Paassen/Bloomberg via Getty Images
Even though most beauty launches are accompanied with swatches, it's not always helpful to see what an eye shadow or lipstick will look like on a forearm rather than your face. Usually, customers resort to watching YouTube tutorials to help decide, or buying and returning or, in the case of some Sephora Beauty Insiders, they can chat with the store's beauty concierge service. Now everyone's favorite big-box store, Target, is jumping on board and launching its own beauty concierge to better serve its customers.
The Online Beauty Concierge Reps and BeautyChat will provide customers with representatives, in stores and online, who can help customers choose the products that will work best for them. The service will also include a user-friendly texting option that feels like you're chatting with a beauty-savvy friend. Once it's live, you can text "BeautyChat" to "Target" for advice.
Target has also launched the Target Beauty Studio, a service that lets customers virtually try on makeup. Unlike those awful apps from years past that just plaster a translucent red lip print on your face, this service uses Perfect Corp. YouCam Makeup's facial mapping technology to show, as much as possible, what makeup will look like in person. The service is available online now and on interactive digital screens in Target's beauty department in ten stores, but it will roll out to more locations this year.