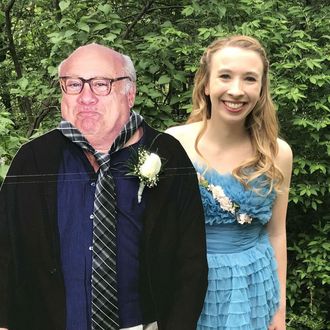 Allison Closs and her date.
Photo: Courtesy of Allison Closs
Who'd you bring to prom? The sweet guy who you promptly broke up with over Thanksgiving break freshman year of college? Some jabroni who smoked cloves and was deeply hated by your dad? Whoever it was, you cannot turn back time. But this teen's prom date may make you wish you could.
Seventeen-year-old Pennsylvania teen Allison Closs opted to bring a cardboard cutout of petite actor, filmmaker, and the esteemed inventor of "retire bitch," Danny DeVito. Per the New York Post, she paid $100 for what appears to be a full-size cutout online and "duct-taped him to a cheap plastic scooter, which she wheeled around using a leash."
Other notable cardboard cutout prom dates of the past include Michael B. Jordan, Bernie Sanders, and your extremely boring high-school boyfriend who now works in real estate.