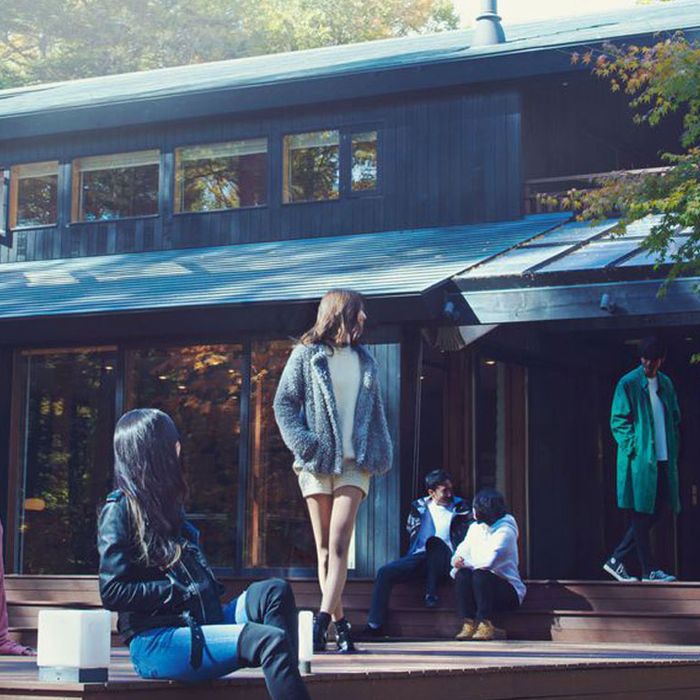 Photo: Fuji Television Network Inc./East Entertainment/Netflix
Konbanwa, bitches! I'm back with more Terrace House recaps, okay! You'll have to excuse my delay, but think of it as me teaching you a lesson in the art of the nonlinear viewing patterns of the Netflix Generation. All that really matters is that I'm back and ready to drag Yuudai and uplift Shion in a way that makes both my parents and my God proud, concerned, and possibly a little sad.
After our usual recap from the true stars of this show, Azusa Babazono, Yoshimi Tokui, You, Reina Triendl, Ryota Yamasato, and Shono Hayama, the episode dives right into Ami's modeling dilemma. Though she's not taking any modeling jobs, Ami apparently has a manager, Yusuke, who takes meetings with her at 8 p.m. Yusuke is just as apprehensive as Ami about the idea of restarting her modeling career, especially since she hasn't given him reason enough to believe that she's ready to commit. Ami understands, but says that though many tears have been shed, she's ready. She also tells Yusuke that she's been going to the gym once a week and would like to resume walking lessons. Yusuke is pleased and recommits his efforts to Ami's career.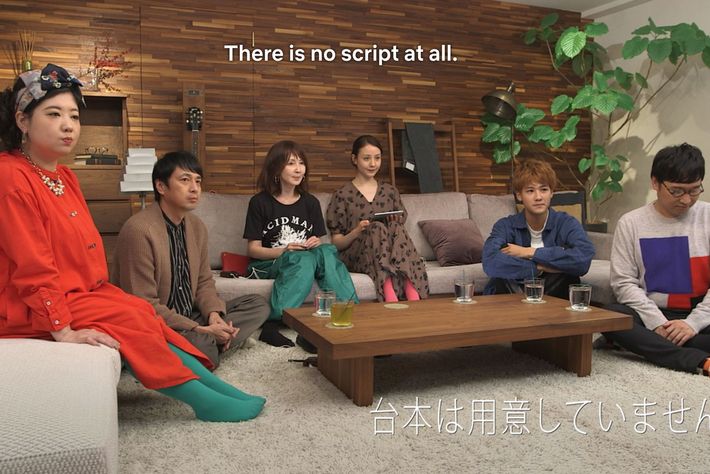 Back at the Karuizawa house, Shion, Taka, and Yuudai chat with one another in the kitchen. Yuudai's pumped up because he's finally gotten a job as a dishwasher at an Italian restaurant in town. Unsurprisingly, Yuudai starts the following day and doesn't know the name of the restaurant.
He's also excited because he's going to ask Ami out on yet another date! For some reason, her rejecting him twice has only led him to believe that he's not asking her out on the right kinds of dates. The exact train of thought one would expect from an emotionally stunted panda-bear fucker. Just as confused as everyone who saw or heard about Ami telling Yuudai that she "dodged" his most recent date attempt, Taka and Shion wonder where Yuudai thinks Ami will agree to go. Yuudai says he plans on asking Ami out to an athletic course … in the woods. Somehow, her saying she would enjoy an amusement park date computed as physically challenging obstacles in a secluded area.
Yuudai, excited, leaves Shion and Taka to ask Ami out for the third time. Alone in the girls' room, Ami, who's reading, I don't know, maybe a book on walking, lets Yuudai in and is a bit confused. He asks her if she's free on a variety of days, and Ami reluctantly says yes to a date on the 22nd. When asked where they're going, she's nearly emotionless as Yuudai explains. Ami asks if Yuudai will be able to drive them there, and he says no, that she'll be doing the driving. It's unclear what Ami's, or Yuudai's, driving status is, but Ami tells him that if she gets enough practice in between the day of the date and now, she'll drive.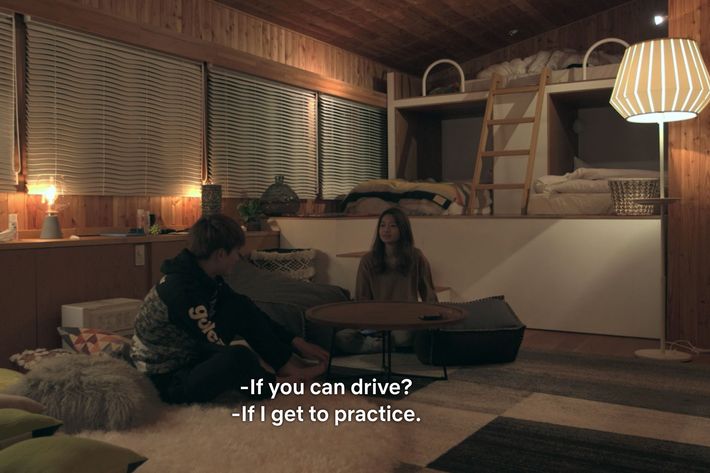 Once he's back in the kitchen, Yuudai can't wipe the grin off of his face. Shion doesn't even have to ask if Ami agreed — Yuudai is in a state of ecstasy and holding up two thumbs-up. Shion's happy that Yuudai has found some sort of success, and even offers to help Ami practice driving before the date. He also offers up some advice to Yuudai, telling the boy not to talk about himself too much on the date and to "stock up on topics." Yuudai promises that he will, but he's a little bit more excited about the prospect of holding Ami's hand on the athletics course. It's becoming clear that he chose this athletic date so that she'd need his help navigating through something, and he could reach out his hand to guide her. Taka, Ami's other potential suitor, takes the wind out of of Yuudai's hand-holding enthusiasm, saying it can read as strictly platonic if done in a helpful way.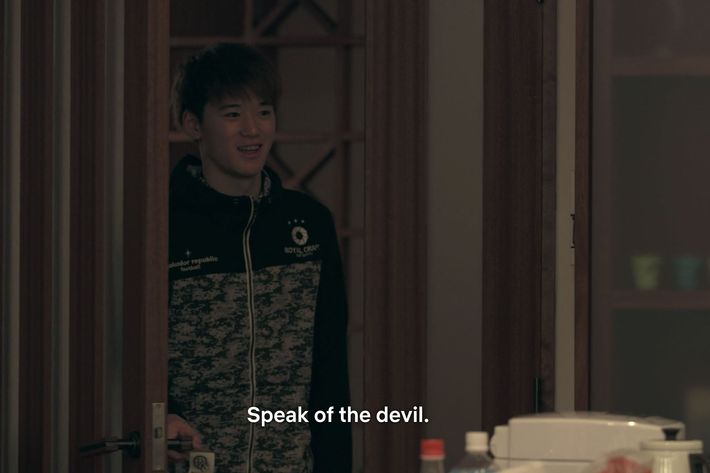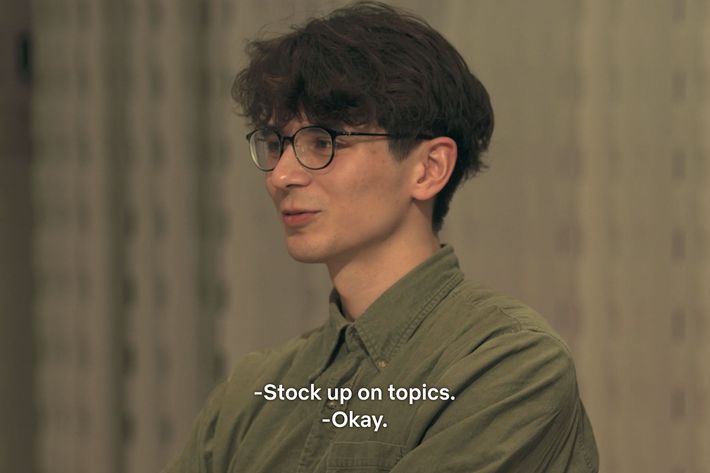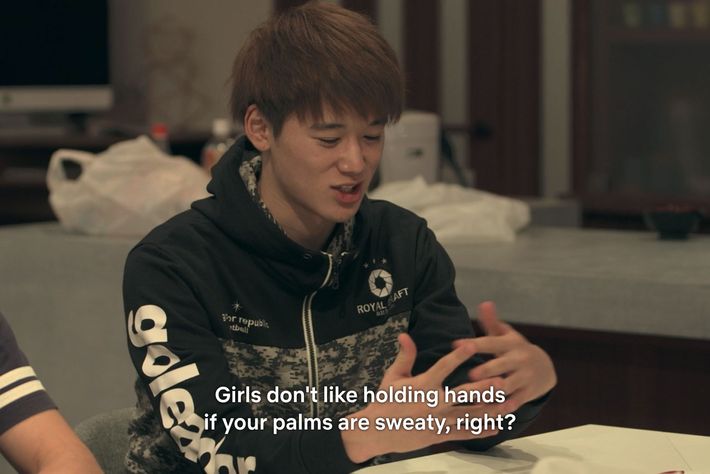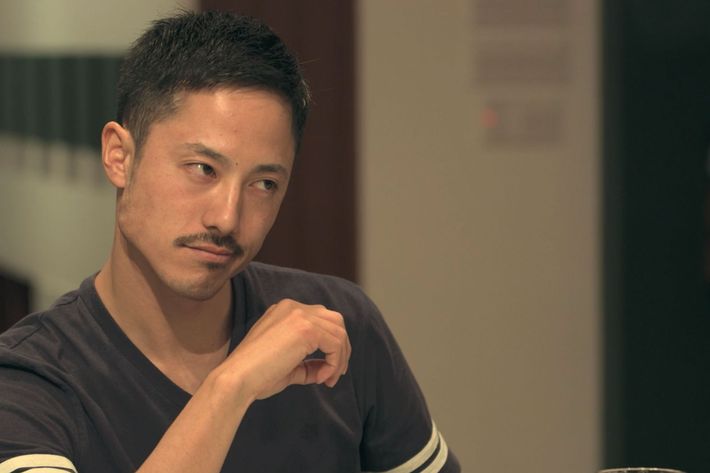 Following Yuudai's date dissection, Shion goes to handle some man business of his own. He joins the love of his life Tsubasa in the playroom and watches her watch an old hockey match. Tsubasa is prepping for a big tournament (so she's replaying old tapes of winning games to get inspired, I guess?).
Shion gives Tsubasa some candy from his pocket, and then asks if he can see a match of hers. She tells him she's got one coming up in December, and Shion looks Tsubasa in her eyes and says, "It's on my calendar." Just knock me out with a hockey puck and ship my remains to the nearest Terrace House because Shion is killing me, ya hear!? If making a future date wasn't enough, Shion also tells Tsubasa that he'll make a reservation at a restaurant to celebrate post-game, because he already knows she'll lead her team to a win.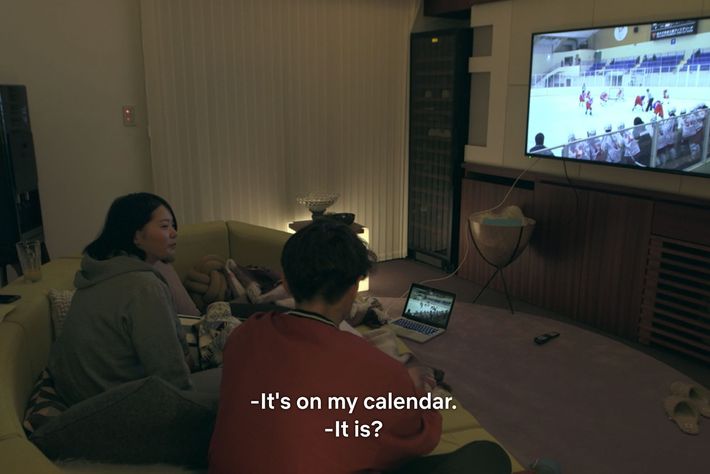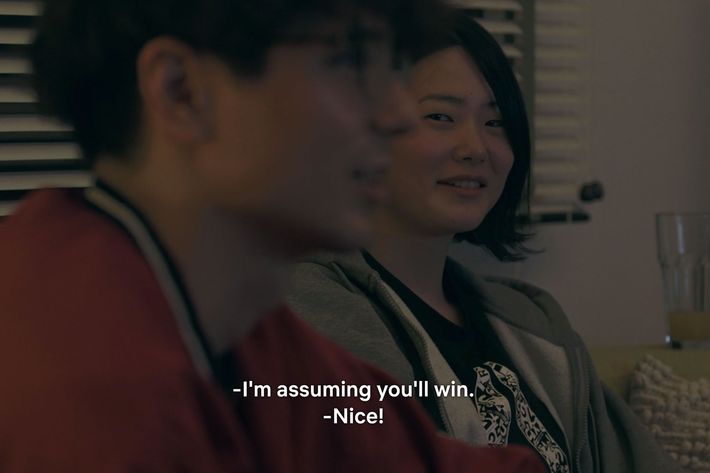 Like me, the celebrities are shook by Shion's suaveness, and call his subtle flirtation "just right," especially compared to Yuudai's aggressive and erratic advances toward Ami. The celebrities also think that Ami may have just agreed to go on Yuudai's athletic date because she didn't want to be rude to him on TV. As for his hand-holding ideas, everyone's in agreement that Yuudai should not be concerned about holding hands because that's already assuming too much. What's not too much, however, is You and Yoshimi's fanfiction about the ways in which Shion and Tsubasa would make love. Their joy is contagious, because as the most bomb members of the panel, I wouldn't hate a You and Yoshimi fan fiction of my own … *stares directly into camera*.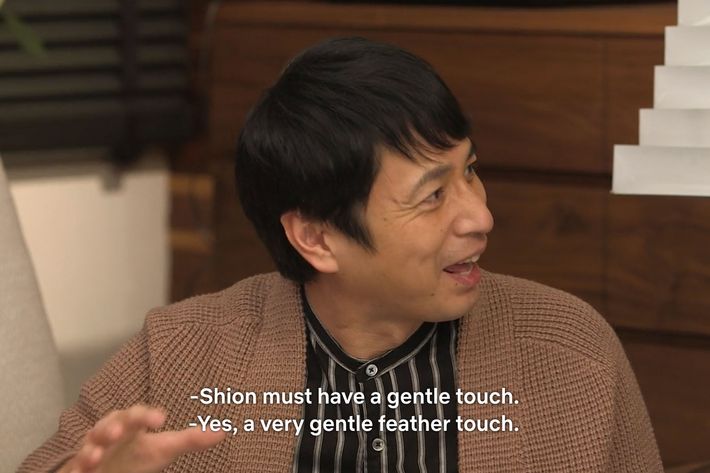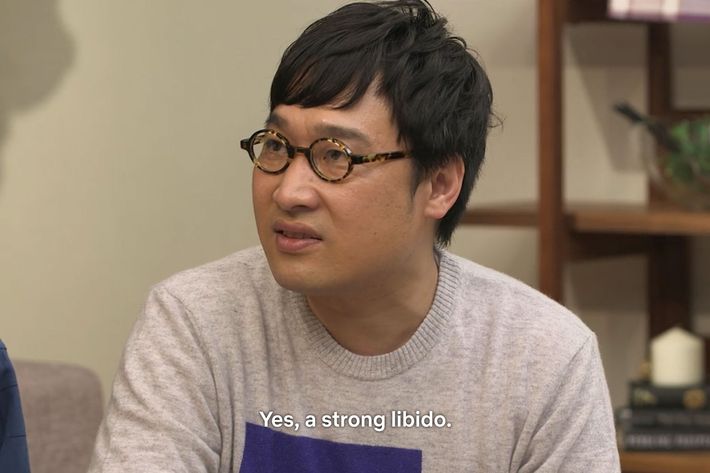 Making good on his promise, Shion takes Ami out for driving lessons. At this point, I'm convinced she may not even have a license — Shion has to tell her exactly how to turn the car on. Ami is very skittish when it comes to every aspect of being behind the wheel of a motor vehicle, and I'm not confident that she'll be able to drive herself and Yuudai to a faraway destination for their date. During their lesson, Ami is quite self-aware, telling Shion that she may not be able to drive well enough for the date, especially if Yuudai "rambles."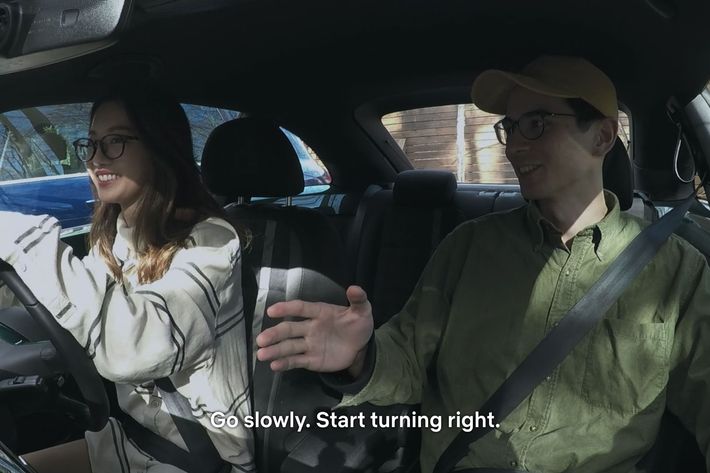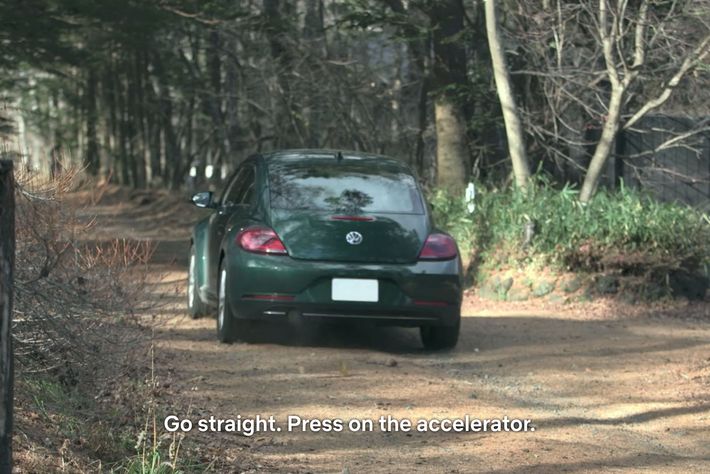 Once he's back home, Shion tells Taka and Yuudai about his lesson with Ami. For whatever reason, Shion wants Yuudai to succeed, so he imparts some wisdom. He tells Yuudai that in order for Ami to feel comfortable behind the wheel, he cannot talk nearly as much as he would like to. In fact, it would probably be best to remain silent.
Using this as a teaching moment, Shion tells Yuudai he should think about being quiet more often, especially when people are trying to focus, which is something the housemates have noticed Yuudai is not good at. Taka's not so into helping Yuudai make things work with Ami and asks how normal it is for a guy to have a girl drive them on their first date, especially a new driver. He's never done anything like that nor has he known anyone else who has. Yuudai rejects Taka's criticism, saying he enjoys being "treated like a dog with an owner" and having women do stuff for him. Taka refuses to let up on Yuudai and suggests that he open his heart more and listen to other people's advice. He also adds that Yuudai talks about himself too much.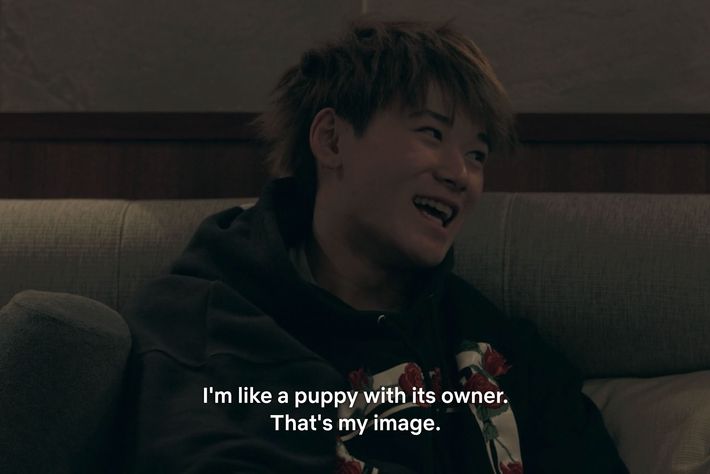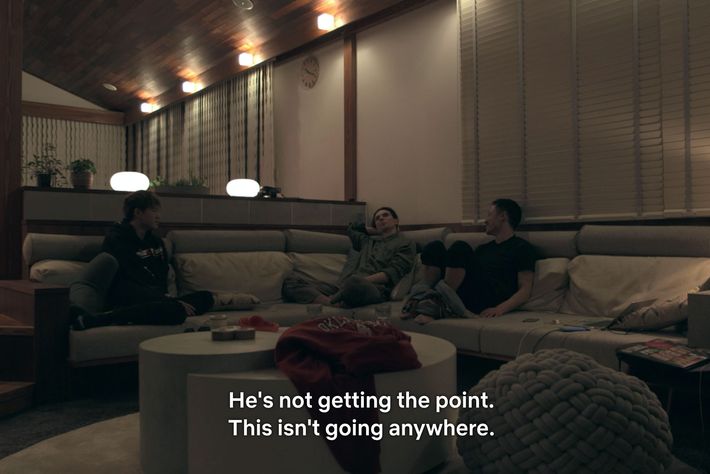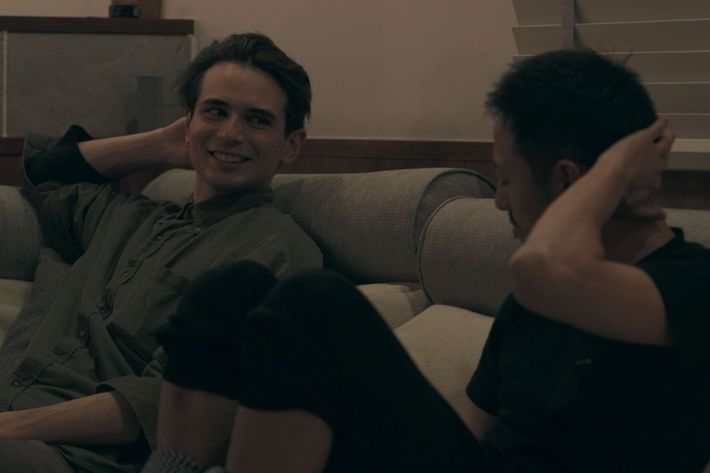 The following day, just as he did with Ami, Taka traps Shion in his packaging garage. While the two men box up Taka's merchandise, Taka continues to talk about the slumbering Yuudai. Taka tests the Yuudai temperature with Shion, asking if he thinks it's possible to even have a conversation with Yuudai. Shion says it's not and tells Taka about a run-in he had with Yuudai a few days prior. Apparently, Yuudai was eating some candy Shion brought for the house, making a mess and not cleaning up. When Shion asked Yuudai to clean up the candy mess, Yuudai made excuses about the candy falling out of his pocket. This would have already upset Shion normally, but he got even more frustrated because his conversation with Yuudai happened in front of a trash can. Both over Yuudai, Shion and Taka wonder if Yuudai's date with Ami will end in "tragedy," because she always seems uncomfortable around him.
Before Yuudai and Ami's "date," Ami visits Tsubasa at her gym for a personal training session. Ami, who drove there, says she's getting more comfortable behind the wheel. During the session, Tsubasa watches Ami run for a little bit, then tries to realign Ami's "twisted" body.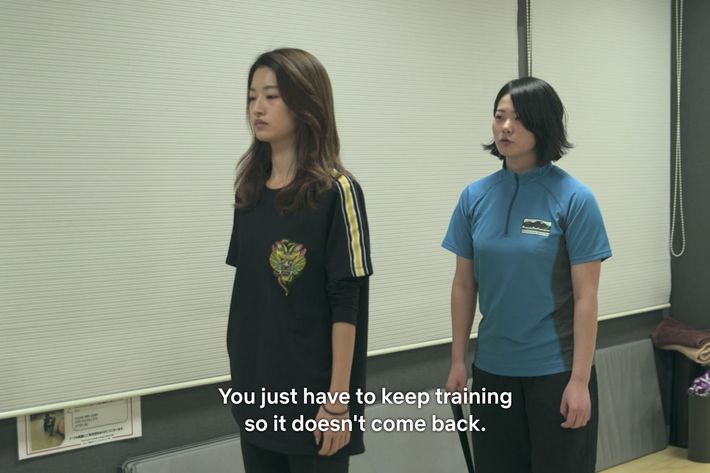 Later in the night, Tsubasa watches the first snowfall of the season from the kitchen with Mizuki, Shion, and Taka. As the snow comes down, the house members make their way outside to build a snowman. I'm sorry — a miniature snowman that melts as soon as the sun rises.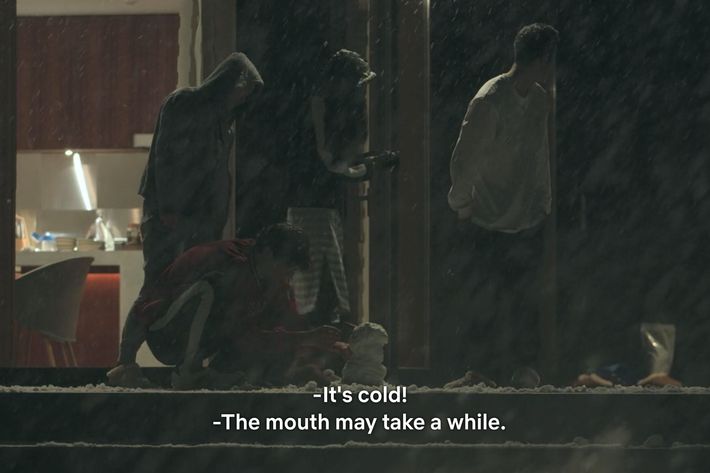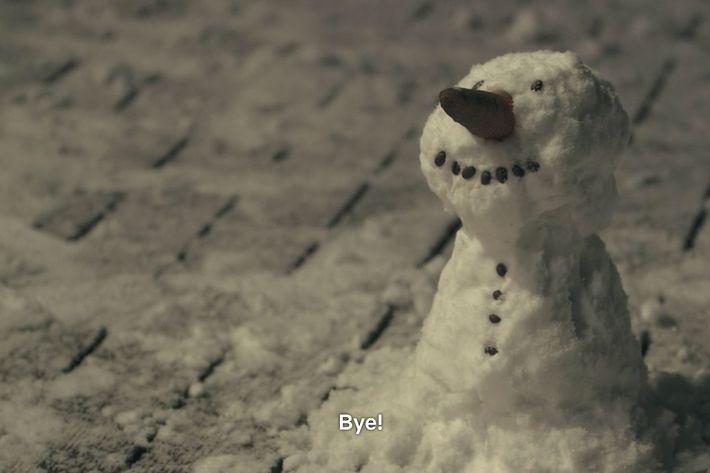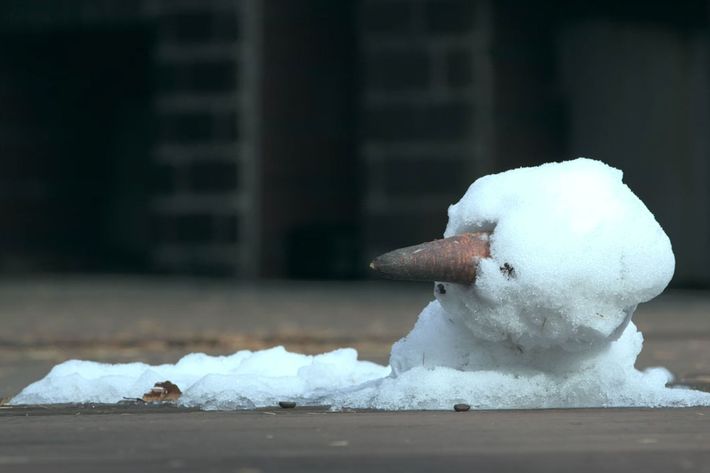 I guess Ami and Yuudai weren't able to play in the snow because they were too busy preparing for their athletics course date the next day. Meeting in the kitchen on the morning of their excursion, Ami is downcast and her mood takes a massive hit when she maps out their hour-long road trip to the date. Not excited to be trapped in a car with Yuudai for two hours, or spend any amount of time with him outside of the car, Ami gathers herself and goes on her date with Yuudai.
In the car, not even halfway to the athletics course, Ami asks Yuudai if they really need to go on this date. Ami tells Yuudai that she remembers asking to go to an amusement park, not an athletics course. And, if she had to do something athletic, she'd rather go snowboarding with Taka. She thinks the hour drive there and back will force her to drive in the dark, which she doesn't want to do, so Ami suggests they stop right at that moment and get food instead. Yuudai agrees, so the pair head to a bagel spot. Like a continuous poke, Yuudai asks Ami repeatedly if she's ever had a "bagel-burger." Yuudai is suggesting that a bagel you eat like a sandwich is a bagel-burger, and the idea fascinates him.
While eating bagel-burgers, the silence is chilling. Ami looks like she's been sent to this restaurant as a punishment while Yuudai eats his bagel-burger with no understanding for how tense and awkward the moment truly is. Ami still doesn't want to head to the athletics course post-meal, so she asks Yuudai how bad he actually wants to go himself. Yuudai wants to go 9/10 and wants to write a haiku about the whole experience, while Ami's at a 1/10 and thinks Yuudai can save his haiku for the blackboard in their home.
Happy that they're finally talking, even if it's about canceling plans, Yuudai asks Ami if she likes to eat and talk at the same time. Though she's been silent this whole meal, Ami tells Yuudai that she loves to talk with her friends while she eats. Yuudai understands Ami's need to be silent during certain meals as he prefers to "converse" with his taste buds. At this point in their meal, Ami's finished eating and asks Yuudai if he's almost done so they can go. Even though the entire "date" is so sad it could be considered the origin story of depression, Ami and Yuudai decide to go to the athletics course, but only to look.
They get back in the car, and Ami drives them to their would-be date spot, the athletics course in Kusatsu. It's empty and closed because of the wintery weather, so even they'd been mutually excited to go, the trip wouldn't have gone as planned. Ami tells Yuudai that she thinks the spot would have been fun in the summer and hopes to return one day.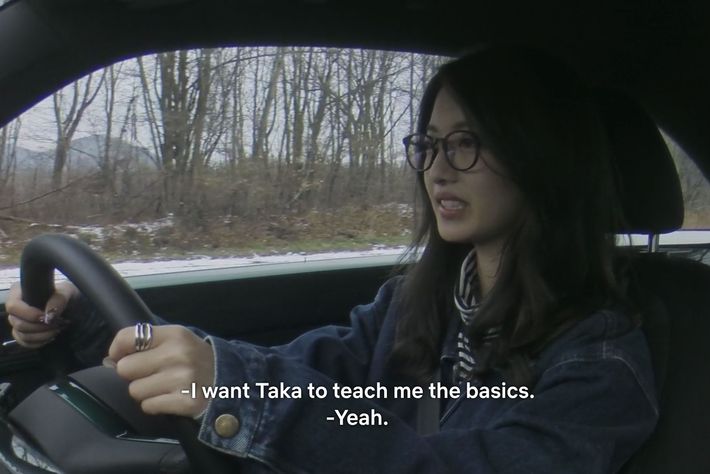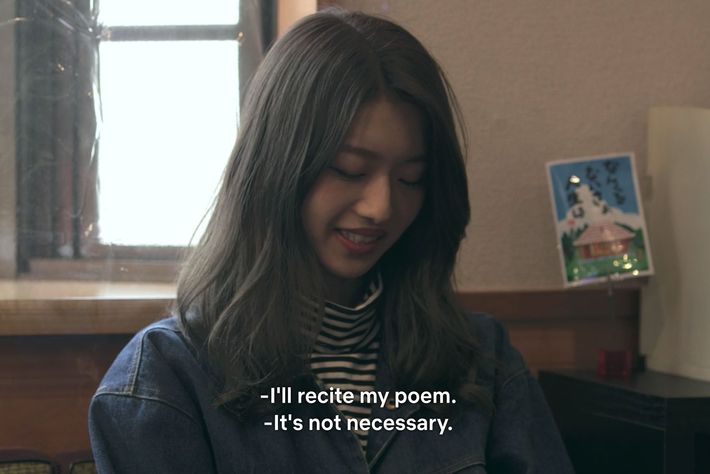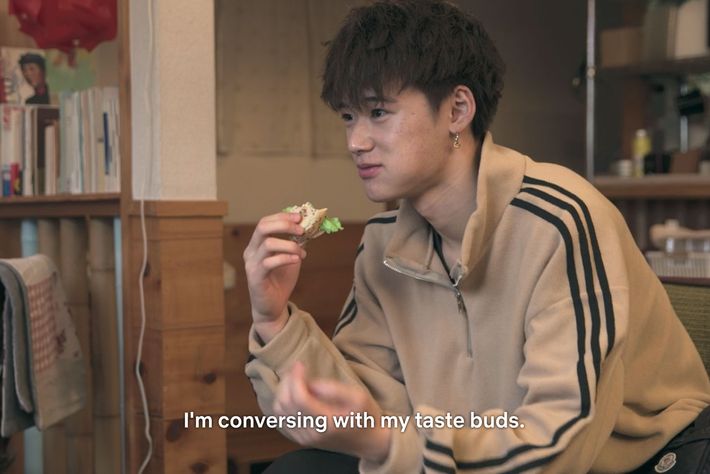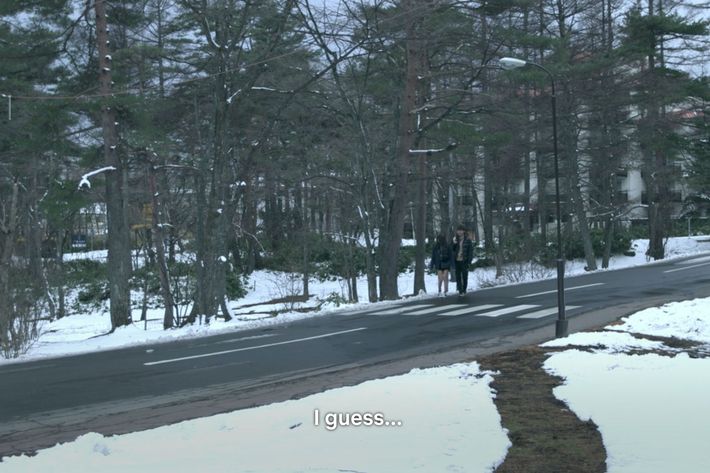 Post-date, the celebrities quickly break down the horrors of what we just saw. For once, they think the Terrace House enemy will be a guy. They've never seen a guy try to hard and fail so miserably at making romantic and platonic relationships in the house, so Yuudai will really need to turn a new corner to make any good progress there.
After returning from their date, Ami and Yuudai convene in the kitchen with Taka and Shion. Taka's running the kitchen, cooking a hot pot for the housemates, as Yuudai observes and takes cooking instructions from Taka. While they cook, Shion and Taka both have beers. While the food is being prepared, everyone takes a break to hang out at the kitchen table. The mood is very awkward, and Taka admits that the atmosphere is off. Thinking something horrific happened on their date, Taka and Shion ask if all went well. Yuudai and Ami say the day was "fun" but "weird" and the athletics course was "cold and dangerous." What's causing the somber mood is something that happened post-date.
Apparently, shortly after they returned home, Shion wanted go grocery shopping for dinner that night. Ami offered to ride with him and they asked Yuudai if he'd like to go as well. Yuudai declined because "the car can only fit so many people." Ami thought that was incredibly rude considering the car can fit five people and there would only be three of them going.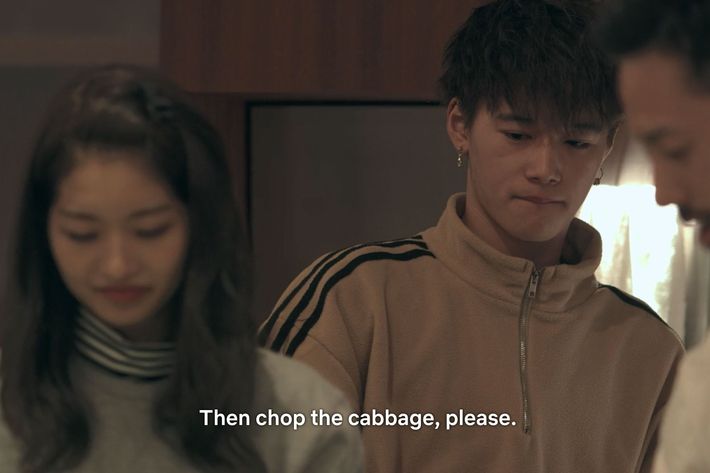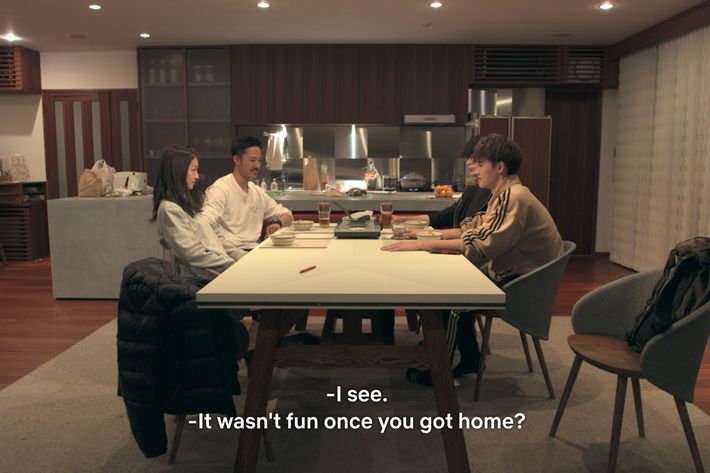 We'll have to wait and see how the grocery-shopping saga unfolds, because that was this episode's cliff-hanger! Remember to watch this space for more Terrace House recaps coming at you, hot and random like every person you hooked up with in college.