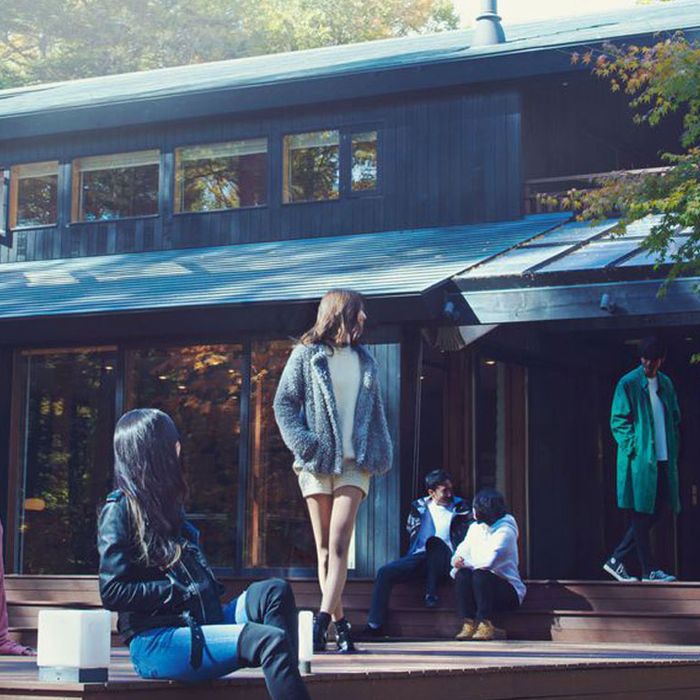 Photo: Fuji Television Network Inc./East Entertainment/Netflix
Welcome back to yet another recap of the greatest show of our time, beloved by all and deserved by none: Terrace House. This week, it was a special joy to hear our beautifully dressed panel of celebs — Azusa Babazono, Yoshimi Tokui, You, Reina Triendl, Ryota Yamasato, and Shono Hayama — recap the previous episode and marvel at the worldwide reach of Terrace House. Yoshimi was recognized in a Hawaii airport by an American airline employee (where his fame helped him catch a flight on time). You mentioned being recognized in Paris, Reina in New York (wasn't me, promise), and Ryota had tales to tell from tourists from Taiwan, the Philippines, and Vietnam. Like I've been trying to tell my father, who continues to threaten stopping payments on OUR Netflix account: It's a movement, okay!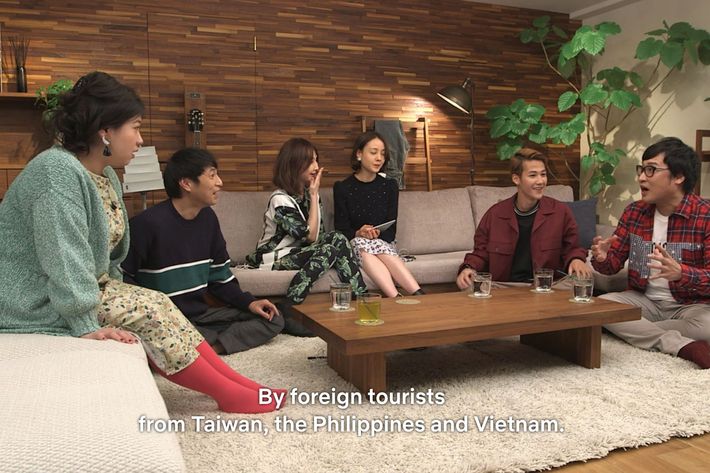 Picking up where we left off previously, Ami, Yuudai, Shion, and Taka remain in the kitchen, still tense from the previous grocery-store conversation. They don't linger long, though: Ami heads off to the girls' room, and when she leaves, Taka immediately asks Yuudai what exactly happened. Yuudai says he got upset because he wanted to spend some more alone time with Ami, and Ami's eagerness to have Taka drive them to the supermarket made him think she was into Taka. Quite a leap, but the boy may not be wrong. Yuudai also expresses that this emotional stress has just justified his need for some space between himself and Ami.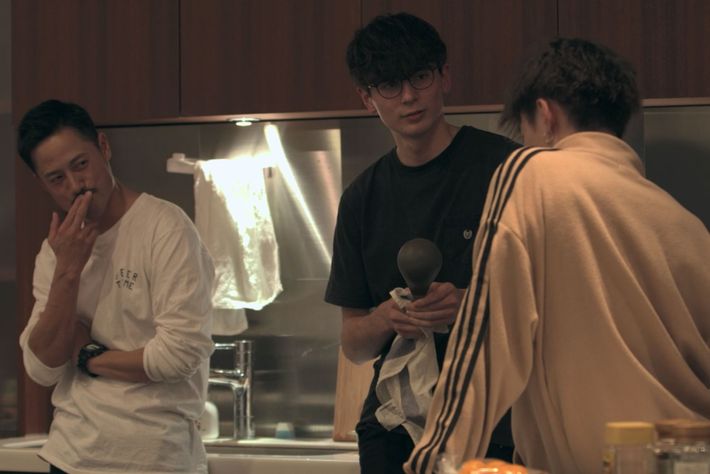 In the girls' room, Ami sits down to tell Tsubasa about her date. Before getting into the story, a tipsy Taka enters with a full beer. This is his first time in the girls' room, but he makes himself right at home, kicking his feet up on their furniture, sipping his adult beverage, and gossiping right along about Yuudai's attitude.
Tsubasa is pretty out of the loop on all things Yuudai and Ami, so Ami fills her in. Ami explains that after the date, she and Yuudai agreed that they would both enjoy some dinner soon, but would need to go to the grocery store. Ami wanted to avoid driving at night, so she says she told Taka that she didn't know where the store was. He said he could get directions, which forced Ami to be more direct and tell him that she just didn't want to drive anymore, especially at night. At this point, Taka had just come home and was headed back out to pick up Shion, which meant he would be able to give them a ride. Ami thought this was a good idea, so she went for it.
Unfortunately, Yuudai did not. Yuudai didn't join Ami and Taka, but once they were in the car and about to pull off, Yuudai came running out of the house frantically gesturing for them to roll the window down. Thinking it's an emergency, Taka turned the car off, rolled down the window, and listened to Yuudai. But Yuudai just wanted to know what they would be making for dinner and asked for some grapefruit juice.
Once Ami, Taka, and Shion returned home, they began to cook, and that's when the mood shift was apparent. Ami says it felt like a funeral, but Taka thinks that Yuudai's miscommunications and missteps can still be read as endearing. He also tells the ladies that Yuudai is most likely beating himself up over all of this because things didn't go as planned. Ami kind of understands, and while Taka stares her down, she shyly says that she's also emotionally immature, just like Yuudai. After their chat, Taka jokes that he'll make this a standing appointment in the girls' room and come every Wednesday night at 10 p.m. I'm sure you will, Taka, I'm sure you will.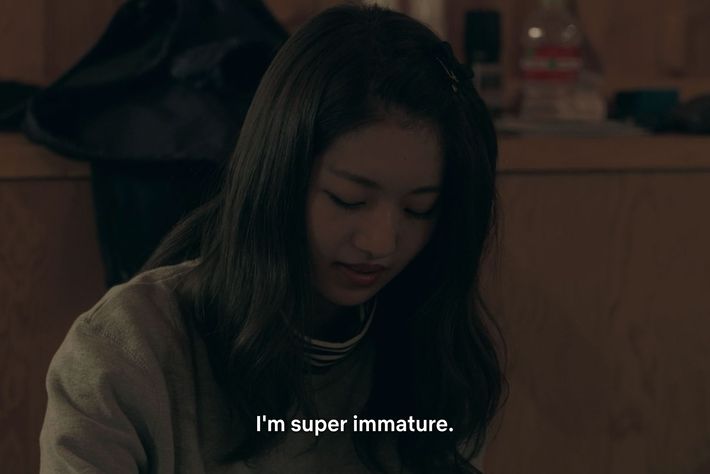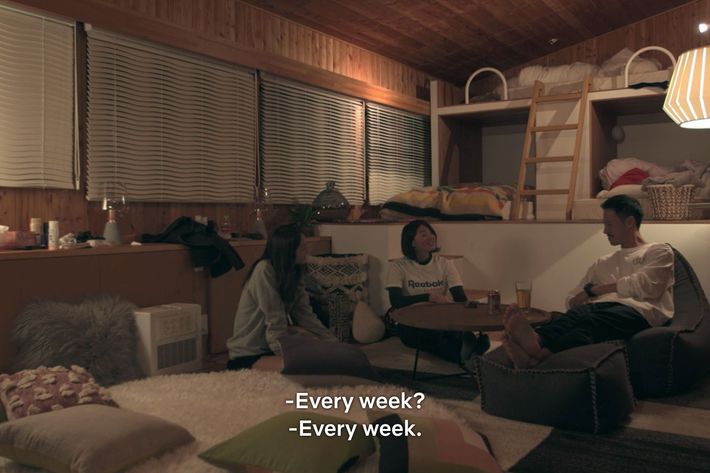 The next day, Ami's friends from school pick her up for lunch. Sadly, none of them is my eye-patch queen from episode one. I mean, one of them probably is, but I couldn't look past the eyes to get a good read on her entire face. Oh well! She's not as marketable without the eye-patch anyhow, which is why she's "Ami's friend" and NOT "Ami!" UGH!
Anyway, Ami's friends make her drive them to lunch, and while en route and at lunch, Ami talks about … Yuudai. Equally concerned with the amazing ramen and egg dish they're having and Ami's stories, her friends are engrossed and vibe 100 percent with what Ami's putting down. Like the first time she meet up with her pals, Ami's a bit more biting in her critiques of her housemates and brutally honest. She rehashes the date/grocery store drama, and says she's "done" with Yuudai. This doesn't seem to be anything new, because her friends remember other times where Ami's completely written someone off after they've upset her just once. In complete agreement, Ami and her friends decide that there's no longer any need for Ami to ever communicate with Yuudai again. He's done!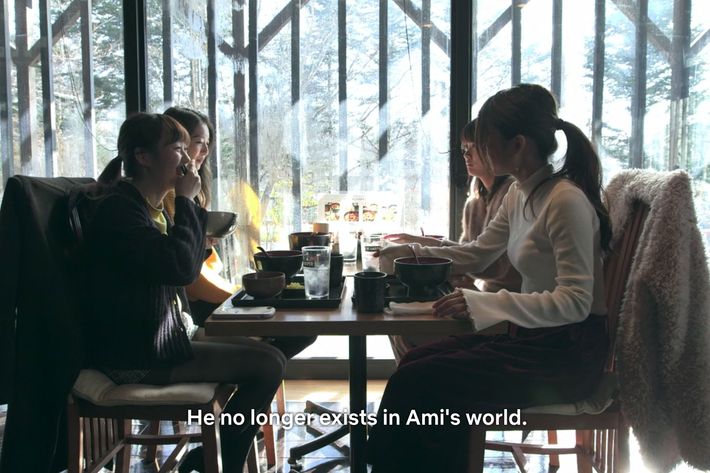 That night, Ami fills in the one final soul, Mizuki, on Yuudai-gate. With just the two of them in the playroom, Ami reiterates that she's done with Yuudai and even goes so far as to say that he means "nothing" to her. Meanwhile, in the kitchen, Yuudai and Taka try to concoct a plan to make this all better. Yuudai also dives deeper into his emotions. He thinks he got so upset and despondent because he thought he and Ami would be cooking food together. On their way back from the athletics course, he had already begun brainstorming something "tasty" for them to make at home. However, with Taka driving and taking the lead with the meal, Yuudai feel useless and unneeded. Now that he has a better handle on his emotions, Yuudai begs Taka to come with him to crash Ami and Mizuki's playroom conversation. Yuudai knows that Ami's acting differently toward him, and he wants to break the silence.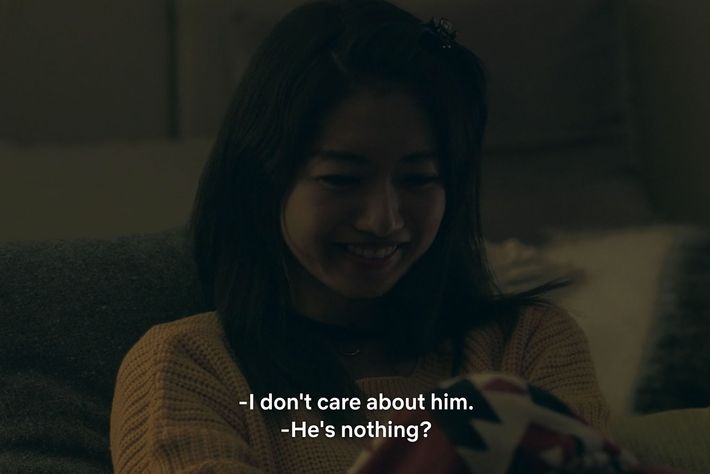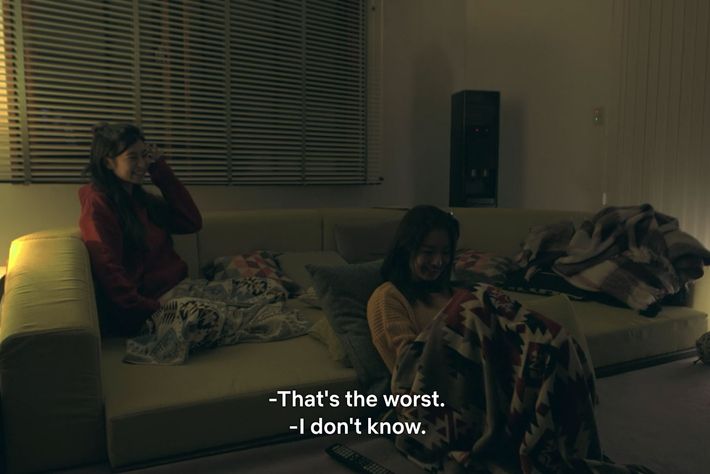 In the playroom, Taka and Yuudai enter to a quiet Ami and Mizuki. Ami makes no moves to speak to either man, and after a few moments of silence, Mizuki leaves to take a bath because she has no idea what's happening and wants to "escape." Shortly after, and a few more stare-downs from Yuudai later, Ami leaves too. She says nothing. Taka holds back laughter as he asks Yuudai if this was worth it. In tears, Yuudai tells Taka that it was a failed experiment but at least he made his stance known and sent a "message."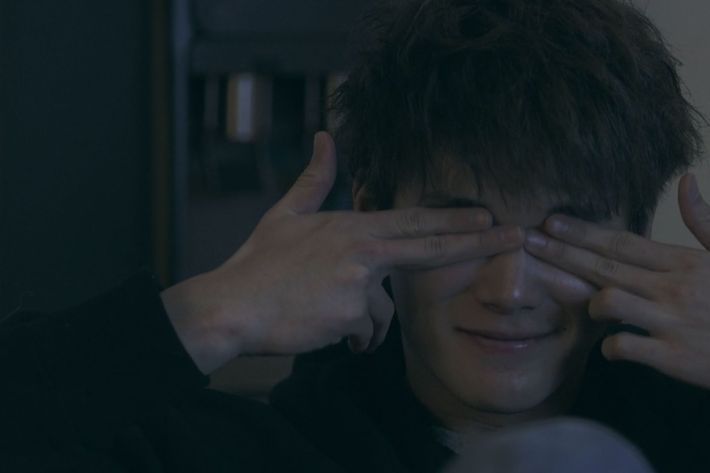 Shocked at how quickly this grocery-store drama escalated, our celebrity panel makes a big statement: This drama just may surpass the meat incident from Terrace House: Boys and Girls in the City! I'm inclined to agree, but nothing, and I mean nothing, not even the tears of my firstborn, can top Uchi straight-up sobbing over raw meat. The celebrities also worry that given the show's global fan base, fans may assume that the Japanese are not only all like Yuudai, but that they also cry with two fingers pressed against each eye. I imagine the shame and hope that outsiders can understand how we Americans feel about President Plump.
Yuudai, emotionally disturbed by everything that's happened, sits alone in the playroom. In the kitchen, Mizuki and Taka talk about him. Taka doesn't want to give up on helping Yuudai find his inner hard worker, but he was slightly creeped out by how easily Yuudai stopped crying and caring the night before. Taka says that one second Yuudai was in tears over Ami's shade, and the next he was totally engrossed in a video game on his phone.
Now Yuudai is pulling out all of the stops to feel human again. And his latest trick involves his mom, or, as I like to call her, the Unluckiest Woman in the World. They meet at a restaurant, and Yuudai and his mom have about as much love for each other as I do for an empty stick of deodorant. No hugs or kisses are exchanged; instead, his mom nods along to all of the complaints Yuudai's housemates have against him and insists that everything he's done wrong is on trend with all of the other mistakes he's made in his life. She hopes he uses this time to grow up, and other than that, she doesn't know what to tell him.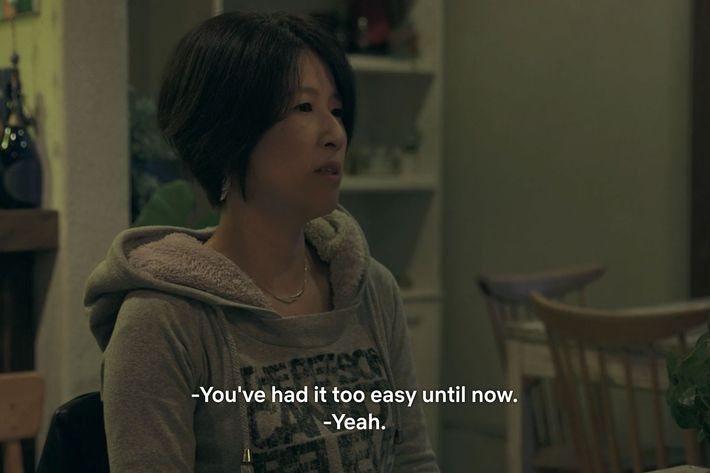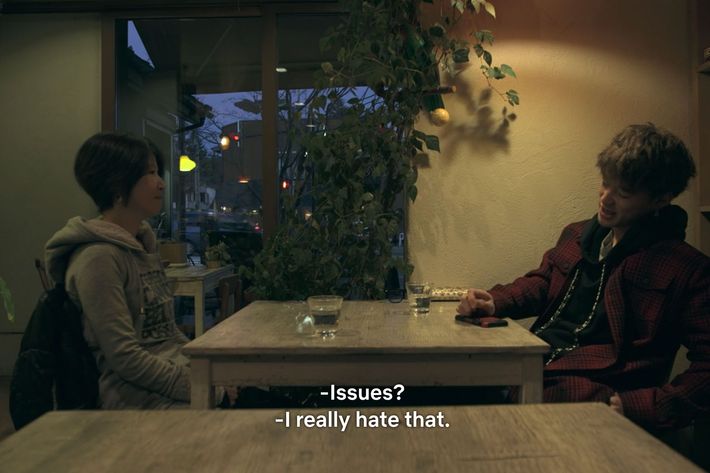 In a lighter segment of the show, Shion and Tsubasa, otherwise known as the Harry and Meghan of Karuizawa, play one-on-one basketball at a local gym. After dunking on and around one another, the two athletic lovebirds take a breath and chat. Shion's still very excited about Tsubasa's upcoming game, and is planning on going to temple to pray for her. She offers to join so he's not lonely, and I offer up couples praying together as my latest and freshest kink.
That night, Shion looks fresh from a bath as he … gets stretched by Tsubasa (yes, STRETCHED!). Lengthening his already lean and long body, Shion bends at Tsubasa's will. Sadly, they're both fully clothed. Because he has nothing better to do and no friends, Yuudai watches like a weirdo (he does seem to be using a foam roller, but let me have this, omg!). That is, until his attention is caught by Ami and Taka in the kitchen.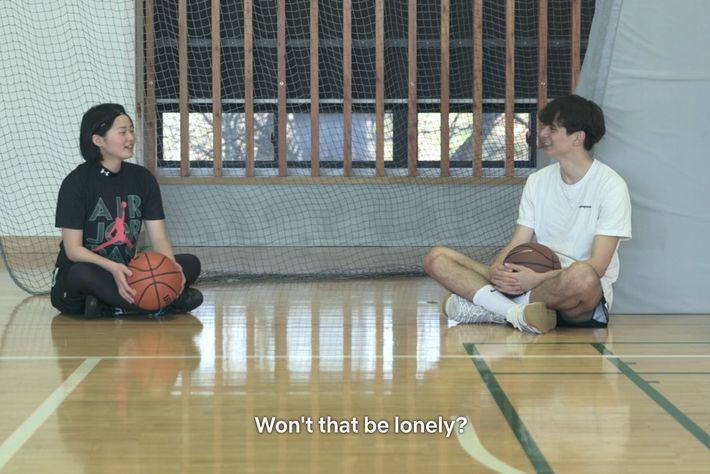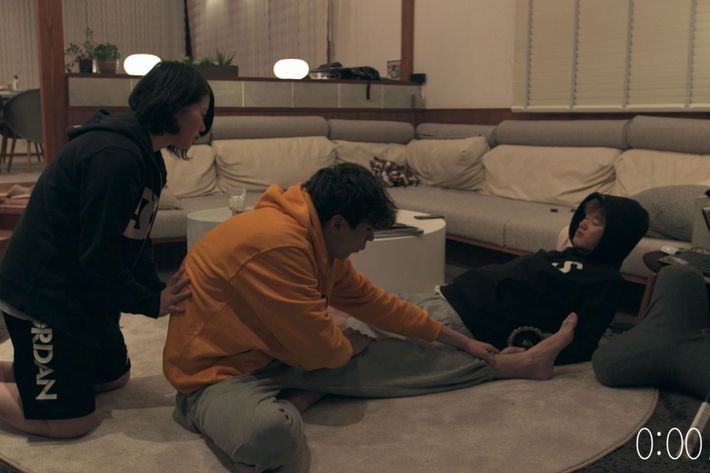 Taka, who looks two shakes away from a coma, asks Ami if she has any desire to go shopping for snowboarding gear with him in the morning. She's expressed interest in learning how to snowboard, but she has no clothes for the sport. Ami agrees and is excited to get out of the house and do something she's interested in for once.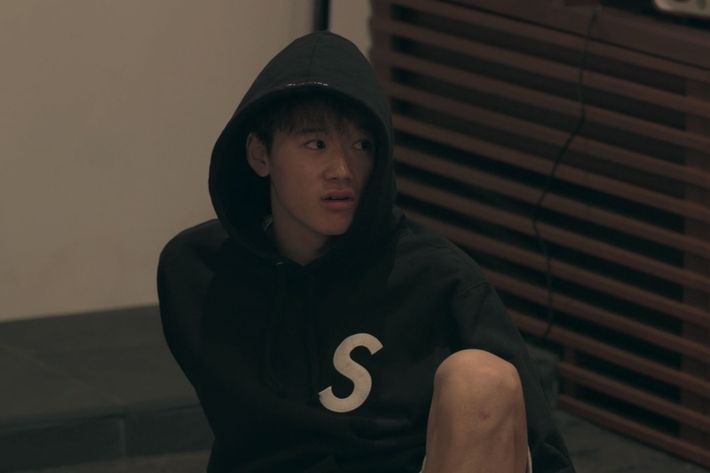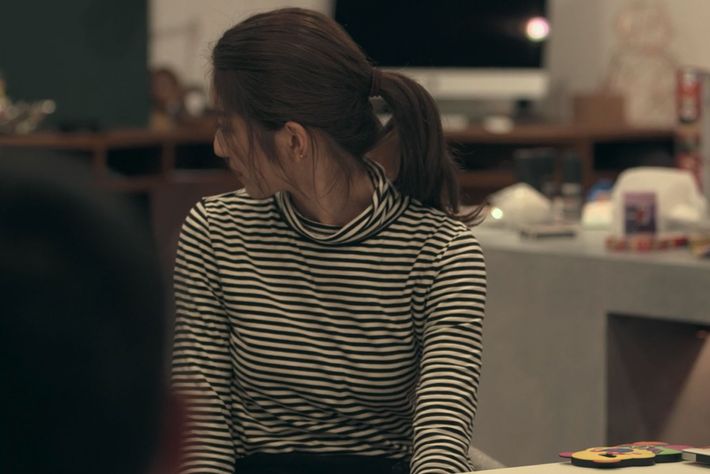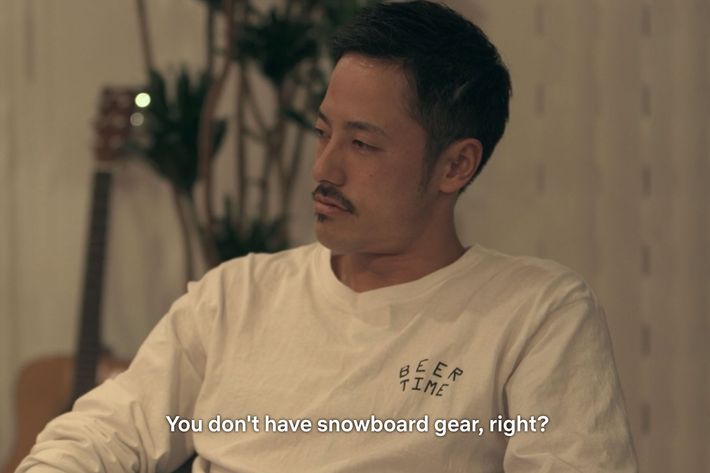 The next morning, Shion, with exceptional bedhead, sees Ami and Taka off for their snowboarding trip. While driving to the store, Ami and Taka reminisce about their first days in the house. Ami admits that she was intimidated by Taka, and thought his Night One hot pot was a big mistake. Feeling more free and open with Taka, Ami also admits that she should have never gone out with Yuudai. Um, you're just now getting that, honey?
At the shop, Ami tries on one outfit that's an immediate win. It's pretty plain, but Taka calls her "cute" multiple times and Ami doesn't seem to hate it.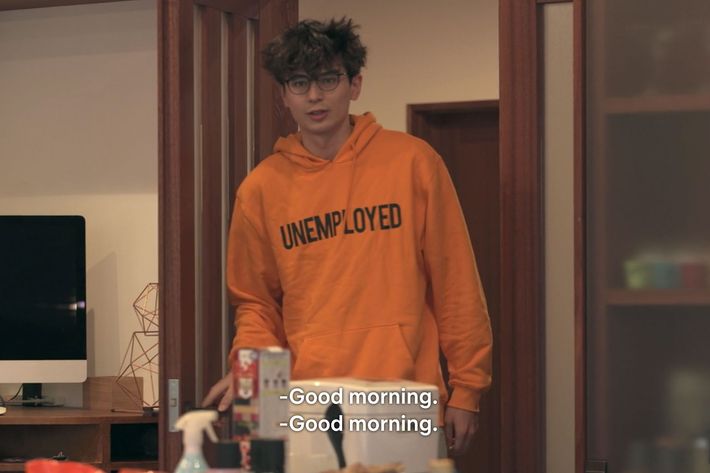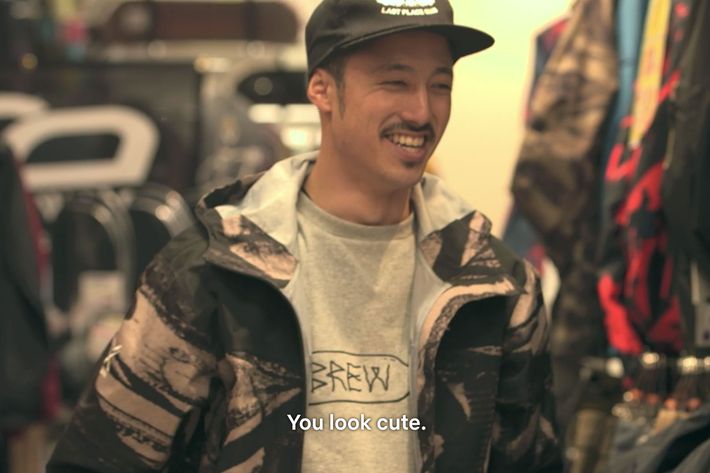 The final scene of the night is perhaps one of the greatest pieces of television. From top to bottom, I'm dazzled by Shion's laid-back, double-jacket, leather daddy with the hood and hat look, his giggles and his openness.
Over massive beers and a bite to eat, Shion and Taka talk about the goings-on of Terrace House. Taka discusses how terrible Yuudai is and says that if he's going to keep living with them things will have to change. Shion agrees, but seems to be a little distracted thinking about Tsubasa. For the first time, he admits that he finds her "cute," and calls their post-bath stretches "sexy." Apparently, it's not been a one-time thing, but each night, Shion takes a bath, and once he's all dry, Tsubasa stretches him out. Lord today, we thank you for Terrace House and pray that Shion either marries Tsubasa by 2019 or Mariah Smith. Amen.