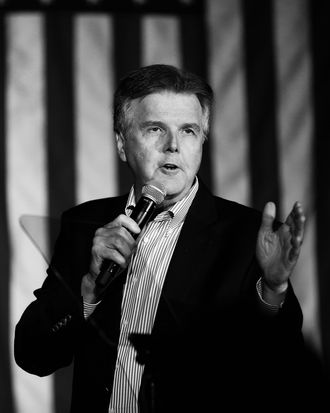 Dan Patrick.
Photo: Bob Levey/Getty Images
Ten people were killed today following a mass shooting at Santa Fe High School in Texas, making this tragedy the 22nd school shooting this year alone. It's prompted many to wonder what action could possibly be taken to prevent children from regularly being murdered in their own classrooms. It appears Texas Lieutenant Governor Dan Patrick finally has the answer to this routine, senseless violence: doors are the true enemy.
"We may have to look at the design of our schools moving forward and retrofitting schools that are already built. And what I mean by that, there are too many entrances and too many exits to our over 8,000 campuses in Texas," he said. "There aren't enough people to put a guard at every entrance and exit … but if we can protect a large office building or a courthouse or any major facility, maybe we need to look at limiting the entrances and exits into our schools so that we can have law enforcement looking at the people who come in one or two entrances." Yeah! Fire safety, who needs it!
Patrick, who has an entire page on his site devoted to his commitment to defending the Second Amendment, also suggested that students could start school at staggered times instead of trying to get all of them through one door at once. "We're going to have to be creative," he added. We're going to have to think outside of the box."