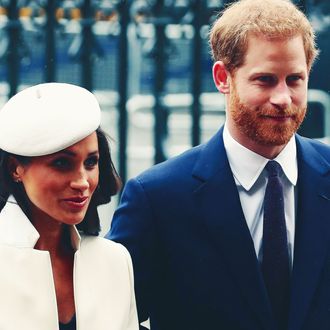 Meghan Markle and Prince Harry.
Photo: Daniel Leal-Olivas/AFP/Getty Images
On May 19, 2018, a real life fairy tale will occur: an American actress named Rachel Meghan Markle will marry Prince Harry, a.k.a. the hot ginger one, in a ceremony in St. George's Chapel at Windsor Castle. They have invited 1,200 personal guests for the ceremony, 2,640 members of the public to be present on the day, and five Spice Girls (and a disappointing tally of zero corgis).
However, this is a real life fairy tale with a lot of unwritten rules. It's a minefield — when Prince William and Kate Middleton got married, the Queen released a 22-page etiquette guide.
Ignore the handbook. These are our top ten favorite rules, including words you can't say, people you can't touch, and where to vomit.
1. Women must wear the right hat or face ridicule.
Sounds simple enough, but size matters. Wear a hat too ostentatious and you'll be ridiculed for the rest of your life. Case in point: Princess Beatrice at Prince William and Kate Middleton's wedding. Her hat was compared to a "toilet seat," "a birth control device," and "a uterus and fallopian tubes" on a 140,000-strong Facebook page dedicated to insulting it.
But if you wear headgear too small, you'll cause a small scandal — when then-Prime Minister David Cameron's wife, Samantha, only wore a mere small glittery clip to Prince William and Kate Middleton's wedding, her act was considered treason. The clip was the size of a croissant, but still, show some respect, Sam.
2. Family jewels only, please.
Occasionally women wear tiaras to formal weddings, but according to The Ladyship's Guide to the British Season, only married women are allowed to wear them. Single women are prohibited because tiaras represent betrothal and unavailability. Think of them like giant wedding or engagement rings for your hair. The Ladyship also says that you should never buy a tiara. Heirloom only, because purchasing a tiara is distasteful.
Which raises a question: if you can't buy one, where did all those royal tiaras come from? Maybe it's like how every time a bell rings, an angel gets its wings, except every time someone called Sixtus Dominic marries someone with the last name Money-Coutts in an English castle, God gives a tiara to your great-grandmother.
If you do wear a tiara, beware of the air kiss. The best tiara mishap involves two high-ranking women who loathed each other but were obliged to do the standard upper-crust air kisses. During the embrace, they locked tiaras and "had to be removed from the ballroom of Buckingham Palace locked in conflict, like a pair of rutting stags."
A final word of warning: the queen will likely lend (or give) a tiara for Meghan to wear on the big day. It's considered a massive faux pas to wear one when the bride is planning on wearing one, so please leave yours at home for this particular wedding.
3. Leave the tuxedo at home, too.
Jerramy Fine, the author of Regal Rules for Girls, says, "The Brits think that Americans are crazy for wearing tuxedos to churches." Stupid American heathens bringing their fancy tuxedos into houses of worship. Meghan and Harry's invitation stipulates a men's dress code of "uniforms, morning dress or lounge suits." Disappointingly, lounge suits are neither sweat suits nor track suits. They're just normal suits. Business suits. You know. Suits. Suits. Get it? Like the suits they wore on Suits, the show Meghan was on.
Morning dress, the daytime formal dress code, is what most British men will be wearing. It consists of a coat with a tail, a waistcoat, striped trousers and a tie. The top hat is optional, but very handy for discreetly vomiting into. Fun fact: Prince Philip once did this at a state funeral (source: A Royal Book of Lists by Matt Richardson).
According to Tatler, when posh men get drunk at weddings, they will then wear their ties around their heads. This is still more acceptable than wearing a tuxedo before 6 p.m.
4. Royals love a conga line.
King George VI had the "vulgar" habit of ending palace balls with a conga line, including one throughout Buckingham Palace the night before Elizabeth's wedding. His daughters carried on the tradition; in 1945, the 19-year-old future queen and Princess Margaret did the conga on VE Day and charged through the Ritz among hotel guests having their tea. "As one conga'd through, eyebrows were raised," recalls one participant.
And in case you need to talk about dancing in a conga line after the event, according to this entry in the queen's teenage diary, the past tense is "congered." As in "congered into house … sang till 2 a.m. Bed at 3 a.m.!"
5. Don't you dare touch the queen.
In 2009, Michelle Obama put her arm around the queen, causing uproar in the palace. The Daily Mail reported, "In 57 years, the queen has never been seen to make that kind of gesture and it is certainly against all protocol to touch her."
Myka Meier, the Plaza Hotel's etiquette expert, says, "One should never touch the queen unless she extends her hand to you."
Is this because the queen is extremely ticklish and prone to hysterical giggling fits? Probably. But also because it stems from the belief that the monarch has been appointed by God and as we all know, God hates being touched by commoners.
Also, at the sight of any royalties, be ready to curtsy or bow. Americans don't have to because the queen is not our head of state, but it's still seen as polite.
And you should address Prince Harry as Your Royal Highness, which is a lot for someone who is rumored to have named his basement "Club H," has been seen crawling out of barns covered in straw, and was once photographed cupping his crown jewels after playing strip billiards.
6. Avoid the T-Word. And the P-Word.
If you need the bathroom, don't under any circumstances utter the word "toilet." Ever. According to Jerramy, "This is as jarring to an upper-class English ear as the F-word. In fact, I get the impression that they would actually prefer the F-word. Never say 'toilet.' Ever. This rule is not optional. It is imperative."
Same goes for "pardon," although Americans rarely say this anyway. Jilly Cooper once described overhearing one of her children speaking to a friend, "Mummy says pardon is much worse than f—."
7. Don't say "Nice to meet you."
The logic behind this is that if you've just met someone, how can you declare the encounter as nice or pleasing so early in the relationship?
Instead, greet people with, "How do you do?" And if someone gets there first, the correct answer to this question is not "Fine, thank you," but a baffling echo back of "How do you do?"
Kate's mother, Carole Middleton, broke this rule when meeting the queen for the first time, making national headlines and earning her family the nickname the "Nice-to-meet-you Middletons." Also this was when Prince William's friends still whispered "doors to manual" at Kate Middleton in reference to Carole's career as a flight attendant. But hey! It's all in good fun.
British bathrooms can echo, so try to weep soundlessly if something similar happens to you.
8. You're done when the queen's done.
If you dine with the queen, then you must finish eating as soon as she takes her last mouthful. As in, you're banned from eating after she has finished. This is an official mealtime rule. Not sure what happens if you are currently chewing — perhaps you must open your mouth and let the food drop out?
"The Palace steward would stand behind the queen," Darren McGrady, the queen's former personal chef of 11 years, told HuffPost. "As soon as she put down her knife and fork from the first course, he would hit the button for the lights to signal the footmen to come in. The course was over and they'd start clearing — even if you hadn't finished, they'd be clearing the table."
Be grateful we don't live in Queen Victoria's times. She was known for her swift eating and could gobble through seven courses in 30 minutes. According to an entry on Etiquipedia, "If you were the last person served often you wouldn't get a chance to eat anything before your plate was taken."
9. The speeches are brutal.
The purpose of British wedding speeches is to mortify the groom (and bride) for at least ten minutes. At Prince William's wedding, Prince Charles, his own father, teased him about his bald spot (oh, for it only to be a mere spot today!).
This is nothing compared with Pippa Middleton's wedding to James Matthews. Best man Justin Johannsen said: "Now to the love of James' life: beautiful, energetic, loyal, soft-mouthed, comes on command, great behind. But that is enough about James's spaniel, Rafa, I'm here to talk about James's love, Pippa."
10. Humiliate those who don't know about random rules.
The best part of all this? You get to feel superior for knowing the rules yourself, no matter how arbitrary. For example, if there's a cheese course, there may be the passing of the port (sweet red wine mixed with brandy). Etiquette calls for port to be passed to the left.
If someone is hogging the port and forgets to pass it, it's considered bad form to ask for it. Instead, you must shout, "DO YOU KNOW THE BISHOP OF NORWICH." This alerts the port-hogger immediately to their faux pas. If they aren't familiar with etiquette (the pleb!) and look at you like you're insane, you are to reply, "He's a terribly good chap, but he always forgets to pass the port." And then you all have a roaring good laugh.
Also, it is handy to pass the port to your left because it allows right-handed people to keep your sword hand free.
Follow these rules and you'll be golden. But also, take them with a grain of salt because with an American divorcée bride, anything goes. Meghan is a rebel — she's already rejected the traditional fruitcake for lemon and elderflower, and it's believed that she will buck the tradition of only men speaking at the wedding and give her own speech.
But whatever happens, don't you dare wear a tiara on Meghan's big day.