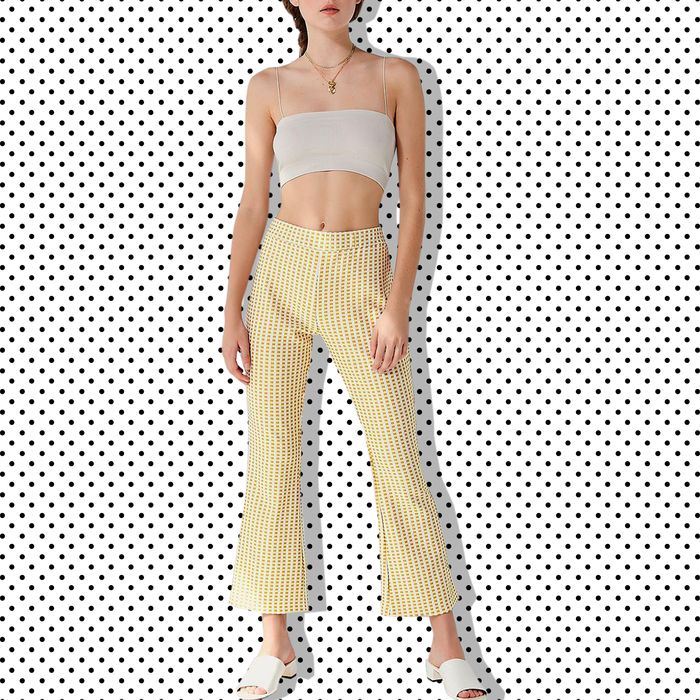 The hardest part about warm-weather styling (at least for the maximalist) is packing personality into an outfit that's just one or two layers. We've rounded up 15 pairs of pants that do all the work for you, but are still breezy enough to wear when it starts getting hot.
If You're Comfy and Trendy
Sky blue is a quintessential "it's warm now" color. Bonus points if you get Birkenstocks to bring out the red.
If You Want to Look Like an Influencer
Pair these stripes with a colorful wall mural and an artisanal ice-cream cone.
Don't be daunted by the fancy print — these black-and-white flared pants can be dressed up or down, and go great with a simple top or tunic.
If You've Been Wearing Black All Winter
All-white is a classic summer look that's practical in the light-reflecting sense, if not in the stain-repelling one.
If You're Going on Vacation
A light, floral pant seamlessly transitions from the airplane to the beach to a casual dinner.
Pinstripe pants can be fun too! The relaxed shape is breezy, but still crisp. Pair with mules and plans after work.
If You Think Leopard Is a Neutral
If You're Loyal to Princess Di
Photo: URBANO
The OG People's Princess (sorry Megs) loved a dot. Pay homage to her enviable style in these pants.
These pants are park- (and wicker-basket-) ready.
If You Don't Mind The Spotlight
All eyes will be on you in these wide-legged, magenta pants. Take it to the next level and wear all pink, or tone it down with a white tee and sneaks. Either way, they're a scene-stealer.
If You Have Royal-Wedding Fever
Nobody knows how to wear plaid like the royals. Show off your Anglophilia in a chic way.
Can't go wrong with a dark floral. It's still festive!
If You Don't Want to Leave Your Bed
That's chic now! Try it out with a pair of tropical PJ pants. Snuggly.
If You Appreciate Ladylike Tailoring
Photo: DIANO
This is what Grace Kelly would wear on her yacht in 2018. Do her a favor and wear them too.
If You're Just a Ray of Sunshine
These Tory Burch pants just make you wanna smile. Who doesn't want to wear a rainbow?
If you buy something through our links, New York may earn an affiliate commission.