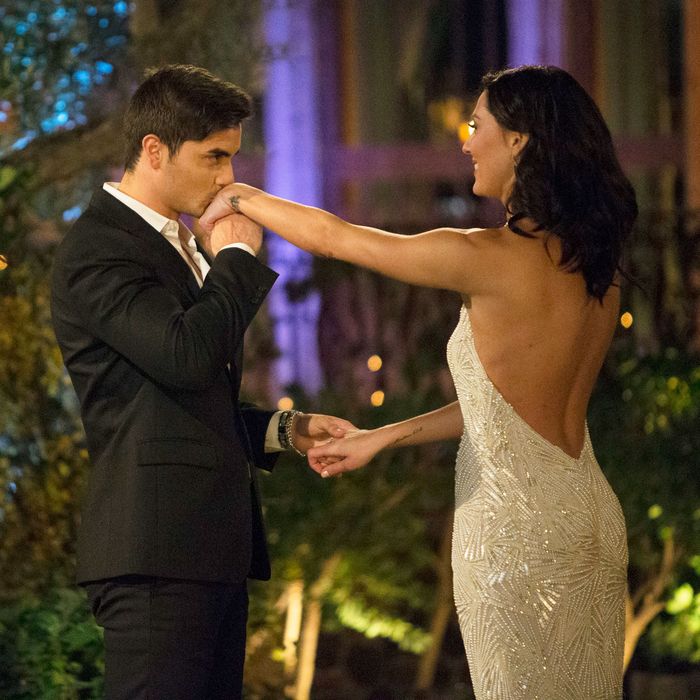 The Bachelorette
.
Photo: Paul Hebert/ABC
Just a few months after being dumped in front of millions of television viewers by Arie Luyendyk Jr., a professional race-car driver and the human equivalent of the color greige, 27-year-old Becca Kufrin is back and ready to find love.
Monday night's premiere of season 14 of the Bachelorette kicked off with close-ups of Becca crying with full eye makeup while she looks at old Polaroids of her and Arie, who still manages to look boring, even in a fun Polaroid. But then she tells us it's HER time now! She's fine, and doing aerial yoga, and ready to take control. After debriefing with the three most recent Bachelorettes — Rachel, Jojo, and Kaitlyn — Becca dons a beaded white gown, and gets ready to meet the 28 men vying for her love.
Like every season, last night's entrances were at times bizarre, uncomfortable, over the top, underwhelming, and of course, full of puns and props. Here's how this season's 28 contestants made their first impressions.
1. Colton, Former Pro-Football Player
First out of the limo was Colton, a former pro-football player (and Aly Raisman's ex-boyfriend) who initially seemed like he might be annoying because in his promo video he was wearing some sort of confusing faux-fur vest and also his name is Colton, but then seemed like he might be a sweetie because he set up a nonprofit to raise money for research and support people living with cystic fibrosis.
For his introduction, Colton came out with two cylindrical tubes that at first I thought were foam rollers and I was like "Oh no, Colton, what about Becca's dress?" but it turns out they were giant confetti poppers and I was like, "Uh, sure." He and Becca popped them and confetti fell everywhere and it was cute, even though a producer almost certainly fed him the whole idea.
Cheesy line: "I figured we'd celebrate you being the Bachelorette, and we'd get this thing poppin'. […] We started this off with a bang."
Entrance score: 8/10
2. Grant, Electrician
Grant's look kind of reminded me of Michael C. Hall in Dexter, but he's probably not a serial killer. His entrance is pretty boring, though. He says he respects Becca, which is nice, but he doesn't have a single prop, and he doesn't even make a lame pun about feeling the electricity between them. Very disappointing.
Cheesy line: "I give you a lot of respect for what you just did and what you just went through."
Entrance score: 4/10
3. Clay, Pro-Football Player
Clay was clearly nervous, which was endearing even though he fumbled (pun very much intended) the football line he maybe came up with on his own, who knows.
Cheesy line: "I caught a lot of passes in my day, but if I were to land you, you'd by far be the biggest catch of my life."
Entrance score: 5/10
4. Jean Blanc, Colognoisseur
Jean Blanc is a self-proclaimed colognoisseur, which means he owns over 100 bottles of cologne. Since his name is French, he tries to teach Becca the French phrase for "Let's do the damn the thing," which was Becca's catchphrase on The Bachelor, and which the show is really, really emphasizing this season. She doesn't do very well, but it's still charming.
Cheesy line: "Faisons la putain de chose."
Entrance score: 7/10
5. Connor, Fitness Coach
After Connor and his impressive bouffant climb out of the limo, he asks Becca to close her eyes, gets down on one knee and asks her if she's ready "to do the damn thing" (do you think producers whisper this into contestants' ears while they sleep?), and pulls out a ring I didn't get a good look at. He also says, "I know you've been in this position before," which is exactly what a woman who's fiancé dumped her on national TV wants to hear.
Cheesy line: "I want you to know I'm opening my heart to you, and I'm ready to take this journey together. So Becca — are you ready to do the damn thing?"
Entrance score: 4/10
6. Joe, Grocer
Joe is what I imagine Wrigley Field would look and sound like if a beautiful Chicago princess kissed it, and it suddenly transformed into a living, breathing man. Although he had a great, cringe-y line in his promo video ("I deal in produce but one thing I haven't produced yet is love") he completely ate it at his entrance, and all he managed to say was "I forgot everything I was gonna say to you." We all get nervous on first dates, but come on. Maybe that's why he got eliminated in the first round.
Cheesy line: Nothing!
Entrance score: -5000/10
7. John, Software Engineer
I watched John's entrance, but it was super boring and I was still upset that Joe had goofed so hard, so I immediately forgot everything and had to rewind and watch it again. Nothing against John, I'm sure he's nice, but even after a rewatch I still don't really remember it.
Cheesy line: "My grandma used to always tell me that love can happen overnight, because it happened for her and my grandpa."
Entrance score: 3/10
8. Leo, Stuntman
Leo has a mane of hair that would make Fabio swoon, and he milks it for all it's worth. Apparently the secret is leave-in conditioner.
Cheesy line: "I know tonight is about nerves, and we're all nervous, but I figured the best thing would be *dramatically frees his luscious locks from a top bun* to let our hair down."
Entrance score: 6/10 (wish he had done a backflip or something)
9. Jordan, Model
Jordan is clearly being positioned as the villain of this season. In his promo video he describes his personal brand as "pensive gentleman," which sounds like a brand of suits for husky boys. He also talks about how much work it is to be a model, and as soon as he gets in the house, he starts criticizing the other guys for not being as stylish as him because he wore a gray suit. His entrance, however, was pretty lackluster, and one of the only things he manages to say to Becca is that he "wasn't expecting this color" of her dress (white.) But his best line comes after he walks away, after Becca says his shoes are "fun."
Cheesy line: "I wanted Becca to hear the tapping of the shoes I wore because that's just like the heartbeat of a gentleman."
Entrance score: 3/10
10. Rickey, IT Consultant
Poor Rickey's entrance got shoved in as a foil for Jordan's rant about how unique his gray suit is (Rickey is also wearing a gray suit.) He doesn't have a pun, or any props, but he seems excited to be there.
Cheesy line: "You are gorgeous, superintelligent, sexy. You got like, all the adjectives flowing for you."
Entrance score: 4/10
11. Alex, Construction Manager
See John.
12. Nick, Attorney
Here's where we start getting into the Arie throwbacks. Nick shows up in a race-car driver suit, and then says "What type of [expletive] [expletive] wears something like this?" (the answer is professional race-car drivers who need a suit that is breathable but will also cover and protect their bodies in case they crash and/or are engulfed in flames) and climbs out of it, revealing a blue suit underneath. After he walks away, he says that meeting Becca for the first time is probably the hardest thing he's done in his entire life which, no offense, makes me question his ability as an attorney.
Cheesy line: "I'm actually a lawyer and usually I'm good at opening statements, but that's all I got."
Entrance score: 7/10
13. Mike, Sports Analyst
Mike has long hair like Leo, but doesn't make a big deal about it. Instead he brings along a life-size cardboard cutout of Arie that has as much personality as the real Arie, if not more.
Cheesy line: "I thought he should probably make an appearance tonight just so that he got a chance to see you as happy as you are tonight."
Entrance score: 5/10
14. Garrett, Medical Sale Representative
Garrett, who did a bad Chris Farley impression in his promo video and talked about how heartbreaking it is to snowshoe alone, drives up in a minivan stocked with soccer balls and diaper bags to show that he's ready to be a husband and a dad. He emerged as an early favorite and Becca gave him the first-impression rose, but on Tuesday, outlets began reporting that Garrett has a history of liking social-media posts that mock trans people, undocumented immigrants, feminists, and a Parkland student. So, his bit seems significantly less endearing now.
Cheesy line: "One day I hope to be a great dad and an awesome husband. [Becca: 'Hence the minivan.'] Hence the minivan."
Entrance score: Who cares he sucks.
15. Blake, Sales Rep
Blake appeared on After the Final Rose and brought a horse for Becca to ride on, so for his Bachelorette entrance, he rode in on an ox. Becca said it was clever but she wonders where he's getting all these animals, which I am also worried about.
Cheesy line: "I just want you to know, already, my feelings are as strong as an ox."
Entrance score: 6/10
16. Lincoln, Account Sales Executive
Lincoln also met Becca on After the Final Rose, and apparently it was his birthday then. It's not his birthday anymore, but he still brought her cake, which looked tasty. If I were the Bachelorette, I'd want every contestant to bring me food.
Cheesy line: "The last time we talked, I told you it was my birthday. My friends got me a cake, let's celebrate."
Entrance score: 8/10
17. Chase, Advertising VP
Chase, who looks exactly like someone who would be named Chase, really plays up the fact that his name is Chase.
Cheesy line:"Throughout the process it's all about the chase, and the 'Chase' is what makes the ending that much better." Do you get it?
Entrance score: 5/10
18. Darius, Pharmaceutical Sales Rep
Honestly, who knows. The producers really started to phone it in here with the guys who already appeared on After the Final Rose, maybe because they thought we'd already learned enough about them? All we hear Darius say is, "I feel great."
Cheesy line: N/A
Entrance score: N/A
19. Ryan, Banjoist
I am not exaggerating when I say Ryan's entrance is a crime against humanity. He is a BANJOIST who strolls up with NO BANJO and when Becca asks him to play for her he shrugs and says, "Maybe later." Like?? Stay in your lane, Ryan — your BANJO lane — and give the people what they want (BANJO playing)!!!
Cheesy line: Ryan, I am furious with you, you let us all down.
Entrance score: -1 million banjos
20. Christon, Former Harlem Globetrotter
Still too angry about Ryan to think straight. Also Christon doesn't really say anything in his entrance, but he dunks later, which is cool.
Cheesy line: "I'm dying to know more about you, so I hope this is the first of many conversations."
Entrance score: 3/10
21. Wills, Graphic Designer
Wills says he's a nerd, which makes Becca talk about how she's a nerd, because indeed who could be more nerdy than two gorgeous humans cast on one of the country's most popular reality-TV shows.
Cheesy line: "I hope it's not a problem, but I'm a bit of a closet nerd."
Entrance score: 3/10
22. Jason, Sr. Corporate Banker
Jason is a banker, which you can tell by his rich man, gelled-back hair. He tells Becca he and his best friends back home have a handshake, which is apparently two high-fives in a row, and then he kisses her hand. It's unclear whether he and his friends also kiss each others' hands.
Cheesy line: The hand smooch.
Entrance score: 4/10
23. Kamil, Social-Media Participant
Somehow, Kamil's listed job as a "social-media participant" isn't the weirdest thing about his entrance. The whole scene is extremely uncomfortable. After he gets out of the limo, he takes a few steps forward and says, "Becca, come here." When she walked to him, he said, "I truly feel in relationships, it's important for us to meet halfway."
"50-50," Becca agreed.
"Well, actually, how about 60-40?" he says, taking a step back. Then Becca takes a step back and asks him to come towards her, and he tells her to walk towards him, and I buried my head in my hands. Eventually he concedes to 50-50, but you can tell Becca didn't enjoy that little pas de deux at all, which is probably why he was eliminated.
Cheesy line: Aaaahhh!
Entrance score: Aaahhh!
24. Jake, Marketing Consultant
Jake and Becca kind of knew each other back in Minneapolis, it turns out. She calls him an "acquaintance" and says she's met him "on multiple occasions." His entrance is very awkward, and has the vibe of two people saying hi to each other at a work cocktail party.
Cheesy line: "My name's Jake. […] I wasn't sure if you'd remember me."
Entrance score: 1/10
25. Trent, Realtor
Trent rolls up to the Bachelorette mansion in a hearse, one that's probably been used for corpses before and will probably be used for corpses again. Imagine your deceased loved one being driven away in a hearse once used by a Bachelorette contestant. It could be cool, but then again, it might ruin the somber vibe. One of the other contestants speculates Trent's line will be something like: "I killed the competition." His actual line was:
Cheesy line: "Oh my gosh, Becca, when I heard you were the Bachelorette, I literally died. But then you brought me back to life!"
Entrance score: 6/10
26. Christian, Banker
Christian makes Becca do a spin for him, and even though it only lasted about ten seconds, the whole scene made me itchy and uncomfortable.
Cheesy line: "I gotta see you. I gotta look at you."
Entrance score: Blech.
27. David, Venture Capitalist/Chicken
The latest Bachelor/Bachelorette contestant to don an animal costume is David, who shows up in a chicken suit. At first I thought he was going to call Arie a chicken, but then he started making chicken noises that sounded like "Buh-KAW" but then sounded like "Becca." I guess both work.
Cheesy line: "I'm not here to ruffle feathers, and hopefully we can build an 'egg-celent' relationship throughout this time here."
Entrance score: 7/10
28. Chris, Sales Trainer
Chris says he rewatched her old hometown date, and that he knows the only way to secure her heart is to secure her Uncle Gary's heart, and to do that he brought a whole choir with him to sing to Becca. Then he walks inside right in the middle of their song, which seems quite rude.
Cheesy line: "I looked back at your Hometown Date, and I know the only way to secure your heart is to secure your Uncle Gary's heart. So I brought some friends to help me."
Entrance score: 7/10