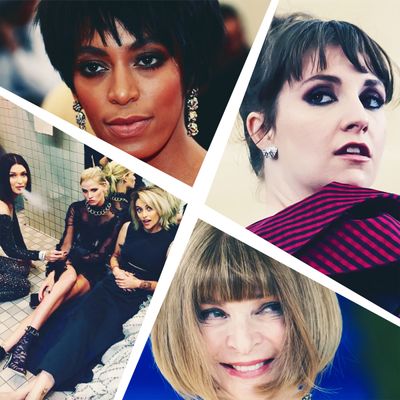 Photo: Getty Images/ Courtesy of Twitter/victuuris95
Fashion's biggest night is almost upon us, and when you gather that many oversize couture gowns, astronomical celebrity egos, and priceless art-works in one building, it's sure to be a recipe for drama. Here's a look back at some of the Met Gala's most dramatic, petty, and salacious moments of years past, from elevator meltdowns to violations of the city's indoor smoking ordinances. What will 2018 have in store for us?
Smoking in the bathroom:
Last year, a group of celebrity cool kids — including Bella Hadid, Ruby Rose and Dakota Johnson — decided to use the Met's bathroom as their designated smoking area. After a bunch of (admittedly cool-looking) photos of the transgression surfaced on Instagram, museum donors expressed their outrage in the pages of various New York tabloids, and the city's health commissioner sent an angry letter expressing her displeasure. If only they had stuck to Anna Wintour's selfie ban.
The Solange–Jay-Z elevator fight:
It's the Met Gala drama heard round the world. At a 2014 Met Gala after-party, footage surfaced from inside an elevator of a furious Solange berating, hitting, and kicking Jay-Z, as a security guard tried to restrain her. Speculation flew as to what Jay-Z could have done to provoke the attack; a few years later, Lemonade provided some answers.
Solange calls someone out:
Two years after the elevator incident, the singer-slash-drama magnet shared the following tweet at 2 a.m. on the night of the gala: "Shout out to when you think you all 'artsy and shit,' but your just rude and annoying lol." Speculation flew as to who she could be talking about, with names such as Taylor Swift, Katy Perry, and Kimye all being floated as possibilities. To this date, the culprit remains unknown. Hopefully we'll find out this year!
Lena Dunham puts her foot in it:
In a Lenny letter piece after 2016's gala, Lena Dunham claimed that football player Odell Beckham Jr. had snubbed her at the Met Gala. "I was sitting next to Odell Beckham Jr., and it was so amazing because it was like he looked at me and he determined I was not the shape of a woman by his standards," she wrote. "He was like: 'That's a marshmallow. That's a child. That's a dog.' It wasn't mean. He just seemed confused." Controversy ensued, with various news outlets accusing Dunham of racism and Dunham admitting that Beckham had not in fact spoken to her at the gala. The controversial auteur apologized soon after, as always.
Love is in the air for Taylor and Tom Hiddleston:
Less a dramatic moment than a moment that would one day lead to a lot of drama, Taylor Swift and future beau Tom Hiddleston were first spotted together at the 2016 Met Gala, when the pair were seen in the throes of an intense dance-off. A month later, the two were strategically photographed together on an uncomfortable pile of rocks. The rest is history.
The people vs. Anna Wintour:
While most Gala attendees wouldn't dare cross Anna Wintour, a few brave souls have been bold enough to share their distaste with fashion's most brand-name event. On Howard Stern, Amy Schumer slammed the event as a "farce," where people are "dressed up like a bunch of fucking assholes." Tina Fey doubled down, telling Letterman that the event was "such a jerk parade" and "if you had a million arms and all the people you would punch in the whole world, they're all there." And back in 2013, Gwyneth Paltrow brazenly declared: "I'm never going again. It was so un-fun. It was boiling. It was too crowded. I did not enjoy it at all." It seems like she has changed her tune; Gwyneth was be back at the Met Gala last year.
Demi Lovato and Nicki Minaj instagram drama:
When Nicki Minaj didn't tag Demi Lovato in a photo from the 2016 Met Gala, people immediately cried "feud." At the time, Lovato played it off as much ado about nothing, even sharing an embarrassing red-carpet snap of her own and blasting people on Twitter for falsely assuming things about her.
Yet recent comments have added fuel to the flames, with Lovato recently revealing in a Billboard interview that an unpleasant celebrity encounter nearly triggered a relapse and sent her running to AA. "This one celebrity was a complete bitch and was miserable to be around. It was very cliquey," Lovato said, though she declined to name names. "I remember being so uncomfortable that I wanted to drink."
Reese Witherspoon got drunk:
Few celebrities are more entertaining drunks than Reese Witherspoon, and at 2014's Met Gala, the actress really shines, as evidenced in a video where she tries — and fails — to pronounce Cara Delevingne's name. ""I don't know what your fucking name is," she slurs in the (now deleted) video, before giving her best college try. "Laviiiigneeeey." She goes on to offer some advice. "The most important thing about a name, for a girl, is that a man can whisper it in his pillow," she declares. Here's hoping for a repeat of this in 2018! Maybe Reese will get stuck in an elevator with Sersheeaw Ronan and Timotay Chalemaee?