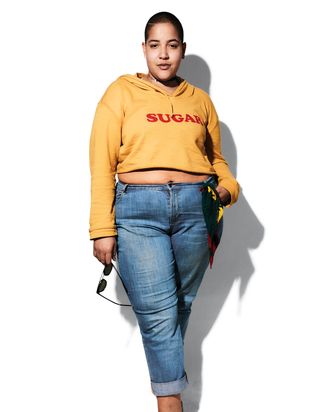 "The first thing I ever sewed for myself was a pair of pants."
Photo: Bobby Doherty/New York Magazine
Gloria Tolentino, Seamstress
Where are you coming from?
The Lyceum Theatre. I'm a seamstress on The Play That Goes Wrong. I fix the clothes, so if an actor is zipping up their sweater and it snags and the whole thing rips right apart, I sew it back up.
How'd you learn to sew?
I've always been a big girl, and when I was little my grandfather used to make all of my clothing special for me. He made my uniforms for school, my dresses. Sometimes even my underwear. The first thing I ever sewed for myself was a pair of pants, when I was 17. I was playing a governor in a school play. I still make a lot of my own clothes. Right now I'm working on a chiffon shirt. Chiffon is very difficult to sew.
Where are you from?
I moved to Brooklyn from Puerto Rico six years ago.
Does your family still live there?
Yes. It's been a very painful year. My mother is still in the shelter system. I've felt very angry, and emotional, too — I want to go there, to be with my island. But some of my family has come here. On the New Year, my cousins and all my Puerto Rican friends went to a club to dance techno. It was emotional, dancing all together. But let me tell you: I love techno music. It makes my heart melt.
Age: 26.
Neighborhood: Crown Heights.
Favorite designer: Carolina Herrera.
Favorite painter: Basquiat.
Watching: La Casa de Papel.
Side hustle: "I paint. Abstract, spiritual things like colors and birds."
*This article appears in the May 14, 2018, issue of New York Magazine. Subscribe Now!