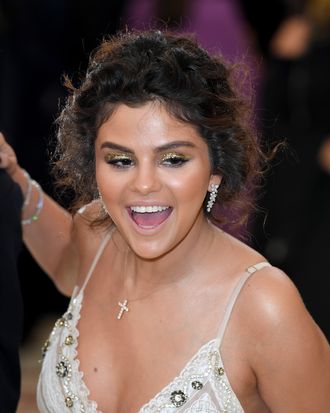 Selena Gomez at the Met Gala.
Photo: Karwai Tang/Karwai Tang/Getty Images
Celebrities may "dread" the Met Gala, but Twitter loves it for its meme potential. After all, how many times a year do you get this many over-the-top celebrities together in one room, all attempting to adhere to the same costume theme? And with a theme like "Heavenly Bodies: Fashion and the Catholic Imagination," things were bound to get hilariously messy from the very beginning.
We may not have gotten Rihanna in the Popemobile or Leonardo DiCaprio and the Pussy Posse dressed as the Seven Deadly Sins, but we did get an update to the internet's favorite Kardashian meme: Kris Jenner's "You're doing amazing, sweetie." And as for Beyoncé's arrival as the Holy Ghost? As one Twitter user put it, "Stunniiiiiiiiiiiiiing!"
Below, a look at some of the night's best jokes.
On Selena Gomez and Kylie Jenner maybe getting a little bit too close to the sun:
On Shailene Woodley's Joan of Arc moment:
On Leonardo DiCaprio thirsting after Rihanna:
On Kris Jenner being the "proud mama" we know her to be:
On Daenerys Targaryen finally getting what she deserves:
On the moment we were all waiting for:
On Jared Leto's Jesus look:
On life imitating art:
On watching the Met Gala from home:
And finally, Darren Criss being owned: