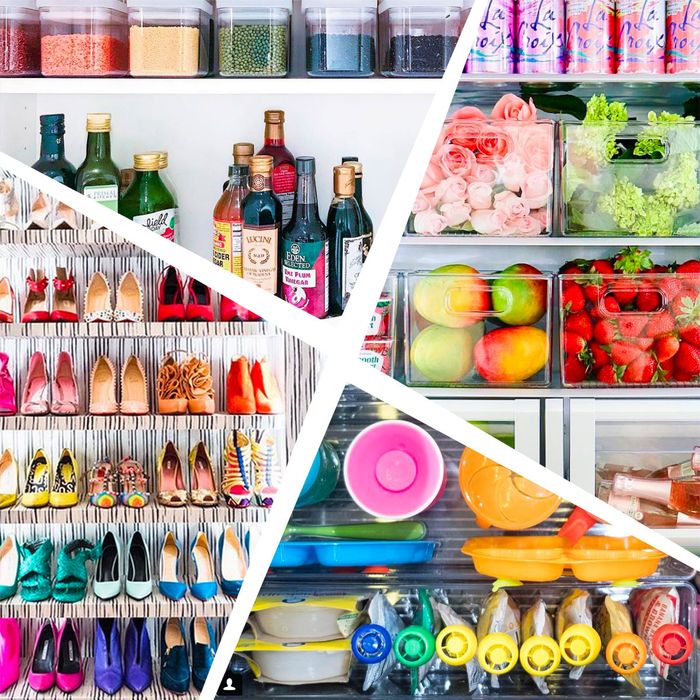 The Home Edit.
Photo: thehomeedit/Instagram
Lifestyle blogs are all about aspiration, which is code for making people envy you and shop accordingly. In our series I Like This Bitch's Life, the Cut bitterly admits that it's working.
Last year, Mandy Moore undertook a major renovation of her mid-century ranch house in Pasedena, California. And then, for months, the This Is Us star documented the entire process through highly detailed Instagram posts. We saw the early days of construction and the creation of her new kitchen island, her deck being built and her stunning fireplace being erected. As if those images weren't enough, she took us on tours of the rapidly transforming property on Instagram Stories.
I felt wholly involved with the process: I had strong opinions about which tile she should pick, and I wondered how she'd keep her new floor-to-ceiling windows clean. Toward the end of the renovation, Mandy posted something that seemed innocuous at the time: her exquisitely arranged pantry, which she tagged as The Home Edit, an organization company I began following immediately.
My passion for order began in college, during a period in which I felt like things were out of my control. After essentially losing a semester to beer and struggling to reestablish myself as a serious student, all I wanted was something that could make me feel less powerless. Staring at my closet one day, I had the uncontrollable urge to organize my clothes by type and color. Soon, my shirts went from piles on the floor to neatly hung up from darkest to lightest. My pants hung gently on the five-tier hangers I'd always been meaning to use. Invigorated, I then alphabetized my overflowing bookshelf by author's last name (and also by title, for authors with multiple books in my collection). And I finally felt what I'd been longing for: in control.
Since then, I've learned that organizing and cleaning is how I stay sane during tough times. During a breakup, you'll find me going through my closet and setting aside clothes to donate. If I get in a fight with a friend, I'll be sorting through my cutlery drawer.
Now, I can't stop looking at the Instagram page of The Home Edit. The company is led by the duo of Clea Shearer and Joanna Teplin, two California transplants now based in Nashville. They travel the country working on homes and offices (often of the rich and famous, including Kim Kardashian West and Lauren Conrad) — and share it all online.
Unlike looking at the accounts of other brands, it often doesn't feel like Clea and Joanna are trying to sell me their services. Instead, their stories mostly serve as a sneak peek into their highly organized, yet entertaining days. I've seen them take a business-class cross-country flight (without getting their business manager's permission, shhh). I know that Clea's two cute kids like to clean out drawers and arrange them nicely, just like their mom. Their stories are more about their daily lives (from nights at home to Pilates class), while their actual posts are more about work. But sometimes, they fuse the two — like when they posted a Boomerang of themselves cheers-ing each other after organizing the Kardashian West household.
In one set of stories pinned to their Instagram page (under the title of "Roberta"), Clea brings us along for her visits to her parents' house — including the time her friend brought a preemptive "thank you" card and a go-bag in case they ended up spending the night (her friend was apparently worried about being considered a good houseguest by Clea's "momager" Roberta). There was also the time when she and Joanna were visiting and had to work, but Clea's parents wouldn't stop blasting Grateful Dead songs.
Beyond the relatable personal asides — and perhaps most significantly — The Home Edit's followers are constantly blessed with beautiful images of ornately organized drawers, closets, pantries, countertops, you name it.
Following The Home Edit is my version of ASMR. Whenever a picture of someone's makeup drawer pops up — with brushes neatly organized by shape and type, and beauty blenders with their own special containers — a sense of calm washes over me. I become Zen when I see images of color-coordinated books and boxes of toys in children's bedrooms. Nothing soothes me more than staring at the ornately sorted shoe closets of wealthy clients. Quite recently, I found myself in a near-ecstatic state after looking at an exercise cabinet with bins marked "rags," "yoga towels," "cups," and "water bottles." Imagine what my life could be like if my barre supplies were so organized.
Looking at this Instagram account, I want nothing more than to stock up on beautifully colored cans of La Croix, clean out my fridge, and put everything in neat little containers.
Obviously, The Home Edit is a business, so the goal of the account is most certainly not to provide relaxing experiences specifically for me, a person who lives on a tight budget and will never add to their profits. I assume the account is meant to promote the brand and draw in more clients. But it's hard not to think they're doing it all for people like me.
As I write this, I'm packing to move into a studio apartment in Brooklyn. While I'm excited to organize — particularly to color-coordinate my new closet — I'm also all too aware that Mandy Moore's life-changing pantry wouldn't fit into my small abode. If only The Home Edit could somehow re-create Mandy's pantry in my tiny kitchen cabinets …