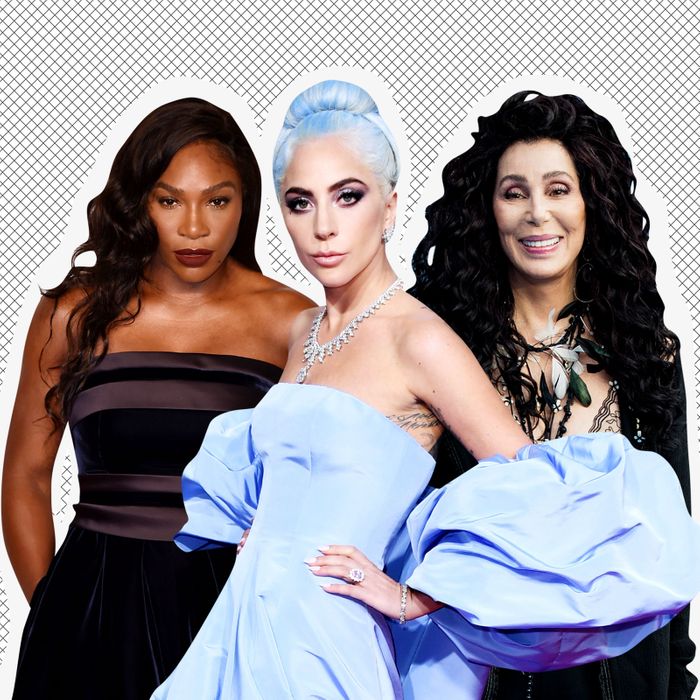 Serena Williams, Lady Gaga, and Cher.
Photo: Getty Images
The Met Gala is here, and depending on who you ask, it's either a joyous, song-filled celebration, or a waking nightmare. Regardless, the Metropolitan Museum of Art's Costume Institute Gala is always one of the year's hottest tickets — an exclusive event where stars go to see, be seen, and be seen being seen. So who's attending this year's camp-themed soiree? Although the official guest list is not released prior to the event, The Hollywood Reporter attained the list of the 183-person host committee. Here's who we know of so far:
Who Is Attending:
The Gala's co-chairs: Vogue editor-in-chef Anna Wintour has served as chairwoman of the Gala since 1999. This year, she's joined as chairperson by Lady Gaga, Harry Styles, Gucci designer Allessandro Michele, and Serena Williams.
Lots of actors: About 43 percent of the 183 person host committee are actors. Who are some of those 87.84 people? Bradley Cooper, Chadwick Boseman, Lupita Nyong'o, Lena Waithe, and Gucci favorite Jared Leto.
"Power couples" as termed by Page Six: Three high-profile couples are also on the host committee: Priyanka Chopra and Nick Jonas, who met at the Met Gala as guests of Ralph Lauren, new fiancees Jennifer Lopez and Alex Rodriguez, and Blake Lively and Ryan Reynolds.
Camp icons: Prolific tweeter Cher will be there, hopefully in an outfit designed by committee member and longtime Cher collaborator Bob Mackie. And it wouldn't be complete without modern camp architect Ryan Murphy, creator of masterpieces such as Glee and Scream Queens. Donatella Versace, champion of supermodels and gold, is also on the committee.
Less-than-campy designers: This is fashion's biggest night after all, and it wouldn't be complete without some designers – regardless of how on-theme they are. Tom Ford, Miuccia Prada, Valentino's Pierpaolo Piccioli, and Meghan Markle's wedding dress designer Clare Waight Keller are all – you guessed it! – confirmed to be on the host committee.
Who Is Not Attending:
Possibly three top designers: Womens Wear Daily reported that Dior, Ralph Lauren, and Calvin Klein would not be buying tables. Matchmaking brand Ralph Lauren will still be involved somehow with the Met Gala (probably by dressing people), but no word on Calvin Klein, Dior, or their respective designers.
Probably not these people: Back in 2016, Amy Schumer told Howard Stern the people at the Met Gala were "dressed up like a bunch of fucking assholes." Tina Fey once called it a "jerk parade" and "if you had a million arms and all the people you would punch in the whole world, they're all there." So, maybe they'll be there. But probably not.