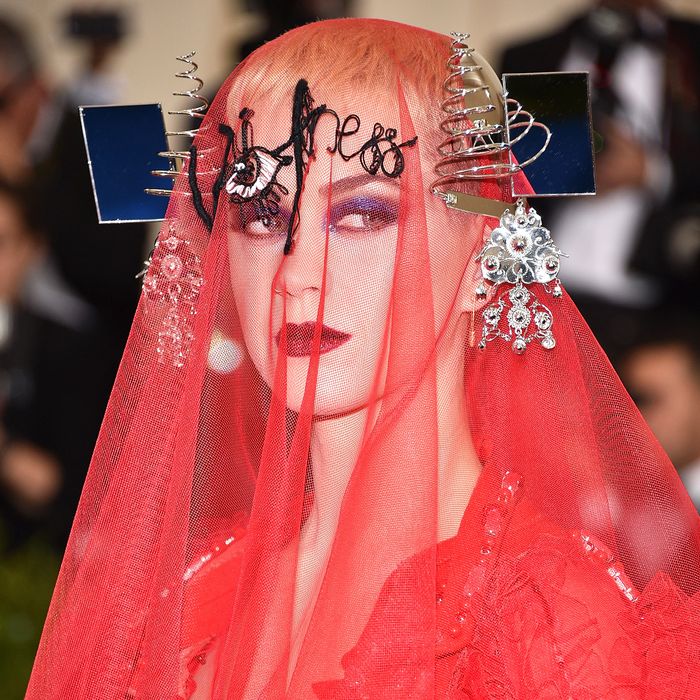 Katy Perry wearing Pat McGrath makeup at last year's Met Gala.
Photo: Kevin Mazur/WireImage
The gift shop following the Met Gala exhibit is often quite dreamy. In addition to postcards and coffee-table books, this year there will be shirts by Versace and for the first-time ever, makeup, with a special edition Pat McGrath Labs makeup collection.
Pat McGrath, the Mother of Makeup and most in-demand makeup artist in the world, will launch the Met's first cosmetics range. It will include a brand new lip gloss called LUST: Gloss Aliengelic and a special edition of the MOTHERSHIP IV: Decadence eye-shadow palette. The palette includes shades of blue, gold, copper, and metallics. The packaging will feature artworks included in the exhibit "Heavenly Bodies: Fashion and the Catholic Imagination."
Of why she created a special Met-themed collection, McGrath said in a statement, "Religious history and artifacts have always been vital influences on my work, and it is an extraordinary honor for me to be unveiling these new pieces alongside this breathtaking exhibition as the first-ever beauty brand at New York's iconic Met Store."
They'll be available at the exhibition gift shop at the Met's Fifth Avenue location starting May 7. Some of the products will be available at the Cloisters as well.