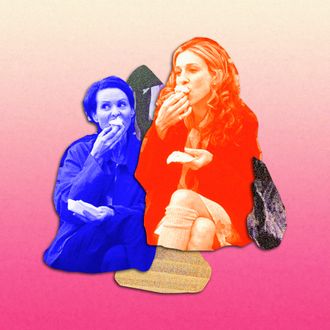 Photo-Illustration: by Stevie Remsberg/Photos HBO.
Sex and the City aired its first episode on June 6, 1998 — in honor of the occasion, we're taking a look back at 20 years of SATC. Read all the Cut's anniversary coverage here.
In its 17 years of operation, the On Location "Sex and the City Hotspots" bus tour has hosted over half-a-million Sex and the City fans (and their grudging loved ones). The tour-goers descend upon Manhattan from all over the world — Hong Kong, Stuttgart, New Jersey, Long Island, Staten Island — eager to stand where Carrie told Miranda she had a crush on Aidan, eager to taste a cosmopolitan in the bar Steve owned, eager to watch Sex and the City clips on a bus TV.
And they do.
When a co-worker floated the idea that I go on the Sex and the City bus tour, it was met with sadistic laughter — oh, haha, wouldn't that be so funny, to put Kelly on a Sex and the City tour. Ohhh, haha, wouldn't that be a gas to make her drive around the city in a big doofy bus with a bunch of tourists for four hours looking at places where Samantha had sex, or at least places that were places where Samantha had sex before they became an Old Navy, and then a Duane Reade. Oooh, haha, wouldn't that be some sort of a funny punishment for her even though she has never done anything wrong in her life and is actually very nice. Well. I'm sorry to report that in that moment the joke was not on me but instead on all of my co-workers, because—
I wanted to go on the Sex and the City bus tour.
Because—
I love Sex and the City.
And—
I love being driven around.
The Sex and the City bus tour, in its nearly two decades, has grown into a cultural institution of its own, maligned by those who live and work in the city for its daily bus-sized rumbling, its unruly gaggles of joyful women, and its general air of — yuck — tourism. (It's just so frustrating to see someone spend time in New York and not fully commit to the bit.) The tour has been taken and reported on by journalists many times, most notably by A. A. Gill, who attended for Vanity Fair in 2009, and called it, not incorrectly, "a rambling, exhausting, discursive, self-reverential troll through downtown." Elsewhere in media, in an obnoxious scene from a show I did not watch, the tour was featured in the HBO series The Newsroom: In one pivotal scene, a character named Maggie yells about her feelings for a character named Jim in front of a Sex and the City tour that this "Jim" happens to be on.
On Locations hosts TV and movie bus tours of New York City and Boston, and their offerings include but are not limited to "Gossip Girl Sites Tour," "The Sopranos Sites Tour," and the intriguingly general "Boston TV and Movie Sites Tour." Theirs is Manhattan's only option when it comes to Sex and the City bus tours. This status was threatened only once, in 2008, by a $24,000 version that took you onto the Soho House roof (a site the $40 option drives by) and into Jimmy Choo for a cocktail party (the $40 option requests you wear comfortable walking shoes).
For those picturing the Sex and the City tour bus as a Sex and the City–themed bus with an open-air top level and a selection of penis hats for the attendees to wear, it is not that, and you are not alone in your disappointment. The bus, which is enclosed, was in fact a Turner Classic Movies tour bus, regular in every way except for how it said it was a Turner Classic Movies tour bus on the outside.
I took the tour on a warm Wednesday afternoon in May, an unfortunate time to take a Sex and the City bus tour, I soon found out. Most tourists had either left the city for the week or not arrived yet, the tour guide explained, so there were, on the tour, just 11 other people. I expected a tour bus full of excited women already drunk at 11 a.m., but instead it was me, a couple from Ireland, a couple from England, a mom and daughter from Ohio, two couples that seemed weird and I don't know where they were from, and one woman from also I don't know where.
It was a subdued environment. The mother-daughter duo were the most jazzed about the whole experience — the college-age daughter dressed up in a sort of Cyndi Lauper–looking outfit — and the Irish couple took second-most jazzed. The man part of the couple was called out immediately for being a man. I believe this was because, though there were two other men on the tour, he seemed to be in the best spirits about the whole experience. The tour guide, Melissa, was a charming, foulmouthed comedian who was genuinely funny, which I rudely did not expect; she pointed out that the Irish husband was likely here "for the blow job." He laughed heartily and good-naturedly. If he was there for the blow job, he certainly earned it.
The other guests were more difficult to read. Weird Couple A sat up front and spoke to tour guide Melissa consistently throughout the tour, as if she were not trying to conduct a tour and was instead just a passenger on Weird Couple A's road trip. Weird Couple B sat all the way in the back and seemed upset. I would say everyone on the bus seemed kind and shy: No one was particularly eager to yell out answers to the trivia questions asked throughout, but they were willing to politely tell Melissa that, for example, it was Sarah Jessica Parker's baby that Aidan was holding in that one scene, and that's why the baby seemed so happy to see Sarah Jessica Parker — once it was established that no one else on the bus was going to shout it out.
Did I know the answer to every trivia question? Yes. Did I answer any of them? Thank you for asking, yes. In a tribute to my dog, I answered: "Does anyone remember the name of Aidan's dog?" Of course I do. His dog's name is Pete. (My dog's name is the more formal Peter.) I am, like I said, a Sex and the City fan, having watched the show steadily since high school. Besides being great entertainment that I love, it provides useful shorthand in conversations with female friends when trying to describe particular facets of life and relationships: "nobody wants to fuck mean mommy," the idea of Steve in general, "I AM SUCH AN IDIOT!", when depressed Charlotte gets dressed up and goes to the baby shower, the idea Aidan in general. In certain friendships, there are few things that don't trigger a common Sex and the City memory. Drawing from that cathartic and familiar pool of common pop-culture knowledge can be a shortcut to feeling understood, which is just nice. Driving in that cathartic and familiar pool of common pop-culture knowledge is nice, too, although in this case there is a very noticeable lack of shortcuts.
The bus picks you up at what is essentially Sex and the City's Four Corners Monument: the spot between the Paris movie theater (where Carrie went on a date with the city of New York, her one great love); the Pulitzer fountain (where Carrie told Big, "Your girl is lovely, Hubble," and Big was like, "???"); the Plaza Hotel (where Big had his engagement party with Natasha); and Bergdorf Goodman (where the women shopped in the opening scene of the second movie). The energy there — you must feel it for yourself.
Honestly, Manhattan is lousy with places where Sex and the City did something. The show ran for 94 episodes spanning six seasons, with two movies on top of that, and filmed almost exclusively on location around the city. So, it's a long tour. Four hours long, with barely any downtime, as the sites were abundant throughout — Tiffany's, where Charlotte rewrote her proposal narrative; the church where Samantha tried to fuck that priest; the Starbucks where Carrie met Louise in the first movie; the gallery that acted as Charlotte's gallery until it got too expensive to film in and the writers had to make her quit her job to save HBO $30,000 (a fact we learned that I loved); Tortilla Flats, where Carrie insanely made Miranda come on a double date with their ex-boyfriends; Blue Water Grill, where Charlotte went on a date with that guy who kept punching people; ABC Carpet & Home, where Charlotte and Trey's mom looked at beds; Equinox, Miranda's gym; and so on, and so on, and so on. After most sites, we'd watch a corresponding clip, which would cut in and out abruptly in a way that at least felt like it was an attempt to skirt some sort of copyright law.
The length was somewhat difficult to deal with, though it did lead to a good idea: If they ever end up filming the third Sex and the City movie, perhaps they can film exclusively on location along I-78 W, NJ-139 W, I-280 W, I-80 W, I-380 N, and US-11 N. Ah, the new glamour! That way you can take the sightseeing tour all the way to Scranton, Pennsylvania, for when you need to go there to visit your family. Hm? It would at least work for me, and it's something for Sex and the City writer Michael Patrick King, a Scranton native himself, to consider.
Tour guide Melissa led us on four off-bus adventures throughout the tour: to the Pleasure Chest, where the girls bought Charlotte a vibrator (no one purchased anything, though we were offered a 10 percent discount); inside Buddakan, where Carrie and Big had their wedding rehearsal dinner (the mother and daughter duo commented that it was very nice of Buddakan to allow us inside of Buddakan); and past Magnolia Bakery, where we did not get cupcakes (the tour practice of going into Magnolia to get cupcakes was halted in 2010; we had non-Magnolia cupcakes on the bus). The Magnolia walk-by was en route to Carrie's stoop, the stairs of which are roped off by its owners, who do not love the fact that a tour bus full of Sex and the City fans stop by at least once per day and sometimes twice on weekends.
"Oh … I think this is the Sex and the City tour," a passerby commented as we waited our turn to take a photo in front of the rope in front of the stoop. Yes, it was. Other passersby were not so sure, one asking his friend if this stoop was "a famous place." Yes, sir, it is. We also went inside Onieal's, the bar that acted as "Scout," Steve and Aidan's bar. There, attendees were invited to purchase cosmopolitans for $10, and I was shocked to remember that I had visited this very bar just a few months earlier without realizing it was in fact "Scout," Steve and Aidan's bar. This city never stops surprising you.
I am tempted to apply the "block universe" theory — which proposes that change is an illusion and that past, present, and future exist stagnantly and in equal measure — to the feeling of taking a locations bus tour of places where a popular TV show or movie filmed. Unfortunately, the amount I know about the "block universe" theory is the amount you have just read, and I'm not exactly sure it applies. Suffice it to say, it's interesting to feel connected in a physical way to an event you know so well from elsewhere in time, like the time when Carrie told Miranda that she had a crush on Aidan. To close your eyes and imagine it happening right there, where you're standing. In my opinion, it's neat, and much less grim then when you practice the same sort of past-present mindfulness somewhere like, you know — well, I won't say where specifically, but I think you understand my meaning.
It's also just nice to be driven around, watching Sex and the City clips, talking about Sex and the City, looking at things you sort of maybe vaguely remember from Sex and the City outside of your window. I'd absolutely never do it again in my life, it was so long and you have to get off of the bus in Times Square, but this time was fine.
So fuck you, co-workers!!!!!!