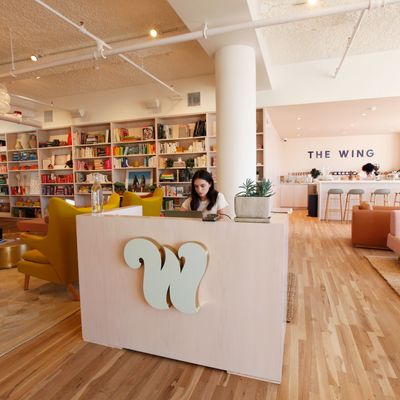 The Wing, the rapidly expanding women's social club and co-working space, has revealed to the Cut that they are launching a new scholarship program in hopes of creating a more economically diverse community.
The members-only club, with its snazzy millennial pink branding and high-profile guest speakers, has come under fire for its high membership fee ($2,700 a year for an all-access pass), despite being comparable to that of other co-working spaces. But as co-founder Audrey Gelman told the Cut, creating an inclusive space has always been part of The Wing's feminist mission. "Despite the fact that we have a really diverse community in terms of professions and racial and ethnic backgrounds and increasingly in terms of age, we wanted to make sure we had economic diversity represented in our memberships," Gelman explains.
She adds that the scholarship program is not a "quick and dirty" endeavor, but something The Wing has been allocating substantial resources toward over the past ten months. "We wanted to make a real effort to make sure that women who couldn't afford The Wing but could also get a lot out of it and also give back a lot to our community, have the opportunity to access the space and the community."
The pilot program will launch officially in September at The Wing's new Dumbo location. While there is no specific salary cut-off to apply, Gelman says the program is designed for self-identifying women and non-binary individuals who wouldn't otherwise be able to afford the membership fees. Applicants must be 21 or older and live in New York.
Gelman says the program is aimed at individuals who are currently underrepresented in their member pool and who are working to advance the position of women and girls in society — specifically, those in the fields of teaching, nonprofit, social services, and advocacy. The Wing will also recruit applicants through a partnership with the Retail Action Project, a members' organization that represents the interests of retail workers. "We're excited to be a part of The Wing's efforts to provide more equitable access to their clubs for low-income women and non-binary individuals. Now, our members will be able to help grow our organizational network, incubate new ideas and campaigns, and invest in their continued personal and political growth," said Rachel Laforest, RAP's executive director in a statement.
"There's a business and ethical imperative that's behind our decision to do this," said Gelman. "It's just the right thing to do and it's just going to enhance the richness and diversity of our community."
Click here to apply.