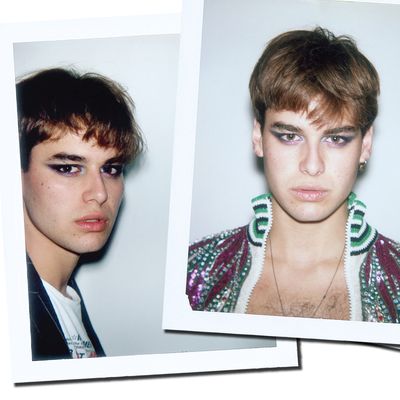 Left: Fernando wears his own clothing; Center: Fernando wears Gucci jacket; Right: Fernando wears his own clothing.
Photo: Lucas Michael
Life imitates performance art for Fernando Casablancas. He's a student at NYU's Tisch school studying what he describes as "experimental theater." Which makes sense, as Casablancas has the air of somebody who would fit in seamlessly at Andy Warhol's Factory. He recently published an online 'zine of his drag persona, complete with blue wigs and corsets. (And, in time-honored New York–cool-kid tradition, he has a familiar last name; he's related to both The Strokes' Julian Casablancas and modeling agent John Casablancas.) We spoke to him about distressed sneakers, the deep ocean, and Ezra Miller.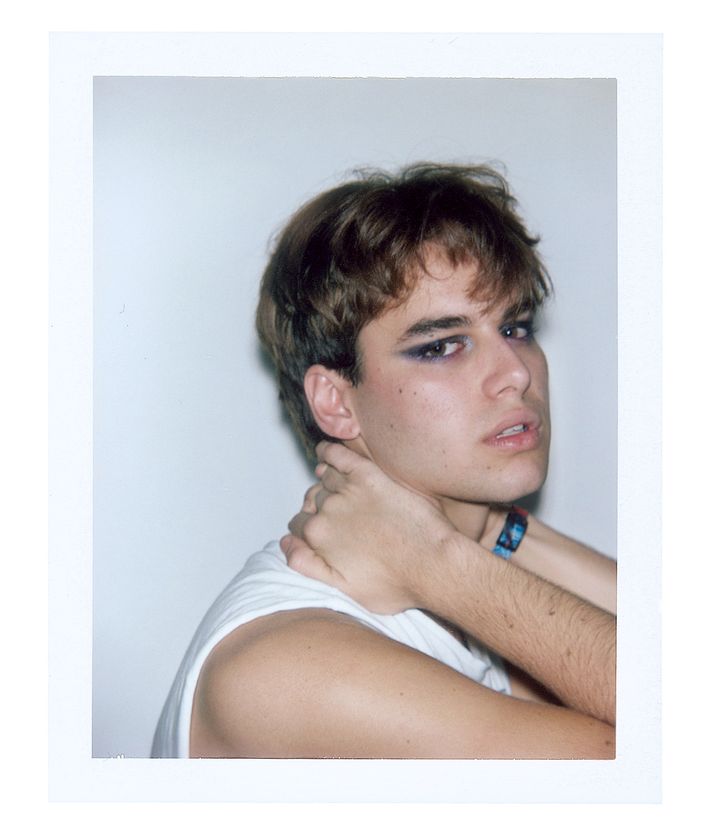 If you could be a magazine, what magazine would you be? 
V magazine.
If you could speak to animals, which animals would you want to talk to? 
Whales. I've always been so scared of the deep ocean so I think they'd tell me, It's fine. Here's what's going on down here.
Sneakers or slippers? 
Sneakers, for sure.
What's something your social-media followers don't know about you? 
I feel like they don't know a lot. It's very curated but in a way it doesn't look like it. I don't post all the time. I don't take myself as seriously as much as it looks like I do.
What was the last website you looked at? 
Golden Goose sneakers, and I was wondering if it was worth paying so much for sneakers that are so beat up. I decided I'd do it, but not right now.
If you could be outfitted by one designer for the rest of your life, who would it be? 
Alessandro Michele. What he did for his first season at Gucci is what I like to wear every day.
What time is your alarm set for in the morning? 
I have thousands of alarms. It's like, 8:00, 8:27, 8:34, 8:42 … I suck at waking up.
What do you eat for breakfast? 
I don't. I never have time, I'm always late.
If you could only eat three things for the rest of your life, what would they be? 
Chicken teriyaki with sticky rice, pizza, and sushi, but from Brazil.
What piece of clothing or accessory makes you feel most like yourself?
Anything that's borrowed, honestly. Most of my cool pieces are things I know I only have a little bit of time with. I like to have little presents throughout my dressing-up career.
If you were a color, what would it be? 
Blood red.
If you could be trapped in an elevator with one person, who would it be? 
You know the actor Ezra Miller? Him.
If you could tell Donald Trump one thing and make sure he would listen, what would it be? 
Just stop, please. I'm more scared of Mike Pence, honestly.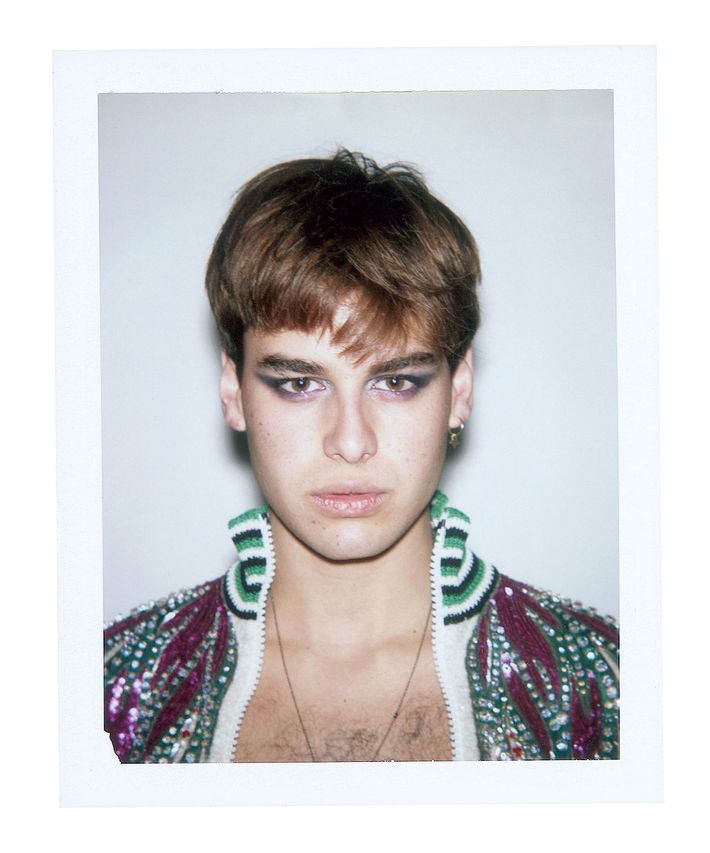 Fernando wears Gucci embroidered sequin jacket, $8,700 at Gucci.