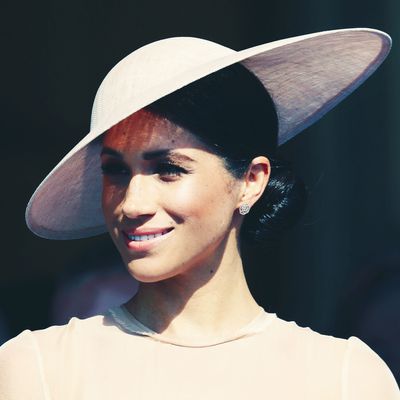 Meghan Markle.
Photo: Chris Jackson/Getty Images
Royal Inquiries is your comprehensive guide to everything you ever wanted to know about life under the crown.
On Tuesday, Meghan Markle made her first post-royal wedding appearance at a garden party … while wearing (gasp) pantyhose.
That's right: Just two days after her nuptials with Prince Harry, my closest duchess friend had to say good-bye to her bare legs and hello to a life of hosiery. What else does Meghan have to sacrifice or embrace in her new royal life? What else will be taken from her?
Pour yourself a glass of Tignanello and follow along as I go over some of Meghan's many sacrifices (for a very rich royal, who's likely doing just fine).
• She can't sign autographs. This is a true tragedy, as Meghan loves calligraphy. Here's a video that proves just how much she loves it:
• And no selfies with fans, for that matter. Although, really, who would be confident enough to take a selfie with this woman?
• She's supposed to stay off social media. This seems unfair, but I assume she probably has a burner Instagram account. And anyway, Princess Eugenie has an official Instagram account — I feel like Meghan should be allowed to have one, too.
• No more dark nails. I haven't really seen any pictures of Meghan Markle with dark nails lately, but I assume she enjoyed having the freedom to have dark nails if she pleased. But not anymore: Now she can only apparently wear light colors, like the queen's favorite — Ballet Slippers by Essie (which is a color I also wear, what a coincidence!).
• She isn't allowed to act. So I guess it's convenient that her new royal family website biography barely touches on her acting work!
• She can't wear bare legs at official events. She'll have to wear nude pantyhose for the rest of her life.
• And miniskirts are a no-go. Good-bye, Meghan's legs.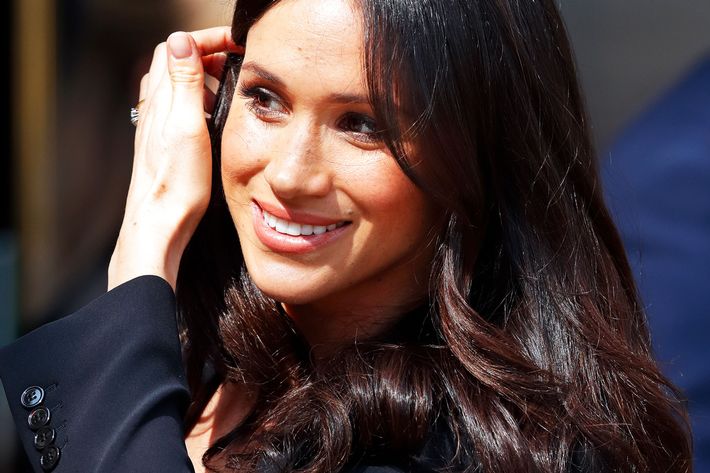 • Meghan also won't be allowed to vote. The duchess is not yet a British citizen, so she's not allowed to vote regardless. But once her citizenship goes through, she still won't be allowed to vote. Even though it isn't prohibited by law for a member of the royal family to vote, it is considered unconstitutional for the queen to do so, and members of her family tend to follow suit.
• She won't get to do anything before the queen. Yes, Meghan will always have to walk behind the queen, stop eating when the queen stops eating, and not go to bed until the queen goes to bed.
Oh, I do hope she's okay.