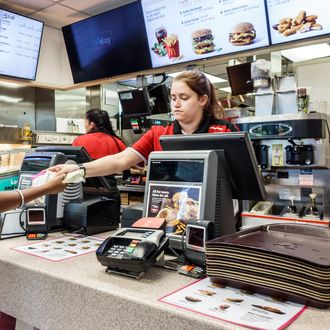 Photo: Jeff Greenberg/UIG via Getty Images
With the support of Time's Up Legal Defense Fund, women workers at McDonalds and Walmart are fighting back against sexual harassment in the workplace.
In January 2018, more than 300 prominent women in the entertainment industry announced their support of Time's Up, an initiative aimed at combatting sexual harassment in the workplace. Along with various working groups, Time's Up runs a Legal Defense Fund, administered by the National Women's Law Center, that provides financial and legal support to working-class women who have experienced sexual harassment in the workplace.
On Tuesday, the Legal Defense Fund announced its efforts to combat sexual harassment at two major corporations: Walmart and McDonalds. According to the Associated Press, the Fund partnered with Fight For $15, the campaign to raise minimum wage, to file complaints with the U.S. Equal Employment Opportunity Commission on behalf of ten women employed by McDonalds. The employees, who work at nine locations around the country, claim that they were harassed at work, and when they came forward, they were either mocked or faced retaliation.
"I feel like I have a voice now," 22-year-old complainant Tanya Harrell told AP. "It gives me a bit of motivation and a bit of courage."
The New York Times also reported on Tuesday that the Legal Defense Fund provided 56-year-old Gina Pitre, an employee at a Mississippi Walmart, with financial support and a lawyer in her fight against her employer. Last month, Pitre filed lawsuit against Walmart and one of her managers who allegedly touched her inappropriately and made crude comments to her.
"I don't care who you are," Pitre told the Times. "There is no cause for disrespect."
According to a 2017 chart from Center for American Progress, sexual harassment is most prevalent in low-wage industries with high levels of gender inequality — the leading industries being food service and retail.
In response to the above reports, Walmart and McDonalds released separate statements, claiming they do not tolerate sexual harassment in the workplace.