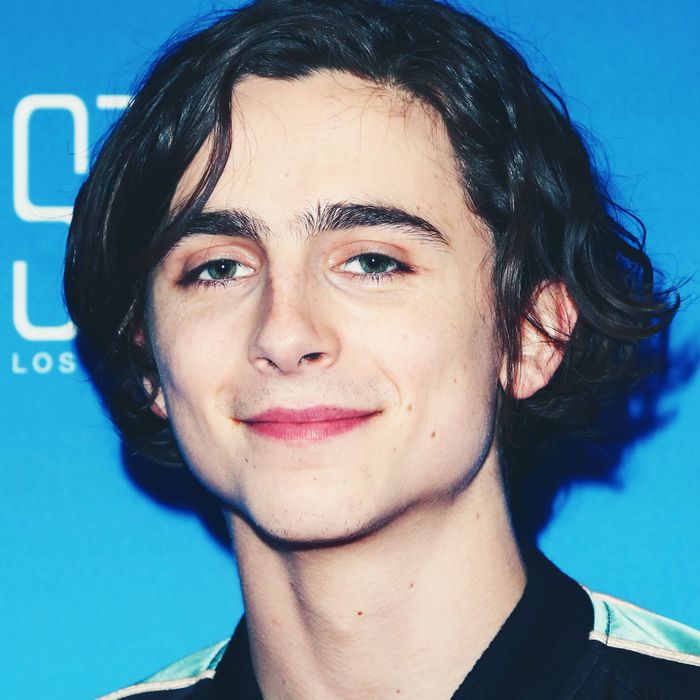 Timothée Chalamet.
Photo: Paul Archuleta/Getty Images
Since Timothée Chalamet burst onto the scene as your angsty high-school crush in Ladybird and Call Me By Your Name, several critics have drawn comparisons between him and another talented actor with boyish good looks, piercing blue eyes, and legions of frenzied admirers: Leonardo DiCaprio. And this weekend, Timo-tay pulled the ultimate Leo move by publicly making out with a mystery blonde.
According to "Page Six," Timothée and the blonde — who has a life and hopes and dreams and probably a name, but we don't know what it is yet — were spotted together at the Chopard party in Cannes on Friday, and one "spy" said things got pretty hot and heavy.
"It wasn't just a kiss," the source "breathlessly" said. "It was a full-blown, high-school-style makeout session in front of everyone."
And when the two "weren't smooching, they were holding hands. They either weren't trying to hide, or were so in the moment, they didn't care." The source did not add whether Timothée called the blonde by his name or hers.
"Page Six" also reported that when he briefly came up for air, the actor was telling people that he had just gotten off a plane after partying with the Weeknd (the first member of Timothée's own Pussy Posse, perhaps.)
Attending a swanky event and making out with a blonde? It's only a matter of time now before Timmy starts vaping, accessorizing with plastic bags, and wearing 3-D glasses in public.