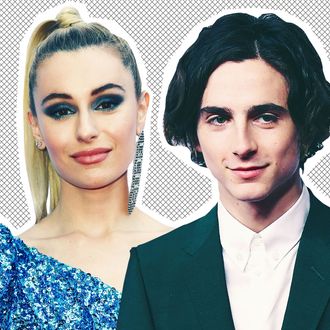 The Cannes Film Festival is in full swing, which means celebrities are getting together with lots and lots of models and "influencers" at fancy parties. The 22-year-old movie star Timothée Chalamet is apparently having fun on his trip: "Page Six" reported yesterday that he was "making out" with a "mystery blonde" at the Chopard party on Friday night. "It wasn't just a kiss," a source told the site. "It was a full-blown, high-school-style makeout session in front of everyone."
There's nothing I love more than reading about a mystery blonde. Who could she be? Luckily, "Page Six" solved the mystery quickly: The site reported last night that Chalamet was making out with the Italian model and influencer Marta Pozzan. She has a respectable 232,000 followers on Instagram, and according to her profile, she dyed her hair blonde at the end of March — an auspicious decision that led her right to Hollywood's next big thing.
Pozzan didn't deny the high-school-style makeout when contacted by "Page Six"; she simply said she was "at the party." A source told the site that Chalamet and Pozzan were introduced to each other that night by the Weeknd. (The night before, the Weeknd was spotted making out with his model ex-girlfriend Bella Hadid.)
So what does this gossip tidbit tell us about the kind of celebrity Chalamet wants to be? It's a very Leo DiCaprio move to make out with a 20-something model at Cannes. It's also very DiCaprio to have a friend bring the model to you. Is Chalamet our new prince of the city? All we know about his relationship history is that he dated Madonna's daughter Lourdes Leon in high school.
DiCaprio, meanwhile, is not at Cannes. At least, not yet. Instead, he's in New York, taking his 20-year-old model girlfriend and her model friends to dinner. He was photographed walking into Milo's Seafood last night with Cami Morrone, her friend Hailey Baldwin, and another unidentified young woman. According to the Daily Mail, the art dealer Helly Nahmad was also there.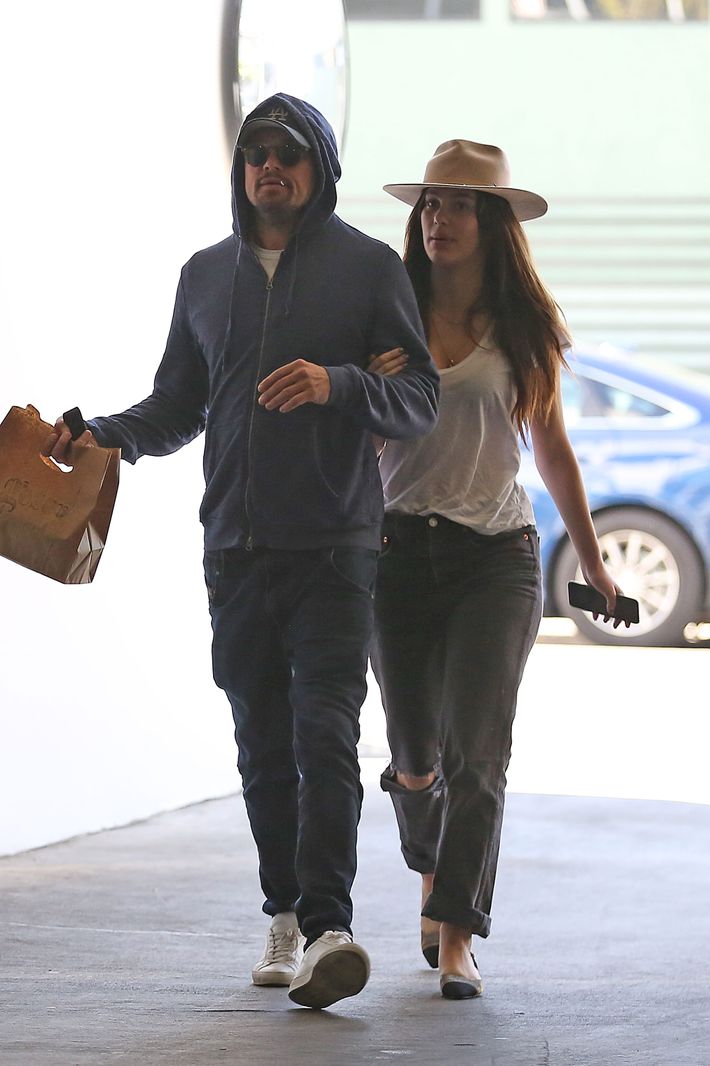 DiCaprio did attend Cannes last year, right after he broke up with the model Nina Agdal (she had just turned 25). Morrone was there, and six months later, they were photographed together for the first time. I'm sorry to say it but: I predict DiCaprio will be back at Cannes next year.
In other news from Cannes, Diane Kruger is reportedly pregnant. She's been wearing billowy dresses on the red carpet, and according to "Page Six," the festival is "buzzing" with rumors that she's expecting her first child with boyfriend Norman Reedus. Kruger, 41, has been with Reedus, 49, since 2016, the same year she broke up with longtime partner Joshua Jackson.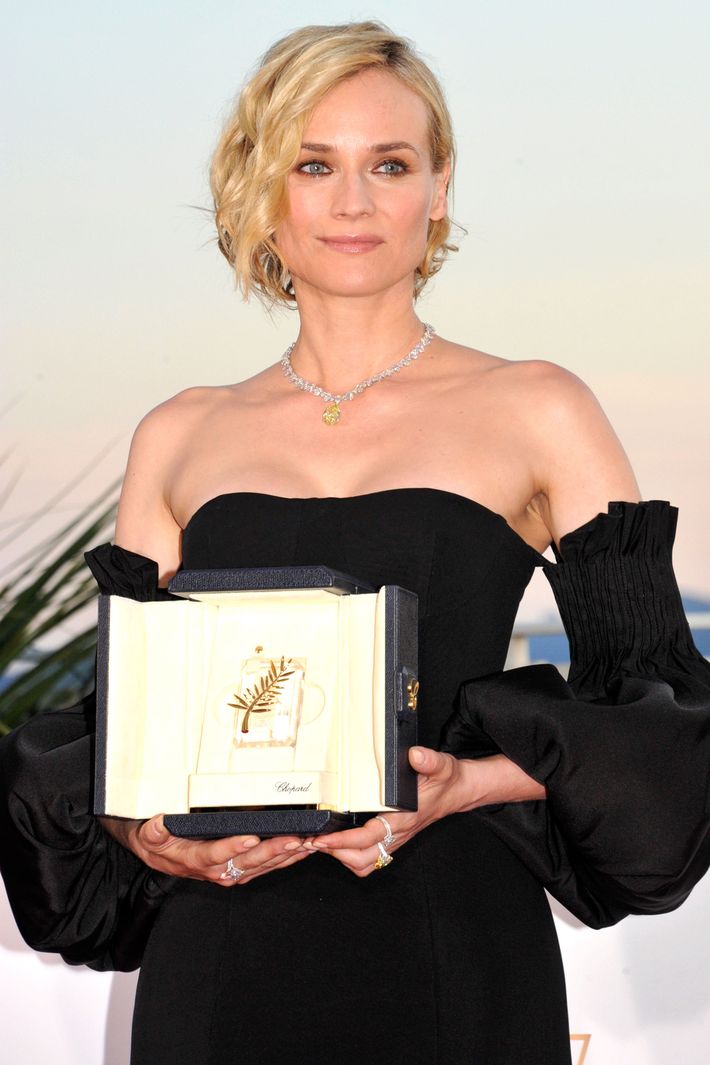 "Page Six" reports that Kruger recently listed her two-bedroom apartment in Tribeca, and that she and Reedus have been house hunting together.
Here's a People "exclusive" I never knew I wanted: "Why Kim Kardashian, Khloé Kardashian & Kylie Jenner Use Snapchat Filters on Their Babies' Faces." It's true: They all do it. This past week, Khloé posted the first video of her new baby True Thompson, and she used a Snapchat filter. Why?
According to People's source, the Kardashian women made "a conscious decision" to use the filters "for privacy purposes — the stars feel that they are protecting their babies if they don't show their full face." Hmm. Personally, I think our brains are mush and we've become conditioned to want everyone to look like big-eyed, rosy-cheeked puppy mutants, even infants.
One small blessing from this week:
Meghan Markle is getting married in four days.
Finally, I'll leave you with this good get from Elle: a profile of Ben Affleck's SNL producer girlfriend Lindsay Shookus. Affleck and Shookus have been relatively quiet lately, but they are apparently still very much on. Shookus mostly talks about her work in the interview, though, which is savvy — she's establishing herself as her own person in the public eye. But then, she says she "laughs" at the idea that she's a public figure at all. I don't know. I don't think anyone just accidentally dates Ben Affleck. What about you?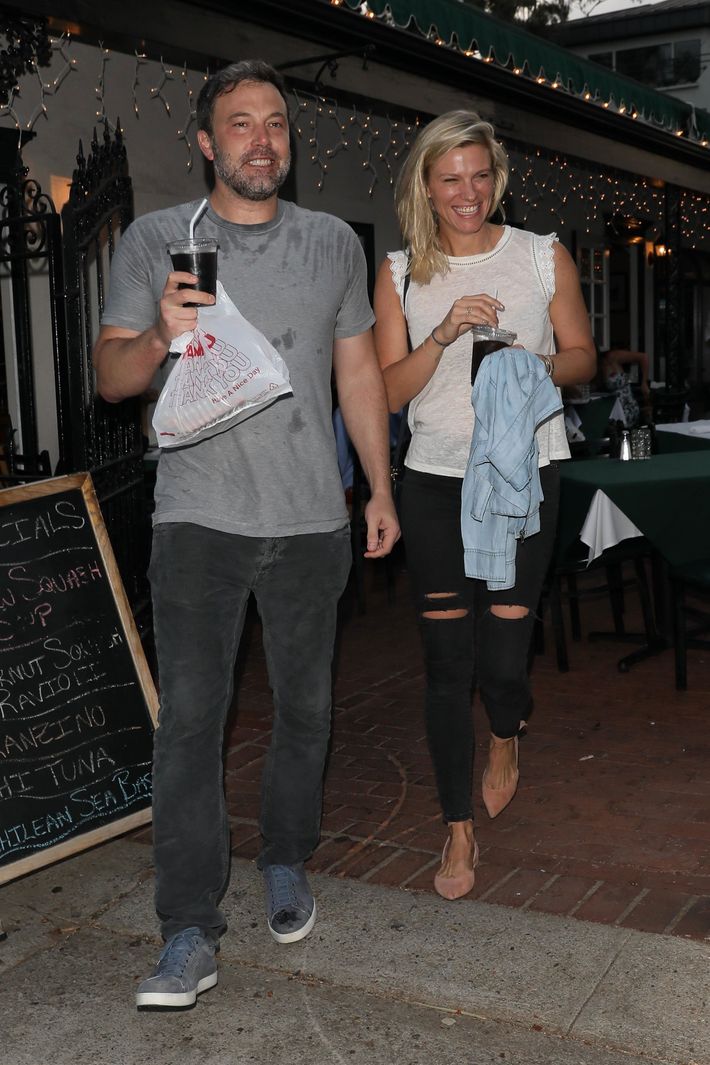 Thanks so much for gossiping this week. If you'd like to get this column in your inbox every week, subscribe in the box up top, and don't forget to email me at allie.jones@nymag.com, send me a message on Twitter, or contact me on Signal, if you'd like to chat.