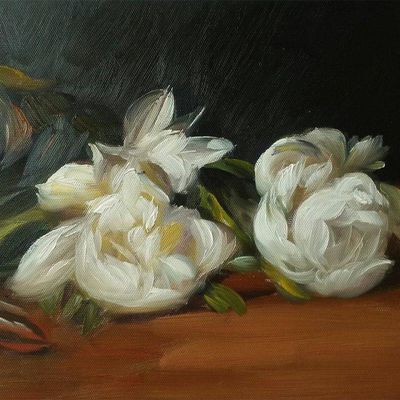 Photo: Edouard Manet/Musée d'Orsay, Paris, France
Spring has finally arrived. The air is warm, spirits are lifted, and bees have, once again, begun to buzz around with a heinous disregard for the personal space of those afraid of bees. I hate them very much; they are too scary. Adding to our springtime delight, flower buckets surrounding the outdoor fruit stands of neighborhood markets are suddenly full. Tulips, hyacinths, and zinnias are once again available for purchase and placement in your home (in preparation for their near-immediate deaths). They wait alongside the flower that is, of course, the reason we are all here today:
The beautiful peony.
A puff of whimsy. A delicate fragrance similar to that of a rose, if a rose would just relax for one minute. Pleasing to the eye, delightful to the touch, and intoxicating to the nose, the peony is a springtime treat on par with [your favorite springtime treat, if not already the peony].
Peonies, flowering plants in the genus Paeonia, usually appear only for a few weeks in May and June. Their season comes directly after tax season — a boon for those who receive a tax return and just another cruel joke for those who spent the last year freelancing, did not pay quarterly taxes, and owed the government many thousands of dollars. No matter. Breathe in, and breathe out. It's peony season now, and you know what that means.
What follows is a Q&A for those who do not know what that means.
What does that mean, that it's peony season?
It means it's time to buy peonies.
What if I don't want peonies?
Believe me, you want peonies.
Why do I want peonies?
They are beautiful and will bring joy to your life. And I know for a fact that "your life" is a place where you are in desperate need of joy.
Peonies are expensive. What if I don't want to spend the money I work hard for on something that is just going to look nice for two seconds and then die?
They also smell nice for two seconds and then die.
Should I buy them for my mom for Mother's Day?
Yes.
Should I buy them for my significant other?
Yes.
Should I buy them for my pet?
No — if your pet ingests a peony it will likely have gastrointestinal upset.
Should I buy them "for my pet" (for myself)?
Yes.
When should I buy peonies?
Today after work.
I think those are all of the questions. Please go buy peonies. I don't know you, but I bet you deserve it. And if you don't deserve it, well, buying yourself undeserved peonies sounds like it's probably a very "you" thing to do.
Good luck!