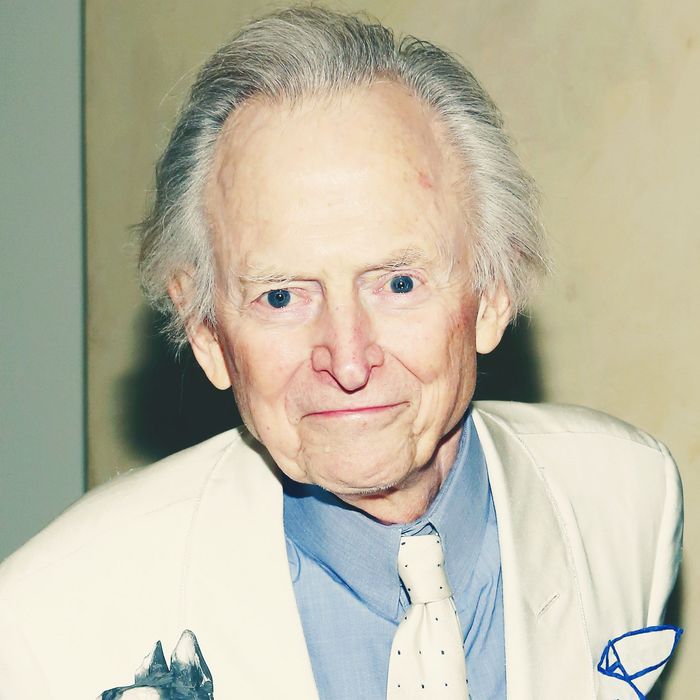 Photo: Mireya Acierto/Getty Images
Trailblazing author and journalist Tom Wolfe, known for his impressionistic prose and dapper three-piece white suits, has died at age 88*. In addition to a storied magazine writing career, Wolfe was the author of a series of generation-defining novels and works of nonfiction, including The Electric Kool-Aid Acid Test, The Kandy-Kolored Tangerine-Flake Streamline Baby, The Right Stuff, and Bonfire of the Vanities.
Wolfe started out as newspaper reporter for the Washington Post and New York Herald Tribune — of which New York was initially a Sunday supplement — where he pioneered the form known as "New Journalism," a writing style that incorporated literary prose stylings into nonfiction works. He wrote for the first-ever issue of New York Magazine and was essential to its formation; as Chris Bonanos writes, "[Wolfe's] voice and presence are deeply encoded in the DNA of the entire New York City media corps."
As a writer of novels and non-fiction, he immersed himself in niche subcultures and made them come alive, from Ken Kesey and his Merry Pranksters in the trippy LSD odyssey The Electric Kool-Aid Acid Test to the adventures of the first astronauts in The Right Stuff. His first novel, The Bonfire of the Vanities, was a sprawling, Dickensian epic tackling race and class, politics and greed in 1980s New York. Many of the phrases Wolfe invented became a lasting part of our national vocabulary, from "pushing the envelope" (from The Right Stuff) to "the Me Decade," which he coined in a piece for New York Magazine.
The author passed away at a Manhattan hospital on Monday. He is survived by his wife, Sheila, and two children.
* This post has been corrected to show that Wolfe died at 88 years of age. The original version incorrectly stated that he had died at 87.