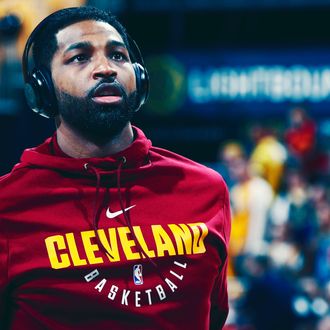 Tristan Thompson.
Photo: Joe Robbins/Getty Images
In the month since Khloé Kardashian gave birth to baby True Thompson, Tristan Thompson hasn't been speaking publicly about his daughter — probably because reports that he had cheated on Kardashian came out just days before she gave birth. That changed today, though, when he talked about True on UNINTERRUPTED's Road Trippin' podcast.
"Baby True is eating, sleeping and, uh, shitting," he said about his 1-month-old. "That's all they do." (Very sweet!)
He also described a little bit about her physical appearance, revealing that True "has a full head of hair" and green eyes.
This isn't Thompson's first child. From his previous relationship with Jordan Craig, he has a 17-month-old son named Prince Thompson, but True is "the first girl Thompson."
"I think with a girl, you're just so much more emotionally like … with a boy, it's just like, 'Hey man, you'll be all right man. Stop crying,'" he said. "But [with True], it's like, 'True, it's gonna be okay. You know, we're right here. Daddy's here to feed you. It's me!'"
While Thompson has yet to address his cheating scandal, it appears that Khloé is apparently trying to make things work with him, and plans to stay with him in Cleveland.