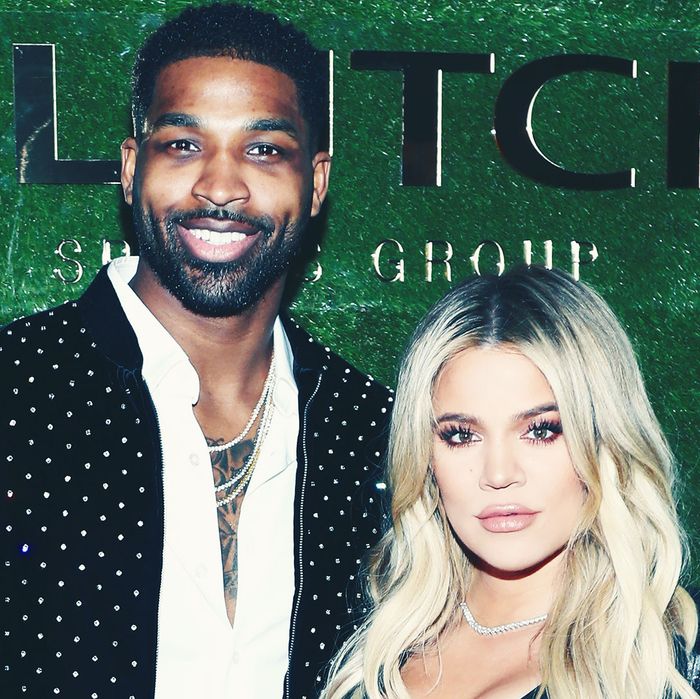 Tristan Thompson and Khloé Kardashian.
Photo: Jerritt Clark/Getty Images
Tristan Thompson, Khloé Kardashian's longtime beau and the father of baby True, is reportedly "physically and mentally exhausted" from the cheating scandal and the rigors of playoff season, according to Us Weekly. The 27-year-old Cleveland Cavalier was photographed cheating with a bevy of women just days after Khloé gave birth to their baby girl in early April. Us Weekly also previously confirmed that Tristan was unfaithful throughout the duration of Khloé's pregnancy. Tristan's team (or I guess, LeBron's team) will square up against the Golden State Warriors later tonight, when the NBA championship series kicks off.
Sources, speaking anonymously to Us Weekly, claim that Khloé, 33, is staying at Tristan's Cleveland home with the new baby. The location is also conveniently away from the prying eyes of Kris Kardashian, who was "furious" at Tristan when the cheating allegations broke, according to E! News. Khloé is approximately my fourth-favorite Kardashian (North, Kris, Kim.) Her love woes and trouble conceiving, extensively portrayed onscreen, endeared her to me. Now that she has the baby she's wanted for so long, and seems to be reveling in new motherhood, hopefully Tristan can keep it together.