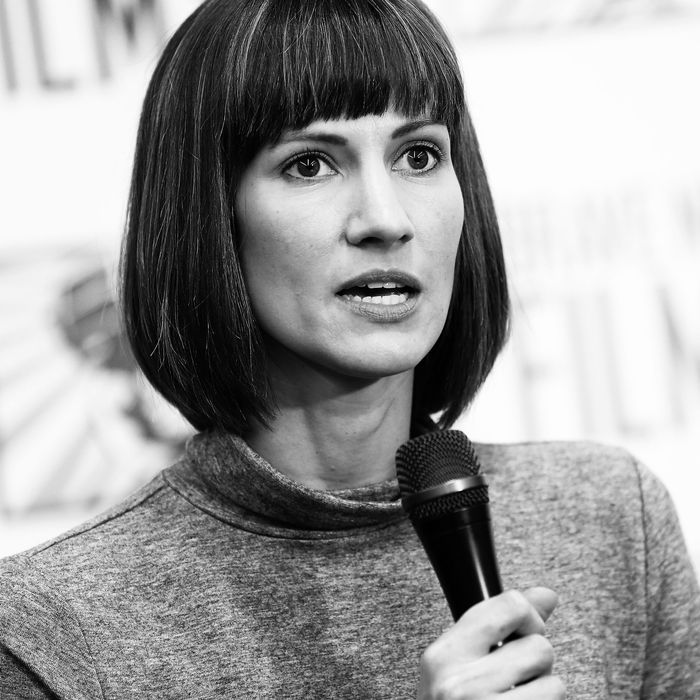 Rachel Crooks.
Photo: Monica Schipper/Getty Images
In October 2016, Rachel Crooks accused Donald Trump of groping and kissing her without consent. And on Tuesday, she secured the Democratic nomination for a seat in Ohio's state legislature.
Crooks was running unopposed for the Democratic nomination for the State Legislature in Ohio's 88th District, but she officially won the state's Democratic primary on Tuesday night. Now, she's officially running against incumbent Republican representative Bill Reineke, who has served two terms. Cosmopolitan reported in February that Crooks was running on a platform of affordable health care, job creation, and stronger public schools.
She first came forward with her allegations against now-President Donald Trump shortly before the 2016 election. Speaking to the New York Times, Crooks said that in 2005, when she was 22 and working as a receptionist in Trump Tower, she ran into Trump near one of the building's elevators. They shook hands and he allegedly refused to let go, before beginning to kiss her on the cheek and mouth.
"It was so inappropriate," Crooks told the Times. "I was so upset that he thought I was so insignificant that he could do that."
Trump has denied Crooks's allegations. When the Times report came out, he allegedly threatened to sue, called the reporter "a disgusting human being," and accused the newspaper of fabricating lies. He even tweeted, "Never happened! Who would do this in a public space with live security … cameras running. Another False Accusation."
In response, Crooks urged the president to release any security footage. "Please, by all means, share the footage from the hallway outside the 24th floor residential elevator bank on the morning of January 11, 2006," her campaign account tweeted. "Let's clear this up for everyone. It's liars like you in politics that have prompted me to run for office myself." He has not done so at this time.