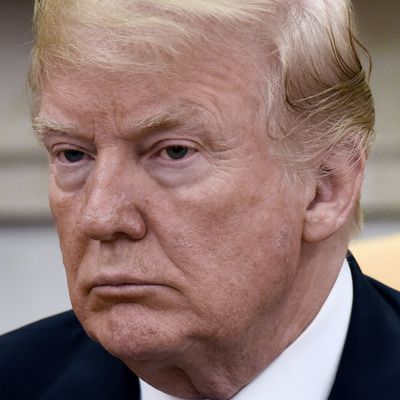 A man who has paid his debts. Or, some of them, anyway.
Photo: Olivier Douliery - Pool/Getty Images
On Wednesday, Donald Trump formally acknowledged that he had repaid Michael Cohen for expenses the latter accrued during the 2016 presidential campaign; which is to say, the president tacitly admitted that, in October 2016, at Trump's behest, his personal attorney paid a porn star not to publicly detail her (alleged) affair with Trump.
This admission would appear to implicate the Trump team in a campaign-finance violation: Assuming Trump's motivation for paying Stormy Daniels $130,000 not to go public about their (alleged) relations was at least partly because of political concerns, then Cohen's payment to her would constitute a loan to the Trump campaign — one far larger than federal election laws allow.
The president's new personal attorney, Rudy Giuliani, revealed on national television that Trump had reimbursed Cohen earlier this month, thereby contradicting the president's claim that he knew nothing of the payment to Stormy Daniels.
Trump's acknowledgment of the payment came in his annual financial disclosure form, which was released by the Office of Government Ethics (OGE) this afternoon. "In 2016, expenses were incurred by one of Donald J. Trump's attorneys, Michael Cohen," the form reads. "Mr. Cohen sought reimbursement of those expenses and Mr. Trump fully reimbursed Mr. Cohen in 2017. The category of value would be $100,001-$250,000 and the interest rate would be zero."
In a note appended to the document, the OGE writes that it has "concluded that the information related to the payment made by Mr. Cohen is required to be reported and that the information provided meets the disclosure requirement for a reportable liability." In other words, OGE has determined that Cohen's payment should have been reported last year. Trump's lawyers, meanwhile, insist that it didn't even need to be reported now, and that the president was only doing so because of his commitment to "transparency."
Beyond the Cohen reimbursement, Trump's financial disclosure form offers some limited insights into his businesses' performance. Mar-a-Lago's revenue appears to be down slightly from a year ago: In the 16 months preceding last year's financial disclosure, Trump's "winter White House" took in $37.3 million; in the 12 months preceding this year's, it took in only $25.1 million. Meanwhile, Trump's D.C. hotel — which, fortuitously, opened its doors in September 2016 — has become one of the mogul's best-performing properties, as the patronage of foreign diplomats helped the venue produce $40.4 million in revenue last year.