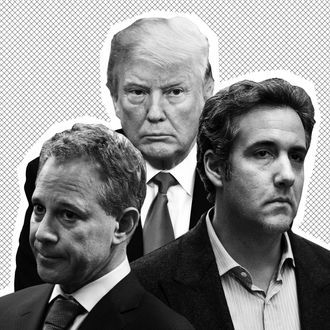 Eric Schneiderman, Donald Trump, Michael Cohen.
Photo: Getty Images
On Monday, New York attorney general Eric Schneiderman resigned after The New Yorker published the accounts of four women who accused him of physical abuse. It came as a shock, as Schneiderman was a vocal supporter of the #MeToo movement and had even filed a civil-rights lawsuit against Harvey Weinstein. Now, there's been another twist: a new court filing asserts that both Donald Trump and Michael Cohen have known about accusations against Schneiderman for years.
In a letter, Patrick J. Gleason says he represented two other women who claimed they were "sexually victimized" by Schneiderman. He writes that he advised them against reporting their allegations because Schneiderman was too politically powerful — but spoke about the matter with retired New York Post journalist Stephen Dunleavy in 2013, who then offered to talk to Trump. Gleason believes this happened because Cohen then called him personally; he filed the letter in the ongoing investigation of Cohen in an attempt to protect any records that exist on those women.
Dunleavy told the New York Times that Cohen had offered him the following assurance:
Mr. Gleason said in an interview that Mr. Cohen had told him that if Mr. Trump were to run for and be elected governor of New York, he would help bring to light the women's accusations about Mr. Schneiderman. There had been deep animus between Mr. Trump and Mr. Schneiderman ever since Mr. Schneiderman filed a $40 million civil fraud lawsuit against Trump University in August 2013.
Gleason also says that this Trump tweet from 2013 — in which he called Schneiderman "worse than Spitzer or Weiner" — was sent shortly after the two lawyers talked.