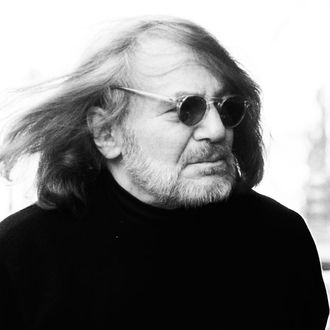 Photo: New York Daily News Archive/NY Daily News via Getty Images
Remember Dr. Harold Bornstein? He's the guy who was Trump's personal physician starting in 1980, even though he looks less like a medical professional and more like the guy your mom dates right after the divorce and who's super into Tantra retreats. Anyway, in the wake of the Ronny Jackson scandal, he's emerged from the Orgy Dome at Burning Man to share some news.
Bornstein told NBC that members of the Trump team raided his office on February 3, 2017 — just a few days after he told the New York Times that the president takes a hair-growth drug. He said that, in apparent retaliation, former Trump bodyguard Keith Schiller, along with a Trump Organization lawyer and "another large man" showed up at his office for "25 or 30 minutes" and took away the president's medical files in what he calls a "raid." (Bornstein says he didn't have a form authorizing him to release them.)
They also reportedly demanded that he take a photograph of himself and Trump off his wall and told him that he was out of the running to become White House doctor. White House press secretary Sarah Huckabee Sanders told NBC that getting the medical records was "standard operating procedure" and denies that there was any sort of raid.
"I feel raped," Bornstein said, using what's perhaps not the best choice of words for this climate, or any climate. "Raped, frightened, and sad. I can't believe anybody was making a big deal out of a drug to grow his hair."