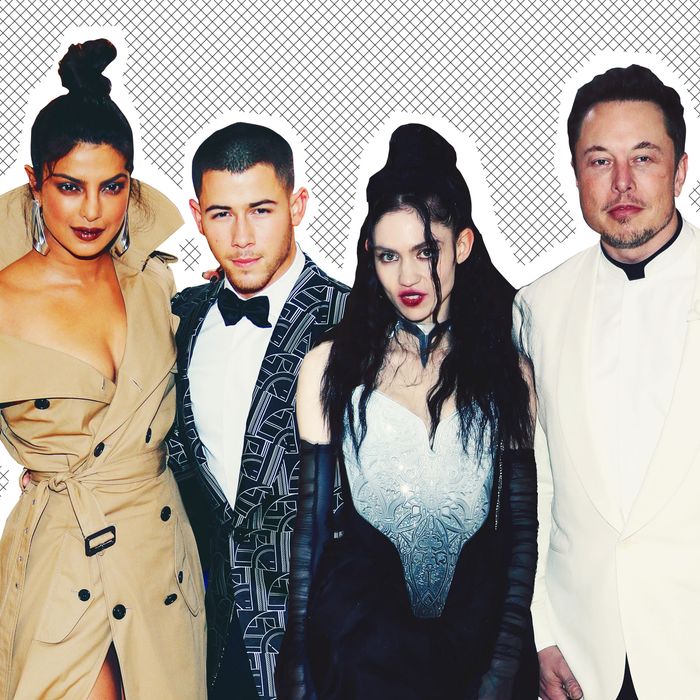 From L to R: Priyanka Chopra, Nick Jonas, Grimes, Elon Musk.
Photo: Getty Images
You never really know the truth about anyone else's relationship. That's what I keep whispering to myself over and over again as I close my eyes and reflect on this latest crop of celebrity couples. Elon Musk and Grimes? Priyanka Chopra and Nick Jonas? Pete Davidson and Ariana Grande? They seem like surprising pairings to me, but they're living their lives and I'm living mine, and that's fine. Great, even. Now, with the world unhindered by logic or sense, I see potential celebrity relationships everywhere I look, but especially in my journal.
Here are a few humble suggestions of unexpected celebrity couples I would like to see. Some of them are already in relationships, but that could change, who knows. And if any of them do end up getting together, I hope they will do the right thing and pay me a minimum of $500,000.
• Renowned actress Emma Thompson and renowned Flavortown mayor Guy Fieri.
•Facebook COO Sheryl Sandberg and Facebook user/musician Vin Diesel.
• Master of disguise Leonardo DiCaprio and a brunette.
• Drama connoisseurs J.K. Rowling (from Harry Potter) and Jax Taylor (from Vanderpump Rules).
• Rihanna and a human worthy of breathing the same air as her.
• Former diplomat Henry Kissinger and current diplomat Lindsay Lohan.
• Me and a white shirt without food stains on it.
• Nicki Minaj and Emimen, which is almost a thing already?
• DJ Khaled and a female orgasm.
These all seem a little out there, but I think they could work. Congratulations in advance to all the potentially happy pairs.