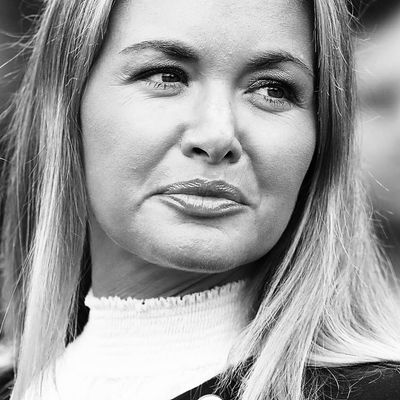 Vanessa Trump.
Photo: Chip Somodevilla/Getty Images
Curious to know exactly how rich his estranged wife is, Donald Trump Jr. filed a "defendant's demand for statement of net worth" in Manhattan Supreme Court last Friday. Apparently, Vanessa inherited millions of dollars from her late father last year, and where that money allegedly came from is *chef's kiss.*
According to "Page Six," before his death, Vanessa's father invested up to $1 million in Rao's Speciality Foods, the pasta-sauce offshoot of the legendary mob hangout. In mid-2017, a major food-and-beverage company acquired the saucy venture for $415 million, which left Vanessa's family with a lot of dough (and hopefully a lifetime supply of sauce). "Page Six" cleverly refers to Vanessa as "a marinara sauce heiress," which has a beautiful ring to it.
And clearly, she likes Rao's. Way back in 2015, before she filed for divorce but after her husband had his alleged affair with Celebrity Apprentice contestant Aubrey O'Day, Geoffrey Zakarian tagged her and Donny in Instagram at Rao's, where it appears the table indulged in a four-course meal. Did they have the famous meatballs? They definitely had the famous meatballs.
I wonder how Donny feels about the source of his estranged wife's new wealth …