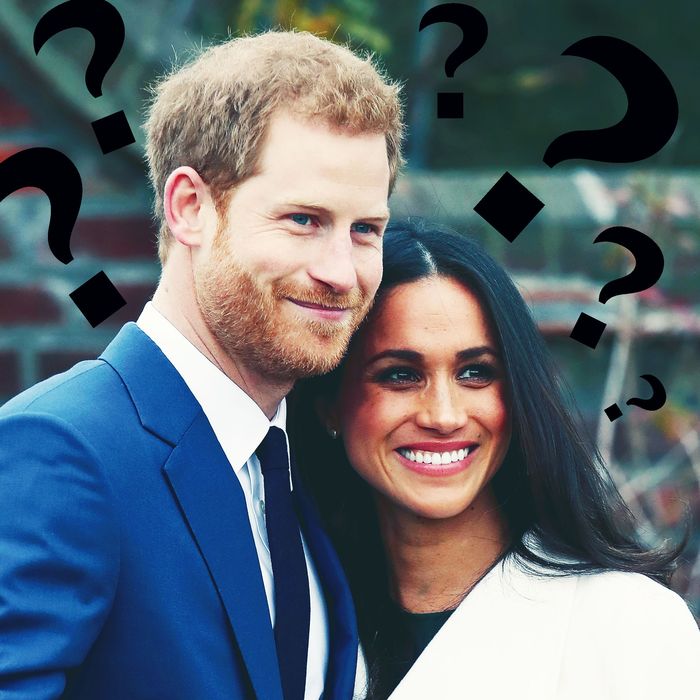 Who and why?
Photo: Chris Jackson/Getty Images
It's so hard to exist day-to-day. There are so many things to know, so many things to do. If you, like me, have missed out on much of the Meghan Markle and Prince Harry news cycle, we at the Cut have put together an explainer to suit (Suits) (Meghan Markle was on Suits) your needs. It's very basic and contains a manageable amount of information.
Maybe you're thinking, "The Cut has already put together an explainer on this exact topic." Yes, okay, but this one is geared toward you, a person who does not care. It's a gift for you specifically. And what do we get in return — attitude? Typical. Let's begin.
Who is getting married?
This is a great place to start. The people getting married are Meghan Markle and Prince Harry.
Who are they?
Meghan Markle is an American actor, known to some from the show Suits. Prince Harry is a member of the British royal family (son of Charles, Prince of Wales, and Diana, Princess of Wales), known to some for dressing like a Nazi on Halloween once.
Are they nice? Is it okay to like them, even though Prince Harry dressed like a Nazi on Halloween once?
Yeah, people don't really seem to remember or care about the Nazi thing anymore. They seem nice. They're at least good looking and seem to love each other, which is nice. Unless you're bitter.
I'm not.
Okay.
Didn't we just have a royal wedding?
Can you believe that one was in 2011? God. Time is moving too fast. That one was with Prince William and Kate Middleton — she had a dress, and her sister, Pippa, had a butt. Remember? This one is with Prince Harry and Meghan Markle.
Does Prince Harry have a last name?
Literally like … I don't know.
What is Meghan Markle's name going to be after they get married?
Possibly Meghan Mountbatten-Windsor?
So is Prince Harry's last name Mountbatten-Windsor?
No!
?????
??????????
What do they look like?
Good question, they look like this: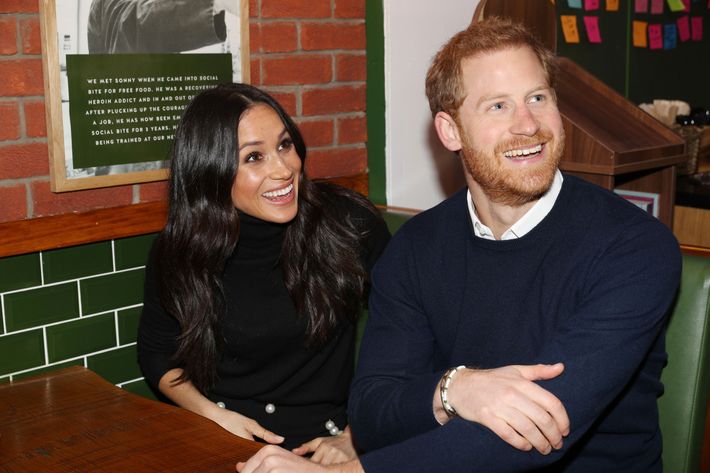 How did they meet?
They met on a blind date, allegedly, set up by mutual friend Violet von Westenholz, a PR director at Ralph Lauren.
Is Meghan Markle's dad going to be there, or no?
As of right now, no.
When will it happen?
Noon on May 19, 2018, at St. George's Chapel at Windsor Castle in England. Noon is 7 a.m. ET, which is early, but luckily drinking mimosas will be allowed as it is both a Saturday and a celebration.
Is the wedding going to be on TV?
Yes, very much so. CBS, NBC, ABC, PBS, and BBC America will all air it live, and HBO will air it at 7:30 a.m. ET with commentary from Molly Shannon and Will Ferrell. "You can also stream it online via CBS, ABC, BBC America, and the New York Times's website," says Lisa Ryan.
Which celebrities will be at the wedding?
Elton John and the Spice Girls, Victoria and David Beckham, maybe Priyanka Chopra and maybe Serena Williams, a few members of the cast of Suits???, and George and Amal Clooney. That's not very many, but it's still probably more than you had or will have at your wedding, if you decide to get married.
Were the Obamas and the Trumps invited?
They were not. It's sad that they could have invited the Obamas but now, well … you can read all about why they're not invited here. But, damn. Imagine you could've had the Obamas at your wedding, but now you can't because of Donald Trump? Damn.
Why do people care so much about the royal wedding?
Lots of people are fascinated by the royals. I don't know why. To be fair, though, I am fascinated by the cast of Vanderpump Rules, and just last year watched an entire season leading up to one of their weddings, so. We all have different interests. It's nice to have a distraction, see a dress, etc. You have to find a way to spend the hours before death.
Okay, thanks.
You're welcome.