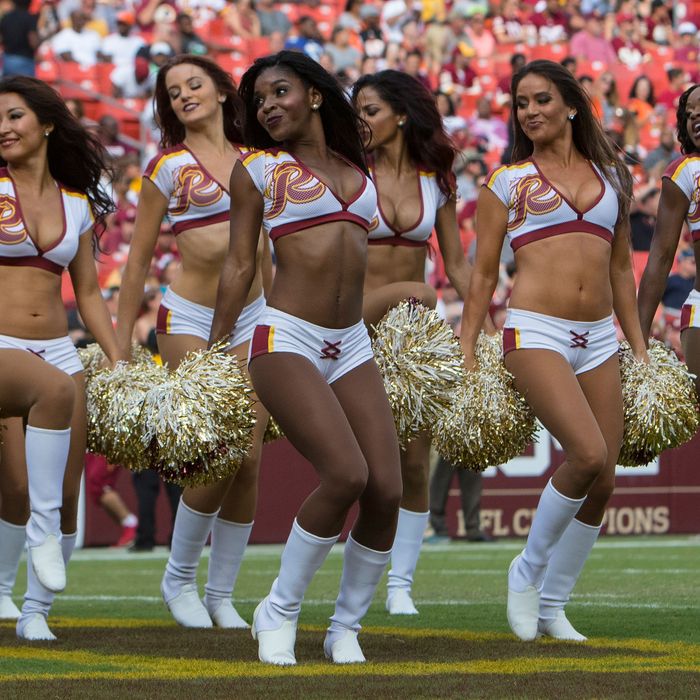 Photo: Lee Coleman/Icon Sportswire/Getty Images
Several former cheerleaders for the Washington Redskins told the New York Times that during a squad trip to Costa Rica in 2013, women were required to pose topless for a calendar shoot, and several cheerleaders were "picked" to serve as personal escorts to wealthy team donors.
According to the women, several Redskins sponsors and FedExField suite holders (all male) had been invited to watch the photo shoot at adults-only Occidental Grand Papagayo resort on Culebra Bay. Some of the women were required to pose topless, and others wore nothing but body paint.
"At one of my friend's shoots, we were basically standing around her like a human barricade because she was basically naked, so we could keep the guys from seeing her," one cheerleader told the Times. "I was getting so angry that the guys on the trip were skeezing around in the background."
Later, nine women were selected to join the male sponsors at a nightclub, as personal escorts. Once there, they were allegedly encouraged to drink and flirt with the men. One of the cheerleaders explained:
"They weren't putting a gun to our heads, but it was mandatory for us to go. We weren't asked, we were told. Other girls were devastated because we knew exactly what she was doing."
Stephanie Jojokian, the director and choreographer for the Redskins cheerleaders, denied that the women were required to go to the nightclub, saying "I was not forcing anyone to go at all. I'm the mama bear, and I really look out for everybody, not just the cheerleaders. It's a big family. We respect each other and our craft. It's such a supportive environment for these ladies."
Several of the women reportedly left the team after the Costa Rica trip.
"It's just not right to send cheerleaders out with strange men when some of the girls clearly don't want to go," one cheerleader who was on the trip said. "But unfortunately, I feel like it won't change until something terrible happens, like a girl is assaulted in some way, or raped. I think teams will start paying attention to this only when it's too late."
Read the full report here.