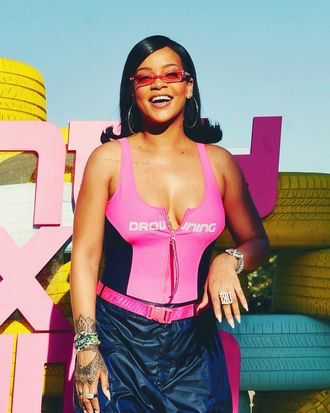 Rihanna.
Photo: John Sciulli/Getty Images for PUMA
When it comes to celebrities-turned-beauty-vloggers, the only one that trumps John Mayer is Rihanna. In a new video for Vogue, Rihanna guides us plebes through a ten-minute tutorial of her slightly experimental makeup.
Most beauty secrets tutorials are between two and four minutes long, but Rihanna went above and beyond. Instead of a clear brow gel and a light blush, she guides us through contouring ("I learned to contour when I gained weight" she explains), the purpose of concealer ("to hide hangover and bad decisions"), using her new magenta and orange Fenty Beach Please palette as blush and eye shadow, and gushing about her new product, Body Lava.
She also revealed the one product she can't leave home without — the Invisimatte Blotting Powder from Fenty. As she puts it, "Always in my purse, I can never leave home without it. And if it doesn't fit in my purse then I'm changing my purse." It's only $16. Pair it with a flask and you're two steps closer to looking like Rihanna.