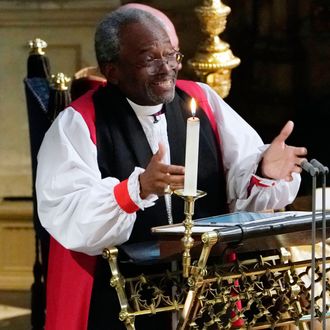 Bishop Michael Bruce Curry.
Photo: Owen Humphreys/AFP/Getty Images
The Most Reverend Michael Bruce Curry electrified St. George's Chapel at Windsor Castle with a fiery sermon during Meghan Markle and Prince Harry's royal wedding.
Speaking of "the power of love," Curry, who is the first African-American to serve as presiding bishop of the Episcopal Church, evoked the words of the Reverend Martin Luther King Jr.
"We must discover the power of love, the redemptive power of love," he said. "And when we discover that, we will be able to make of this old world a new world. Love is the only way."
He went on:
There's power in love. Do not underestimate it. Anyone who has ever fallen in love, knows what I mean. But think about love in any form or experience of it. It actually feels good to be loved, and to express love. There is something right about it. And there's a reason. An old medieval poem says it: 'Where true love is found, God himself is there.' There's power in love. Love can help and heal when nothing else can. Love can lift up and liberate for living when nothing else will. And the love that brings two people together is the same love that can bind them together, whether on mountaintops of happiness and through valleys of hardship. Love is strong as death. It's flashes are flashes of fire. Many waters cannot quench love. Love can see you through! There's power in love.
Watch the full video below.