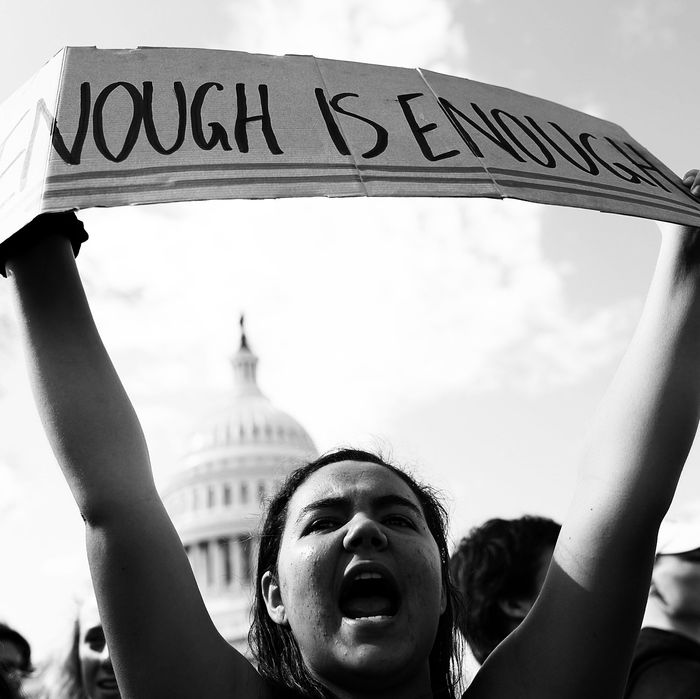 A gun-control protest in Washington.
Photo: Alex Wong/Getty Images
On Friday morning, at least ten people were killed during a shooting at Santa Fe High School outside of Houston, Texas. The massacre came only three months after the horrific shooting at Marjory Stoneman Douglas High School in Parkland, Florida, which prompted many people (including student survivors of the massacre) to join the fight for stricter gun-control laws. Since then, we've seen a few tangible steps taken across the country, from legislation to make it harder to buy guns to retailers severing ties with the NRA. But there is still much left to be done, and clearly, such violence is still occurring. Here, what you can do about gun-control.
Donate to these gun-control organizations.
There are a number of gun-control groups that could use your donations. Everytown for Gun Safety works to prevent gun violence through raising awareness and promoting gun-control legislation. There's also the Brady Campaign, which aims to cut gun deaths in half by 2025; the Coalition to Stop Gun Violence, which uses policy development and advocacy to prevent firearm violence; and the Giffords Law Center, which was founded by former congresswoman Gabby Giffords — who was shot in 2011 — and her husband Mark Kelly. These aren't the only groups, but they are doing some truly important work.
Participate in the demonstrations.
On March 24, people took to the street for the March for Our Lives protests across the country, to demand that steps are taken to prevent mass shootings and protect students at schools. The march was organized by a group of teenage survivors of the Stoneman Douglas shooting. Participating in such demonstrations is a good way to show support for stricter gun-control laws.
Pressure politicians to stop taking money from the NRA.
As Donald Trump pointed out, many members of the Republican party seem to be "afraid" of the NRA — as in, they don't want to go against the gun lobby for fear of losing campaign donations or supporters. That's why gun-control groups and advocates are calling out politicians who accept NRA money. Everytown for Gun Safety and Moms Demand Action for Gun Sense in America, for instance, recently took out a full-page ad in the New York Times, in which the groups list around 100 lawmakers, their phone numbers, and the amount of money they received from the NRA. The goal is to pressure politicians to stop taking money from the gun lobby — and actually help pass gun-control policy.
Reach out to your elected officials.
In addition to calling out politicians for taking money from the gun lobby, you can also reach out to your elected officials (whether they're affiliated with the NRA or not) to let them know just how important gun-control is to you. If you're not sure who your representatives are (or how to contact them), Everytown for Gun Safety makes the whole process pretty easy: just fill out a form on their website, and they'll find the appropriate number for you to call in Congress. You can also visit ContactTheCongress.org for more information on who you should contact and how to reach them.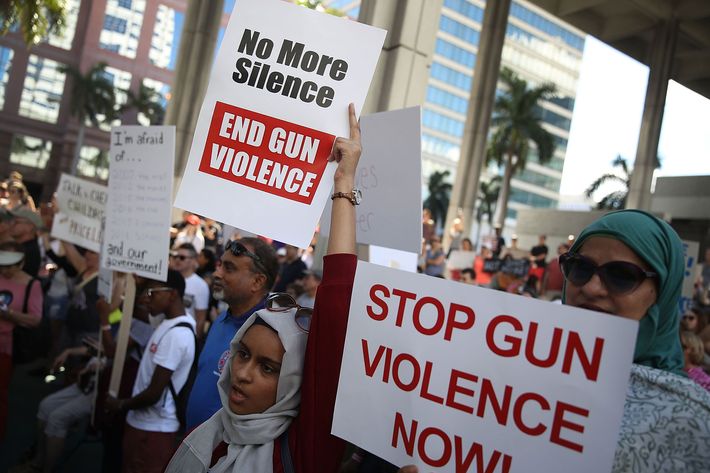 Volunteer with groups leading the fight.
Not only do gun-control organizations need donations, they could also use volunteers to help lead their grassroots efforts. Women Against Gun Violence is asking people to volunteer just a few minutes a week to help them spread their message (it's as simple as making a call or sending a letter). If you sign up on this page, your local Moms Demand Action chapter will get in touch with ways you can get involved.
Voice your support on social media.
You can also lend your voice to the numerous social-media campaigns seeking to raise awareness of gun violence and gun-control legislation. There's the #NeverAgain movement, which was created after the Stoneman Douglas shooting by teenage survivors of the attack. You can also tweet at politicians and businesses to pressure them to act on gun-control (a move that seemed to have worked after a number of brands cut ties with the NRA following a social-media campaign).
This post has been updated throughout.