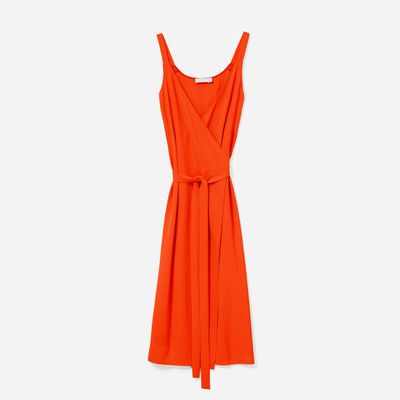 Ever since Diane von Furstenberg created the wrap dress in 1974, the shape has been a staple for its versatility and flattering silhouette. Now, Everlane is introducing their own airy version. It's machine washable and wrinkle-resistant, it has pockets, and it costs exactly $100 — everything you could want in a summer outfit. The only question is: How does it fit?
Officially launching today, the dresses come in two shapes, tank and short-sleeve, and two lengths, mini and mid-calf. Colors depend on what shape you choose, but they include a poppy shade perfect for red lovers, a yellow if you're feeling bold, and a navy that will do nicely for more conservative offices. Sizes range from 00–16.
With so much hype surrounding the release, the Cut decided to test-drive the styles for ourselves. Read on to find out how they look and feel on six Cut staffers.
Lindsay Peoples Wagner, Fashion Editor
I picked this wrap dress because it looked easy to wear to work and I like the boldness of the color. But I was leery of the wrap shape — things that button or wrap never quite lay properly over my chest.
Luckily, the wrap detail is actually super adjustable, so for once I didn't feel like I was suffocating. The material helps, too: It flows in the wind without being transparent, making it perfect for days when it's impossibly hot. I wasn't a huge fan of the draping (which could be more flattering) or the darts (which seemed weirdly placed in person.) But for $100, it's a good summer dress I'd consider wearing any day.
Kathleen Hou, Beauty Director
First, the pros: I love the feel of this dress. The Japanese GoWeave fabric is airy and cool to the touch. It also feels luxurious and silky, with a substantial weave and long straps that you could tie in front or the back.
As for the cons: This might be user error, but I couldn't figure out how to tie it in a way that didn't flash my boobs. When I tried pulling the wrap section tighter, it would cover my chest but then bunch weirdly at the hips. I suspect that it's because the straps are too long, but that's an easy fix.
Eventually, I gave up and figured if my bra was going to show, I might as well choose a pretty one, so I wore a Chantal Thomas bra in a similar blush color. The soft pink shade would look great on those with fairer complexions, without washing them out. For the purpose of a good Instagram photo, I trespassed onto a stranger's front yard full of cherry blossoms and made my friend take 78 photos of me until I was satisfied with one.
Alexia LaFata, SEO Editor
Most of the dresses I currently own are tight and black. They were great for when I was in college and only wore dresses when I went out. But now that I'm a real adult, I need dresses for other purposes, like bridal showers and work events, and for days when I'm too bloated to wear jeans. I think this dress will come in handy for all of that. I was afraid the royal blue would be too blue, if that makes sense, but it's actually really wearable.
The quality is excellent, too. When I tie it in the front, it feels very secure, like it won't unravel during the day. And the length is perfect. I'm almost 5'9" and "leggy," as my mother would say, so I struggle to find mini dresses that don't feel like they could double as tunics. But this dress falls right above my knee in a flattering way. Best of all, when I sit down and cross my legs, it doesn't open up to reveal my entire thigh like many other wrap dresses do. And it has pockets! All in all, it's a very good, versatile dress.
Madeleine Aggeler, Staff Writer
This dress makes me feel like a glamorous thief who's enjoying her retirement on a remote island somewhere after robbing some ne'er-do-well billionaire. It's casual enough for running day-to-day errands, but with some heels and statement earrings, you could easily dress it up for a formal dinner, one where the secret agent sent to arrest you falls hopelessly in love with you and abandons their mission.
As someone who only ever wears black, I was skeptical about the bright poppy color, but when I put it on, I loved it, and I didn't feel like it washed me out. The only negatives for me were that the straps around my waist kept coming untied, and it was a little too big in the boob area. I'll probably order one size down for the two to three of these that I will inevitably end up buying later.
As someone with a larger chest, I love a good wrap dress — they seem to be the only dresses that really work on my frame. But the downside to wrap dresses is that they can occasionally highlight my cleavage, which is absolutely the last thing I want if I'm attending a formal or office-related event. So I usually have to wear a cami underneath to cover up. Thankfully, I didn't have that problem at all with this dress. It's comfortable and lovely and actually covers my chest. I chose the short-sleeved version, which also actually covers my bra. So all in all, it's just a perfect dress for my body type.
Gabriella Paiella, Senior Writer
I've never been big into wrap dresses, and they probably still won't become a regular addition to my wardrobe, but this is a nice starter wrap dress. The fabric is surprisingly substantial and it's an easy, bright option for summer weddings and parties. Plus, the color makes me feel like a beautiful, sentient red crayon.
If you buy something through our links, New York may earn an affiliate commission.