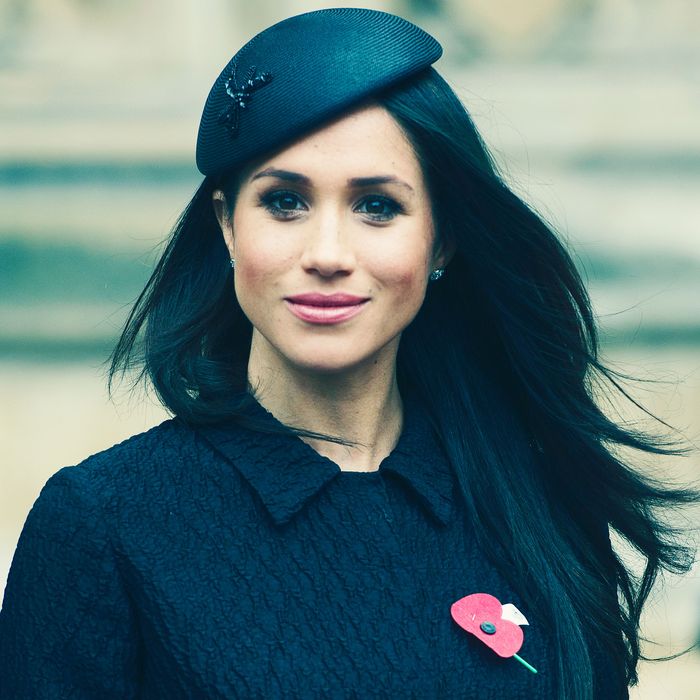 Meghan Markle.
Photo: WPA Pool/Getty Images
Ever since Meghan Markle got engaged to Prince Harry, I've felt protective of her, as if she were an extended member of my own tribe of girlfriends. Now, I realize that my many years of watching Suits has not made us actually friends. I understand that she's marrying into a family with a history of colonialism and oppression. I am fully aware that this wedding is costing an estimated $45 million that the British government could be spending on other pressing issues. None of this matters to me. Meghan Markle is a woman of color at the center of a fairy-tale situation, and that doesn't happen often. How could I not rally around her?
The last time I was this excited, I was sitting in a freezing Midwestern dorm room with a broken heater, glued to the television despite my shivering. And when Barack Obama became the next president of the United States, my friends and I erupted into screams of laughter. My now-husband even went outside and did donuts with his car in the snow. Of course, I know being married to the guy who's sixth in line for the throne isn't the same thing as being elected president of the United States of America. But seeing a black president, or a black duchess, living freely and unapologetically is a dream I've had all my life.
I get that same giddy feeling — joy and a flash of hope for the future — whenever I see Michelle Obama start dancing or dropping gems like "When they go low, we go high." I felt it when Oprah gave a sermon at the Golden Globes knowing that little black girls everywhere were looking up to her, and I even felt it catching the holy ghost at Beychella. It's the thrill of seeing an African-American woman on a global stage, with women of color rallying around her saying, Yeah, sis, me too.
For a long time, I thought "making it" meant being able to infiltrate white spaces, and to thrive there. But what I've learned, and what Meghan demonstrates for me, is that success is the freedom to infiltrate any space we please. Yes, she is marrying into an affluent white royal family, but she's doing it on her own terms. Unlike Emma Thynn, the British biracial Viscountess who recently stated in a Vanity Fair article that she had "had never experienced racism," there's a realness about Meghan. She doesn't shy away from talking about witnessing someone call her mother the N-word, or how she dealt with it. She's aware of her privilege as a fair-skinned woman who could potentially pass as white. And she has used her platform to engage in uncomfortable conversations about race and inequality, which I can only hope she will continue to do in her future role.
But it was also her mother, Doria Ragland, a yoga teacher with dreadlocks, who sealed the deal for me. I can just imagine her putting her foot down whenever Meghan's half-siblings and father trash her in the tabloids, telling Meghan, "Not today." Just as I fantasized about what it was like to finally have a black family in the White House, I find myself wondering about all the juicy black girl moments that are happening in Windsor Castle. Though she probably has a keratin treatment and extensions, is someone in the castle pressing her edges, because they seem to be incredibly flat in every photo? Will their children have curly hair like hers? What songs are the gospel choir performing at the wedding? Will anyone do the electric slide at the reception, or is that not posh?
No, she won't be a princess, and no, this wedding won't have any impact on my day-to-day life. But Meghan Markle is a woman of color marrying into a family that only a generation earlier would have denied her. If that's not an occasion to celebrate, I'm not sure what is. At 6 a.m. tomorrow morning, you'll find me throwing a fabulous party with a huge spread of British food for all my girlfriends. And I'm for damn sure going to be screaming at the television screen, giddy once again.