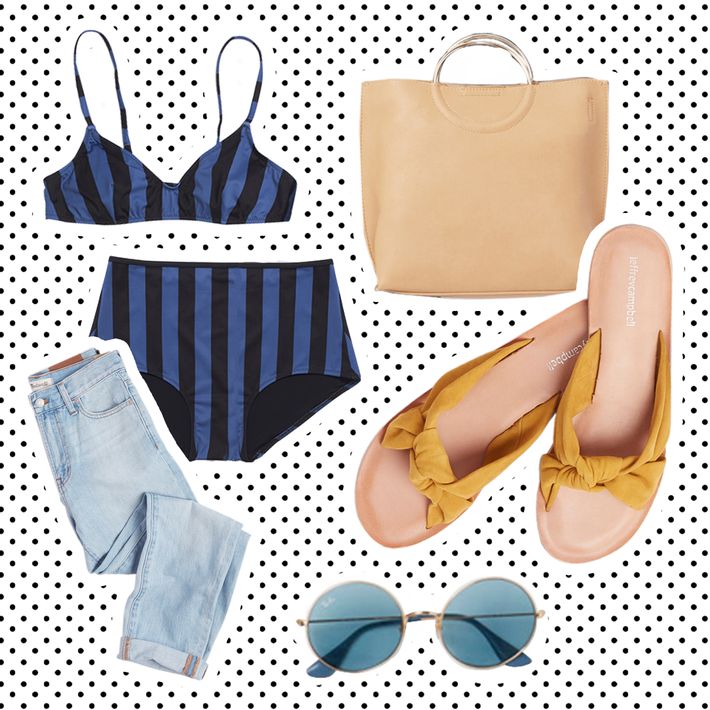 Personal shopping at its best means an effortless reconfiguration of your wardrobe, with stylists curating new outfits based on clothing you already own and love. To get ideas for a spring refresh, we turned to Genevieve Hartmann Colom, Trunk Club's product and style training manager, who shared her thoughts on how to dress for the season's various occasions. What should you wear to a big work meeting? Or a sibling's graduation ceremony? Date night? Brunch with friends? Find ideas and advice from Colom on the season's trends below.
For a little background on Trunk Club: It's a personal styling service that connects customers with stylists online or in person at seven beautifully furnished Trunk Club Clubhouses (where the bars are stocked with champagne, craft beer, wine, and spirits for cocktails).
It's easy to try it: Sign up online and answer a few questions about your style, sizing, and budget. You'll chat with a Trunk Club stylist, who will select a mix of items and brands according to your desired price point, and the "Trunk" is delivered to your door.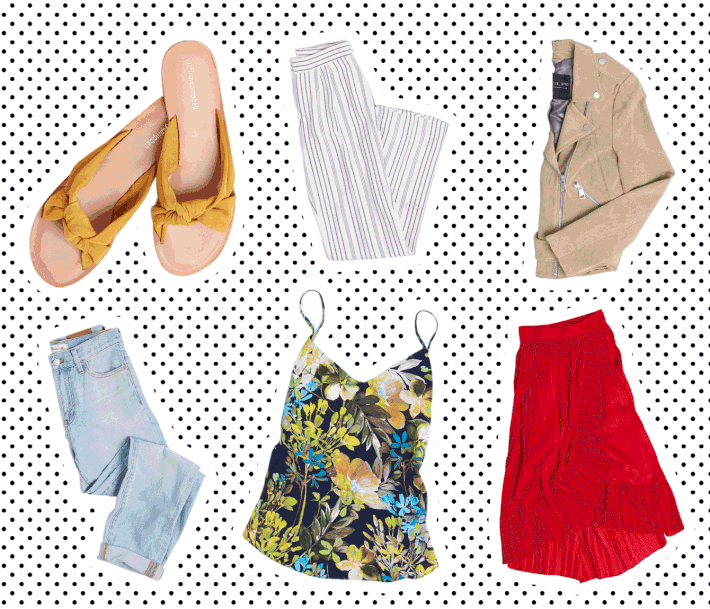 Wardrobe basics like light-washed denim and wide-leg pants easily mix in with clothing you already own. Other choices include bright floral tops and dresses, suede jackets in pastels or earthy tones, and statement skirts in bold colors and patterns. You'll want to try the embellished shoes.
Dress for work with the 70/30 rule, according to Colom: "A 70/30 spread is a great rule of thumb: 70 percent being your wardrobe staples, 30 percent being trend-based styles that you won't be heartbroken to leave behind next winter. The 30 percent is your seasonal rotation. One should always have well-tailored wardrobe staples to fall back on, mixed and matched with a few new trend-based styles to weave into your looks."
'Tis the season for diplomas and powerful commencement speeches (read some amazing ones by famous women here). Trunk Club has a preppy mix of blouses, blazers, and colorful dresses and accessories that can be worn throughout a big graduation weekend, from the ceremony to celebratory meals.
To dress up an outfit, it's all in the details: "Feminine styles have inundated the spring/summer 2018 season, be it a softer palette (think a pink moto jacket worn over a dress or a high-waisted midi skirt), flirty detailing (off-the-shoulder silhouettes, cut-outs with lace detailing in swimwear, or delicately floral prints). Interweaving a few of these trend-based styles into your existing wardrobe is a great way to stay relevant and fresh without having to completely upset your style."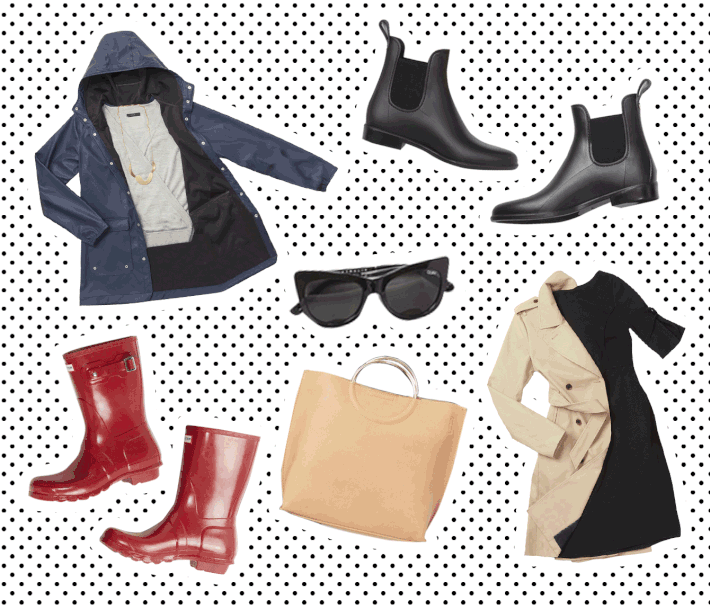 Trunk Club offers this weather-ready Trunk in two styles ("polished" and "casual"), understanding that on a rainy day you're either commuting to work or stepping through puddles at a more relaxed pace. For work, choose a trench coat with neutral rain boots, which easily transition as work-appropriate shoes. For a weekend, the casual option offers boots in brighter colors with jeans and easy tops.
When your phone's weather app predicts rain, Colom says to keep it simple: "Start with the classics. From perfect trenches to rain-ready ankle booties, the key is making sure you have your wardrobe basics covered. Silks, suedes, and untreated leathers can be heavily damaged by water, making it truly worth your time to invest in proper outer and footwear. There is no shame in wearing rain boots during your commute and changing into your daytime flats at your desk – in fact, this will give your garments a longer lifespan."
Solo time is just as important on weekends. These athleisure outfits are great for running errands, going for a bike ride, or walking to the gym – and some of the pieces can even work if you're heading to a happy hour later with friends. Basic tees, lightweight jackets, leggings, and sneakers elevate each look with easy accessories like sunglasses, a watch, and simple earrings.
To elevate a casual look: "The it-bag is truly having a moment. We are seeing varying shapes and silhouettes, alternative fabrications (woven straw) and pattern statement bags jump right from catwalks to closets."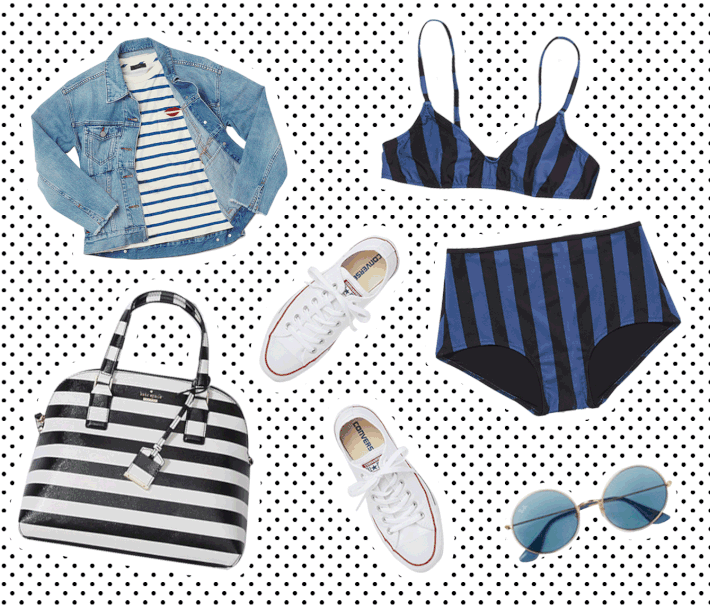 Stripes are a go-to staple for looking sharp when you're out at brunch, relaxing at a barbecue, or at the beach with friends. Choose a casual top or dressier options, like printed blouses and statement dresses, which can transition to the office during the week under a neutral blazer.
Make a statement with the season's trendiest shoes: "Open-toed sandals, espadrilles, wedges, mules and slides … Footwear can really make or break a look, and shoes are a great place to get experimental, especially for women who are more classic or minimalist in their style, by adding a bold print or pop of color. Runway-ready customers will like transparent and white spring booties. At the end of the day, there are just as many chic flats as there are fashion-forward heels."
6. From Day-Drinking to Date Night: The Maxi Dress Trunk
Let's be real: When you're drinking outside all day with friends, life is better in a maxi dress – and it's a no-brainer for a date night. This Trunk will launch in July in two versions. Pick the bohemian-style dressed-down look for a maxi dress with a hat and flat sandals, or the dressed-up option for a light jacket, a belt, and heels.
Why you'll love a maxi: "Spring/summer dresses are such a great go-to because they are a one-stop-shop. Most of the time, dresses can be styled up or down depending on footwear, accessories and makeup."
Everyone needs an escape this summer. After emailing your boss to request those well-earned vacation days, shop Trunk Club's mix of swimsuits, cover-ups, sunglasses, and sandals. They have wedges, slide-ons, and espadrilles, plus sophisticated beach totes to complete each look.
Your go-to beach accessories: "Classic staples such as cat eye sunglasses and smaller cross-body bags are tried and true from season to season. Sunglasses are getting smaller and smaller these days with a healthy dose of 1950s inspiration."
And finally, there's one important aspect that makes Trunk Club a great option for newcomers: It's not a subscription service, meaning you're never locked in or committed to keep buying clothes. You can order just one Trunk first. Read more about how it works here.
All product images courtesy of Trunk Club.
This is paid content produced for an advertiser by New York Brand Studio. The editorial staff of The Cut did not play a role in its creation.