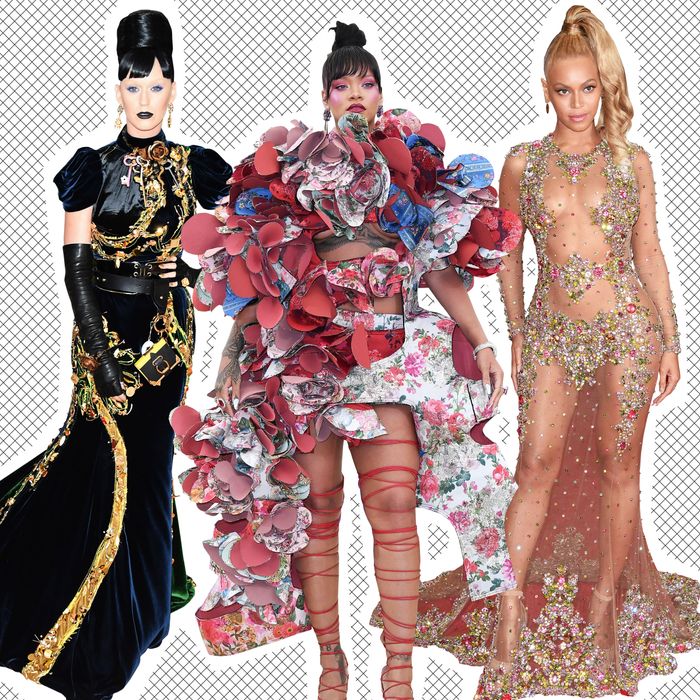 Katy Perry in 2016, Rihanna in 2017, Beyoncé in 2015.
Photo: f
New York's biggest annual fashion party is set to take place on Monday, May 7, at the Metropolitan Museum of Art. Notable for its celebrity pull and periodically contentious themes, the annual Met Gala raises money for the museum's Costume Institute and boasts a carefully curated list of attendees contrived by Anna Wintour. The editor-in-chief of Vogue and co-chair of the event since 1995 will preside over this year's 70th anniversary ball alongside Donatella Versace, Amal Clooney, and unofficial "Met Gala Queen" Rihanna. Here's everything you need to know about the 2018 Met Gala.
What's the 2018 Met Gala's Theme?
Short Answer: Heavenly Bodies: Fashion and the Catholic Imagination
2018's theme is Catholicism. It certainly sounds controversial, but the Vatican gave its stamp of approval, allowing the Met's Costume Institute to borrow some of the religious institution's sacred vestments. In May 2017, Andrew Bolton, the Institute's head curator, met with Archbishop Georg Gänswein in Vatican City to explain his vision: an examination of the Catholic church's inspiration to fashion designers throughout time. Senior Vatican officials granted Bolton permission to display over 40 Vatican vestments and accessories spanning 15 papacies.
Prior themes include last year's Rei Kawakubo/Comme des Garçons: Art of the In-Between, 2016's Manus x Machina: Fashion in An Age Of Technology, and China: Through the Looking Glass in 2015.
What Time Does the 2018 Met Gala Air?
Short Answer: Monday, May 7, at 6:30 p.m. ET.
Traditionally held on the first Monday in May, this year's Met Gala will take place May 7, with red-carpet coverage beginning at 6:30 p.m. EST. The actual gala inside the museum will not be viewable — press coverage and filming by attendees themselves has always been strictly forbidden.
Where Can I Follow the 2018 Met Gala?
Short Answer: On the Cut, of course!
The Cut will be covering the Met Gala red carpet live on Instagram starting at 4 p.m. After 6 p.m., we'll be posting all the looks — with commentary — on a continually updated gallery on the site. (We've already started our Met Gala coverage, which you can find here.) If you prefer TV, turn on E! News at 6:30 p.m. for its Live From the Red Carpet stream, which runs through 9:00 p.m. ET.
And keep an eye on celebrity Twitter and Instagram accounts. Though Anna Wintour is strict about keeping the venue camera-free (going so far as to establish a "no selfie" policy), many on the guest list are known to be rule-benders.
Who's Going to Be at the 2018 Met Gala?
Short Answer: Who's not going to be there?
Each year, the biggest A-listers in Hollywood, the music industry, and the fashion world gather at the Met's velvet-covered doorstep. The guest list ranges from 500 to 700 seats, and invites come with a minimum $30,000 entry-ticket. A whole table can go for as much as $275,000. And even those buying tables — sponsors like Apple or Yahoo — need to submit their guest lists to Wintour for approval.
From pop-culture icons like Kim Kardashian and the Jenner sisters, to singers like Kanye West, Beyoncé and Madonna, to Oscar winners like Jennifer Lawrence and Anne Hathaway, to supermodels like Cara Delevingne and Bella Hadid, the evening is chock-full of the entertainment industry's leading figures. Many have used the Met as a platform to publicize their new-couple status: last year featured Selena Gomez and The Weeknd's romantic debut, with Gigi Hadid and Zayn Malik doing the same the year before.
What's the Deal With the Last Guest Who Arrives at the Met Gala?
Short Answer: They're supposed to be the big finale.
Last year, Beyoncé made Met Gala headlines for an unlikely reason: she didn't show up. Why was this news? Because each year, Wintour bestows the honor of arriving last onto one particular guest as the "grand finale" of the red carpet. For the past five years Beyoncé has chosen to attend, she has been given this coveted spot, always wearing Givenchy.
What Kind of Drama Happens at the Met Gala?
Short Answer: More than you would think.
If you pack a room with 600 of the entertainment industry's most famous individuals, many of whom have either dated or publicly expressed their dislike for each other, there's bound to be some heat. From Solange Knowles' elevator fight with Jay-Z at the 2014 Gala, to Lena Dunham's unprovoked feud with Odell Beckham Jr. in 2016, to the stir caused by the photos that surfaced of celebrities smoking in the bathroom last year, one can only wonder what will make the news this time.
What Should I Look for on Instagram?
Short Answer: The official designer brands, the selfie lovers, rule-breakers, and social-media fiends.
It's hard to predict, but some celebs do flout the no-social-media rule. Last year, Salma Hayek posted a video of Wintour dancing to Katy Perry's "Teenage Dream." Kylie Jenner took the traditional "annual bathroom selfie" inside the Met, alongside sisters Kim and Kendall, and other celebrities like A$AP Rocky, Lily Aldridge, and P. Diddy. In 2015, Kanye West took a selfie with wife Kim, Madonna, and Diplo. The official Versace and Ralph Lauren Instagram accounts also managed to sneak photos inside the event, of Justin Bieber with Versace and Delevingne, as well as Anne Hathaway with Chinese actress Ni Ni, respectively.