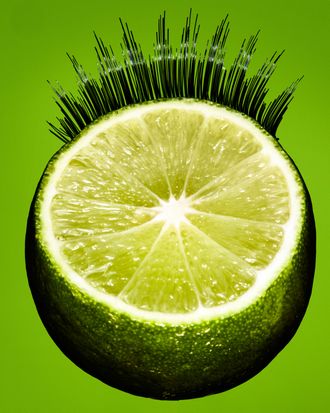 Photo: Bobby Doherty/New York Magazine
Eyelashes have the impressive ability to transform your face. Whether it's a simple swipe of mascara that makes you look more awake or falsies that give you a dramatic look, everyone has their preference. New York Magazine's Director of Production and Branded Content, Aydah Albaba, shares how deeply personal a woman's eyelashes can be, and how her signature lengthy faux-looking lashes help her stand out among her peers.
You know how most people say less is more? I'm like f*ck that. More is more. I'm like, let's see how high I can get these lashes. I love to play. That's the purpose of makeup.
I'm an early bird and wake up early — not because I do a workout class, it's so I can spend two hours on everything from my eyes to hair treatments to cleaning my face. Because I really like to do the spider lashes, a good day is when my lashes touch my eyebrows. I swear to you I would phone in for a sick day if I couldn't do it one morning for some reason.
I basically spend my paycheck at Sephora on luxury beauty products. I've tried every single mascara and use two different brands at a time. On the first day of every month, I throw them both out and get two new ones. I always have a new wand. I don't keep old makeup. Right now I'm using Givenchy Phenomen and L'Oréal Telescopic.
Eyelashes have been a thing for me since I was a child. My mom would say that she'd be walking around with me in a stroller and people would actually step aside and be like, "How could you put mascara on a little girl?" She was like, "No, I promise!"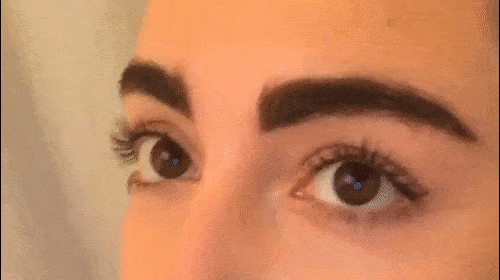 I used to sneak my makeup to school, and my dad would be like, "Aydah, you're wearing eyeliner." And I'd be like, "What are you talking about? I'm Lebanese, I have natural dark lines." And then he would go and get a towel and rub my face and I'd be like, "Oops."
Growing up in Lebanon, I was always the American. Later, growing up in Texas, I was always the Lebanese. I decided to really embrace my background through makeup at an early age, instead of questioning it and feeling insecure. I do think my eyelashes make me look more Lebanese, and that's why I like to play with doing a lip color or focusing on what nail color corresponds with it.
Something different was this spidery effect with my eyelashes. The trick that I use that I taught myself I learned on a hot day in Lebanon, when I realized that I put on mascara with wet eyelashes and I noticed my eyelashes were longer. I also grew up dancing competitively so obviously there is a thing called stage makeup. Until this day, I still do stage makeup during the day.
I actually have very curly eyelashes — I swear I have the shortest lashes in the family — but since mine curl up, it looks like mine are longer. My eyelashes are so thick that when I combine eyeliner with the way I do my mascara, it's a lot.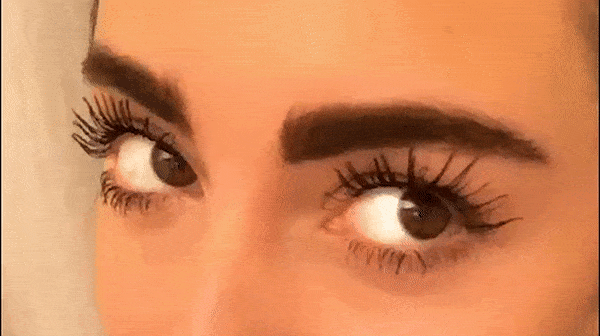 A lot of my colleagues here always say something about my strong presence in the office. I think it's because I put in the work to take care of myself, so I can take care of others. I know firsthand that if I don't take care of myself in the morning, I'm not confident and I don't feel happy. I think my lashes represent this thing about self-respect that also helps garner respect from my peers and people I meet with on a day-to-day basis. It makes me honestly engage with people a little bit more and has taught me the importance of eye contact.
People are always like, "No way your eyelashes are real." That is my favorite thing. I spend all this money, you need to see it on me. I love to see how long I can get them and I do. I just like that it's very unique to me.
I will do my lashes until I can no longer do it. Or if there's a machine somewhere, or some pill I can take to make my lashes look like this, then I'm happy to explore those routes one day when I'm older. It fundamentally makes me happy. I swear I will be doing this until I can't.
Aydah's Mascara Routine for Spider Lashes:
Step One: Most people do mascara last. Mascara is the first thing that I do. Why? Because the moment I clean my face and put a quick hydrating serum on, I go to the eyelashes.
Step Two: I wipe and comb through my lashes with a warm wet cloth from the inner corner to the outer. It's as if it's a natural primer that helps fan them out to the left and right.
Step Three: While they're still wet, I immediately get the L'Oréal Telescopic mascara, making sure it's the Carbon Black shade. The wand is literally like a plastic divider. There are no bristles. Since I have such thick eyelash hair, it evenly spreads it out more like a fan-like spider effect. I don't do waterproof. None of us are professional swimmers here.
Then I start brushing underneath the lashes from the inner corner and go all the way out. I don't use curlers. And I do the exact same thing, but on the top of the lashes, from the inner all the way out. I do that twice on each side. It makes them longer. I wiggle and pull the wand straight through. I don't hold the wand vertically — that's if you want a natural look.
Step Four: Then I pull out the Givenchy Phenomen one so I can really get the corners and do a cat-eye effect. Even though I have really long lashes, there are some shorter lashes underneath, and the Givenchy one helps pull those out.
Step Five: For the lower lashes, I do the exact opposite. Instead of starting with L'Oréal Telescopic, I start with Givenchy then I finalize it with L'Oréal Telescopic. The bottom lashes are very curly so given that I'm trying to do the long thinning effect, I don't just want them to curl underneath and then there's mascara all over my face.
If you buy something through our links, New York may earn an affiliate commission.