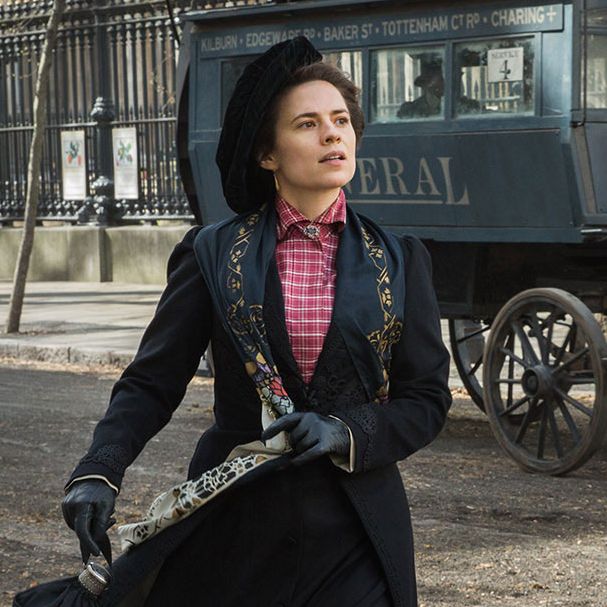 Hayley Atwell as Margaret Schlegel in
Howards End.
Photo: Laurie Sparham/Starz Entertainment, LLC
I have an itch Netflix can't scratch. I'm interested in a strong female lead, but my interest wanes if she's surrounded by crime-lab techs or comic-book villains. I like comedy, but I do not like to cringe. And just because I have watched a documentary doesn't mean I want to watch some other documentary about political corruption, or the opioid crisis, or going paleo right this second. Nonstop media consumption is surely aggravating my anxiety, but I still try to use my screens to soothing ends. I yearn for streaming video content that is smart, relevant and mostly pleasant; I end up watching a lot of Fixer Upper.
It's no secret that the critical, economic, and technological forces shaping the entertainment industry are making scripted television ever more recappable, debatable, and binge-worthy. These forces are also making the experience of watching television kind of miserable. It's as if HBO can sense when my blood pressure is starting to drop and then, presto, rape or murder. Each new must-watch prestige series brings, for me, the dreadful aura of homework. The most glaring example is The Handmaid's Tale, an assemblage of performers and themes designed to light up my algorithmic-recommendation switchboard — and which I am literally never in the mood to watch.
There is another way to substantive, high-budget, strong-female-lead storytelling. One you won't need to look away from, but you can occasionally look away from, because not that much happens. It is the BBC's new adaptation of Howards End, which became available on Starz last month, and I wish I could watch all four hours again tonight for the first time.
I am not Howards End's only champion — reviews are universally glowing. But the coverage tends to hint knowingly at how timely the mini-series's themes are, especially given the 2016 election. As if you remember your high-school reading of E.M. Forster. As if your high school self could have conceptualized 2016 politics!
Allow me to refresh your memory. Howards End follows Margaret and Helen Schlegel — 20-something orphans who identify as socialists and live comfortably off their inheritance — as their lives become entangled with the wealthy, conservative Wilcoxes and the poor, striving Basts. The pragmatic, elder Margaret's unlikely friendship with the Wilcoxes turns into mutual respect. The idealistic, younger Helen's altruistic love for the Basts yields a home-wrecking pity hookup. Estrangement ensues. Hanging over it all is the Schlegels' impending eviction. Will they get married — following the men down politically divergent paths — or can they hack it on their own?
Amid this standard period drama fare, the Schlegel sisters function as astute, charming, and conflicted intermediaries between the classes of Edwardian England. As their bohemian intellectual bubble comes into contact with other social bubbles, they lovingly muse and bitterly debate questions that remain deeply relevant. These questions include:
- How might one do politics when one feels politically disenfranchised? (In Howards End, women don't have the vote; in 2018, I feel my vote is nullified by corporate interests.)
- How ought one connect with people who don't share her politics? (When things get tense, it seems, talking about dogs has always been safe.)
- Suppose if, while one waits for revolution, she is in need of a country house? (Same, but the jury is still out.)
The way the Schlegels tackle these questions is where the pleasure and mild provocation of Howards End comes in. As a faithful adaptation of the novel — published in 1910 — Howards End is naturally free from contemporary demands for bad sex and violence (though shit does go down). And as a comedy of manners, the series has the luxury of contemplating big-picture political issues from the well-appointed confines of London townhouses and the wind-swept bluffs of coastal estates.
Real estate is the titular plot device of Howards End and, in this respect, the Starz adaptation does not disappoint. If I were manually tagging the show for a recommendation algorithm, I would say it is for fans of Nicole Holofcener, Clouds of Sils Maria, House Hunters International, and Escape to the Country. The houses in Howards End symbolize class and mobility but they serve as the currency of female power. (For viewers who tire of mid-century modern and California minimalism, they may also serve as a source of Pinspiration.) I read that while Hayley Atwell prepared for the role of Margaret, she consulted Emma Thompson, who played the same part in the 1992 Merchant Ivory adaptation. Thompson reportedly told Atwell that you only get one high-impact cry per performance and she should use hers wisely. Atwell saves her cry for a real-estate moment, and she nails it.
In our current pop-culture awokening, a real-estate-centric story set in a picturesque upper-middle-class bubble might seem dated. I can't argue with that. I can only promise that the original was ahead of its time — A rich white guy goes to prison! A sexual double standard is questioned! — and that a handful subtle updates in the adaptation go a long way. Director Hettie MacDonald (Dr. Who) and writer Kenneth Lonergan (Manchester by the Sea) made the Basts an interracial couple, and they are explicit about the human cost of the Wilcoxes' capitalist successes. In doing so, they forced me, as a viewer, to confront iniquities I was more willing to glide over as a reader.
Here's another way Howards End is refreshing: Lately, it seems that amorality has become a stand-in for complexity. We've been given a raft of unscrupulous female characters (Selina Meyer, Elizabeth Jennings, Hannah Horvath) to go head-to-head with the Bad Men of Breaking Bad, Louie, and Mad Men. We're even now, but are we any closer to equal? Everyone in Howards End, male and female, is likable and annoying by turns, a product of their class but capable of more. Joseph Quinn brings Matt Saracen–levels of stuttering pathos to his role as the underclass suitor Leonard Bast. Philippa Coulthard, who plays Helen, has a puppyish, Gillian Jacobs kind of face I'd follow into any politically naïve blunder. Meanwhile, Matthew Macfadyen dials the unenviable role of the capitalist Wilcox patriarch into believably "zaddy" territory. To this end, it helps that the actor was best known for giving Colin Firth a run for his claim to hottest Mr. Darcy ever.
I don't have a dog in the Firth vs. Macfadyen fight. In general, in the past, I've tended to look down on period dramas like Pride and Prejudice for all the reasons I have just described loving Howards End. They seemed too light, too pretty to be worthy of my precious leisure time. I probably wouldn't have watched Howards End if I hadn't recently read the novel in a bid to check off an under-400-page classic on vacation — and if my phone hadn't broken on said vacation.
But I'm giving the genre a second look, because what makes Howards End feel good right now — even more than its plot or its themes — is its tone. The issues at stake are serious but, as sisters and orphans, Margaret and Helen are biologically and economically compelled to hear one another out, embrace complexity, agree to disagree. As characters whose lives are cleanly circumscribed by one century-old masterpiece, they're protected from writers rooms' efforts to drag their positions out into a bigger and better second season. The result might be the most relaxing way to go to bed short of actually reading a book.