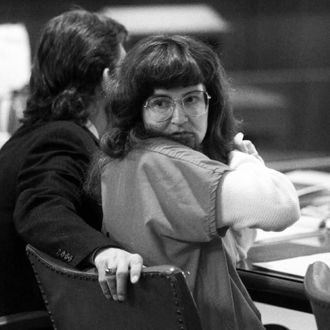 Rachelle "Shelley" Shannon in court in the '90s.
Photo: Brian Corn/MCT via Getty Images
An anti-abortion extremist who committed several acts of violence in the '90s was released from prison on Monday, the Kansas City Star reports.
In 1993, Rachelle "Shelley" Shannon shot and wounded Kansas doctor George Tiller, one of the few late-term abortion providers in the country. (He was later murdered by an anti-abortion extremist and admirer of Shannon in 2009.) For that crime, she received 11 years in prison. Shannon was then sentenced to another 20 years in 1995 after pleading guilty to firebombing abortion clinics across three states.
Shannon was part of a militant domestic terror group formed in the early '80s called Army of God. She is currently staying at a halfway house in Oregon and the Star reports that pro-choice activists and clinics are on "high alert" following her release.