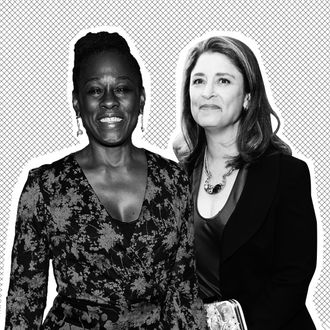 New York City First Lady Chirlane McCray and Deputy Mayor Alicia Glen.
Photo: Getty Images
On Wednesday morning, New York City First Lady Chirlane McCray and Deputy Mayor Alicia Glen launched women.nyc, a new online portal through which women can access the resources they need to achieve personal and professional success.
At a roundtable the day before, McCray and Glen spoke about New York City's track record of helping working women: The city has the highest number of women CEOs and the smallest wage gap in the country, and local government has reportedly invested approximately $800 million in women-owned businesses in the past three years.
Despite this success, McCray said, the average woman might not know about all the resources and protections provided to her by the city. The women.nyc portal is designed to provide a gateway to that information.
Through women.nyc, locals can learn that de Blasio passed legislation in October 2017 that prohibits employers from asking about a prospective employee's salary history, so as to stop the cycle of systemic compensation disparities. They can look up tax-prep sites. And, if a woman thinks she is being underpaid, she can learn how to file a complaint with the NYC Commission on Human Rights.
McCray and Glen say that their campaign lifts up the concerns of all women, regardless of race or class, but much of their initiative centers on women who seek to start their own business or hold managerial positions. Ultimately, Glen thinks there are "three needles" that need to move in NYC for women to achieve gender equality, which include closing the gender pay gap, promoting more women to serve as CEOs of Fortune 500 companies (there is one currently), and advocating for the city have at least one woman running a hospital. McCray and Glen also want to push every company to offer at least six weeks paid parental leave.
"The time couldn't be more apropos," Glen said. "We could spend less time thinking about sexual harassment and sex discrimination if women just ran the world."
When asked how they would gauge the website's success, the women said they would be monitoring for increases in the number of women accessing programs listed on the website, as well as growth in web traffic. However, "Women.nyc is alive, iterative, and meant to grow," Glen said, meaning that the website launching today will evolve according to demands.
"When the floodgates open, we want the resources to be on the other side," she said. "As goes New York, goes the nation."